Banner Day for Westshore – Diem Horribilis for CW!
---
---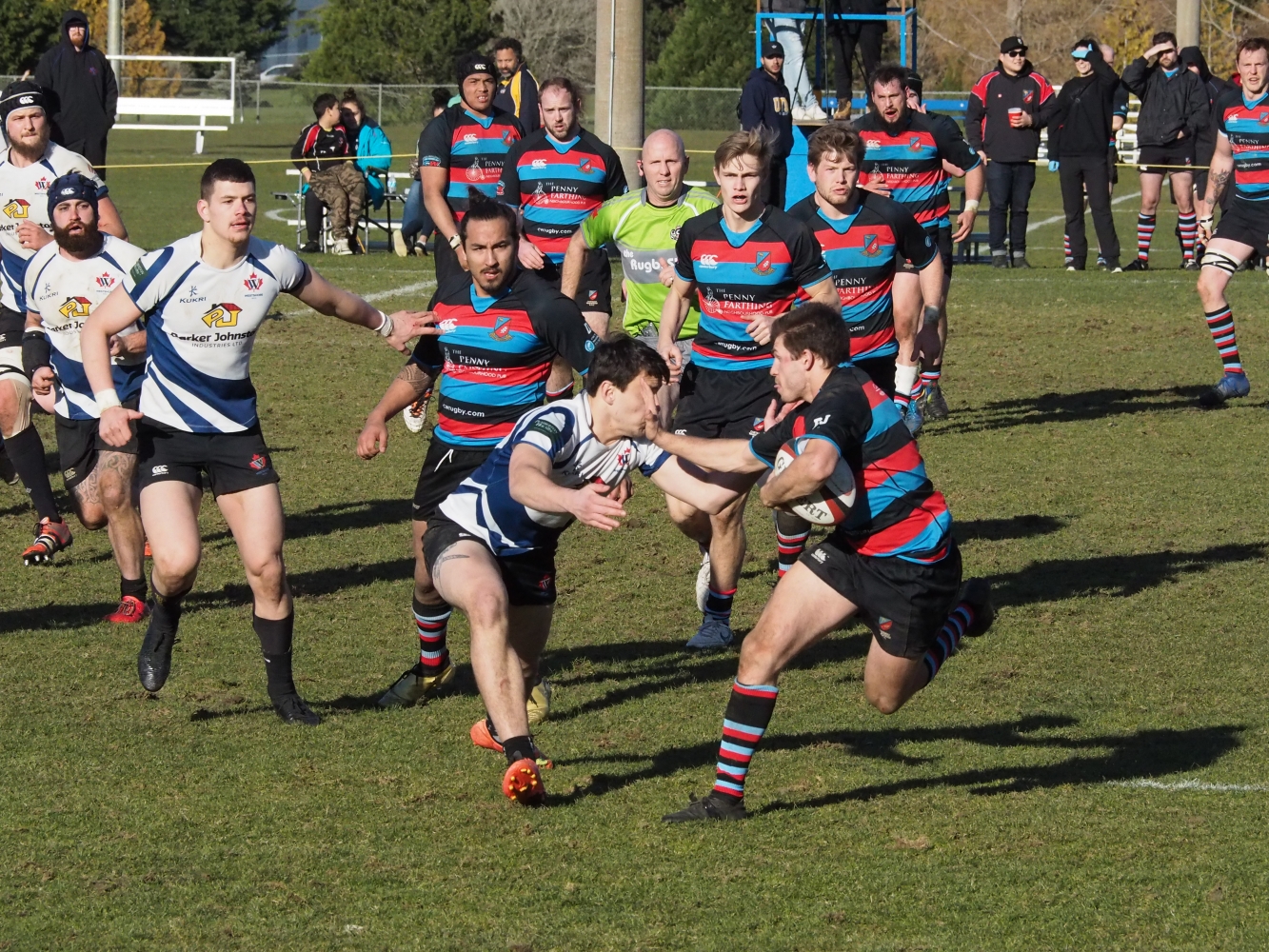 The weather obliged for Westshore and CW on Saturday to make the occasion a great rugby day. Great it was for the Hosts, winning all four matches in fairly convincing fashion. The Westshore supporters group has grown and they were out in good force to support their men and women.
The First Div match was a decider in a fashion for the contestants. The teams having met three times before, with WRFC having a 2 – 1 record. CW Islanders had high hopes going in but mental lapses and a determined opposition put paid to that idea. Although it was relatively close at the interval, the strong Westshore side broke out and ran away with the match, 46 – 8. CW finished with some flourish and of note were efforts from Stephenson, young Bachman, Mukasa and Wakely. 'Riley's Heroes' aka CW Islanders have three more league matches to play before playoffs and a St Patrick's Day roadie to Port beckons. This Westshore side is a strong group at this level, with a number of big and talented units, well mustered and they performed at their best on this day.
The Reserves match was much more competitive with the players bringing enthusiasm to the fray. Westshore opened with a brace of good tries earned from hard running and CW errors. Just when it looked like a repeat of game #1, hard-working Mitch Elliott crashed over. This effort buoyed CW and the 12 – 5 score remained that way at the interval.
Unfortunately for CW, Westshore gained early territorial advantage and scored a good try from inter-passing by their hard-working forwards, #4 being particularly evident, 22 – 8. Undaunted, CW worked their way back with Trojans, McLean, Fowler and Lavalee noticeable and had field position advantage for some time. When Goldstein fed Boyd-Porter, he passed on to a determined Coops who was awarded a penalty try and the match was again up for grabs, 22 – 15. As the battle waged to and fro, again CW asked questions with passion only to err with their handling, an error Westshore capitalized on with a late try, the punctuation mark, 27 – 15, a bonus point win, putting them over CW on the ladder.
This was a very entertaining match, both teams contributing with hard-hitting enthusiasm, with the outcome to the Hosts, an accurate enough reflection. I liked the leadership and tireless play from McLean; Elliott, Lavalee and Makaroff, all getting 'stuck in'. Goldstein fed Boyd- Porter with accuracy enabling his skilled passing to frequently set his outside runners as threats with Kegode foremost.
The crowd was cock-o-the-hoop, two under the belt and a strong XV to face their cross-town rivals. WRFC opened the Premier encounter with a penalty from a scrum, winning the lineout, a couple of drives and inside feed, Discombe to Panga – first blood early, 5 – 0. CW appeared shocked but worked play downfield to earn a kickable penalty which went awry in the wind. Both sides tested and there was some early niggle. Hard running from W's McCleary and Ngawati was very noticeable, Johnston pulling off a couple of vital tackles. It was at the mid-point that fullback Tait (W), hoisted a high ball, a good tactic in the conditions to test an 'untried' back three and there was hesitancy. Tait, following through, earned a favourable bounce and scooted, untouched for thirty meters and the try, 12 – 0. From the re-start it was more Valhallians with both Nacoko and Panga threatening and earning important field position. Westshore earned possession and retained it with sure hands, hard running and six recycles and it was one of the big forwards over for the 19 – 0 lead and as it turned out, basically game, set and match! CW did manage to threaten and despite a couple of "under advantage" series, they lost the ball only for Westshore to punish with a fifty meter downfield breakout from their own line. From the tackle, CW managed to win the ball and Keta, on debut, repaid that favour and passed to Di Nardo in the tackle. Riley worked hard to get over the line, 19 – 5, late in the half.
The second stanza was very young when Westshore won a tight-head, Panga feeding Nacoko on a hard line, going 20m untouched for the early strike and bonus point, 26 – 5. Plenty of stoppages ensued and it all became a 'bit of a schmozzle'. CW did manage to get close only to be repelled on a day when the Westshore tackles were hard and sure. The score line moved along with a Westshore penalty, 29 – 5. Late in the half, CW managed a number of recycles and cracks at the line with Captain Stewart eventually going over and a final, 29 – 10 score line, a deserved margin and fair indication of the action by Westshore. On the day, their hard-running, sure hands providing control, supplemented with an intensity and team defence possibly surprising the Visitors, was full value. It may have been a recently compiled line-up but it was a group which will win more than they lose in the last four games. Hagerty, McCleary and Panga in the forwards, Discombe and Gersch in the backs, providing a good link to set some dangerous mates loose, headed by standout, Nagawati, were all good value.
No excuses by CW and despite having six players out of position, the boys were soundly beaten by a better side on the day. Finnemore, Braddock and Stewart were tireless with good work added by Chisholm and Sponarski. In the backs, Johnston stood out with Di Nardo, Keta and Schellie trying hard whenever they could but generally, the defence thwarted the efforts. Four tries to two was a setback but a good wake-up call at this stage before heading to face a Nanaimo side which has shown it too, can score plenty.
The Women kicked off late, as the weather became a reminder that it was still winter! CW drew first blood with a Galbraith penalty at fifteen minutes after a number of frequent, threatening build ups by CW. CW looked the goods, attacking, mostly in the Westshore quarter but sure tackling kept the try line intact. At the mid-point CW tight-head prop and newcomer, Tarin?? left the fray. This seemed to be a momentum-swinger and with some possession, Westshore began asking questions. Despite this, it was a Trafford break that looked most likely to score the first try. It was not to be and patient Westshore build-up with hard running and sure hands forced CW to desperately, late-tackle to save a try. From the scrum, the ball came to Laing who was unstoppable from six meters, 7 – 3. The half was late and Westshore came straight back form the re-start through Howat, feeding #12 on a hard run and 12 – 3 lead. The first forty was a classic example of outstanding women's rugby – a tribute to both sets of contestants. CW, with thrusts in the backs from Galbraith, Trafford and Zussman and in the forwards, Edwards-Challenger, Louckes, Nedved and #1, Kelsey?? , stood out for me. For Westshore, bouquets to Minter, Corrigan, Howat and Farries.
Caught the second half re-start and when Zuss was perhaps questionably, "binned" at the tackle, this old man succumbed to the weather. As it transpired, the half was "all Westshore" with a final score of 45 – 8, they certainly showed their undefeated pedigree – headed for a repeat title with only, possibly Burnaby in their way. The setting rays brought down the curtain on a good day for Westshore rugby.
I conclude by thanking the day's officials, without whom we would not have the game. This writer would normally take the position that if players made as few errors as the ump makes, matches would be more enjoyable however, sometimes the shoe is on the other foot. On this day, I would be very remiss if I was not to recognize the efforts of Cam (??) Neish. This man competently refereed the First Div game, suited up to play most of the Reserves match for his club and finally, AR-ing the Prems, reporting to referee Foster with accurate and objective assistance. 'onya, Cam!
FOOTNOTE - Great photos, Wendy Norman. Click on "View All" for more photos.
---