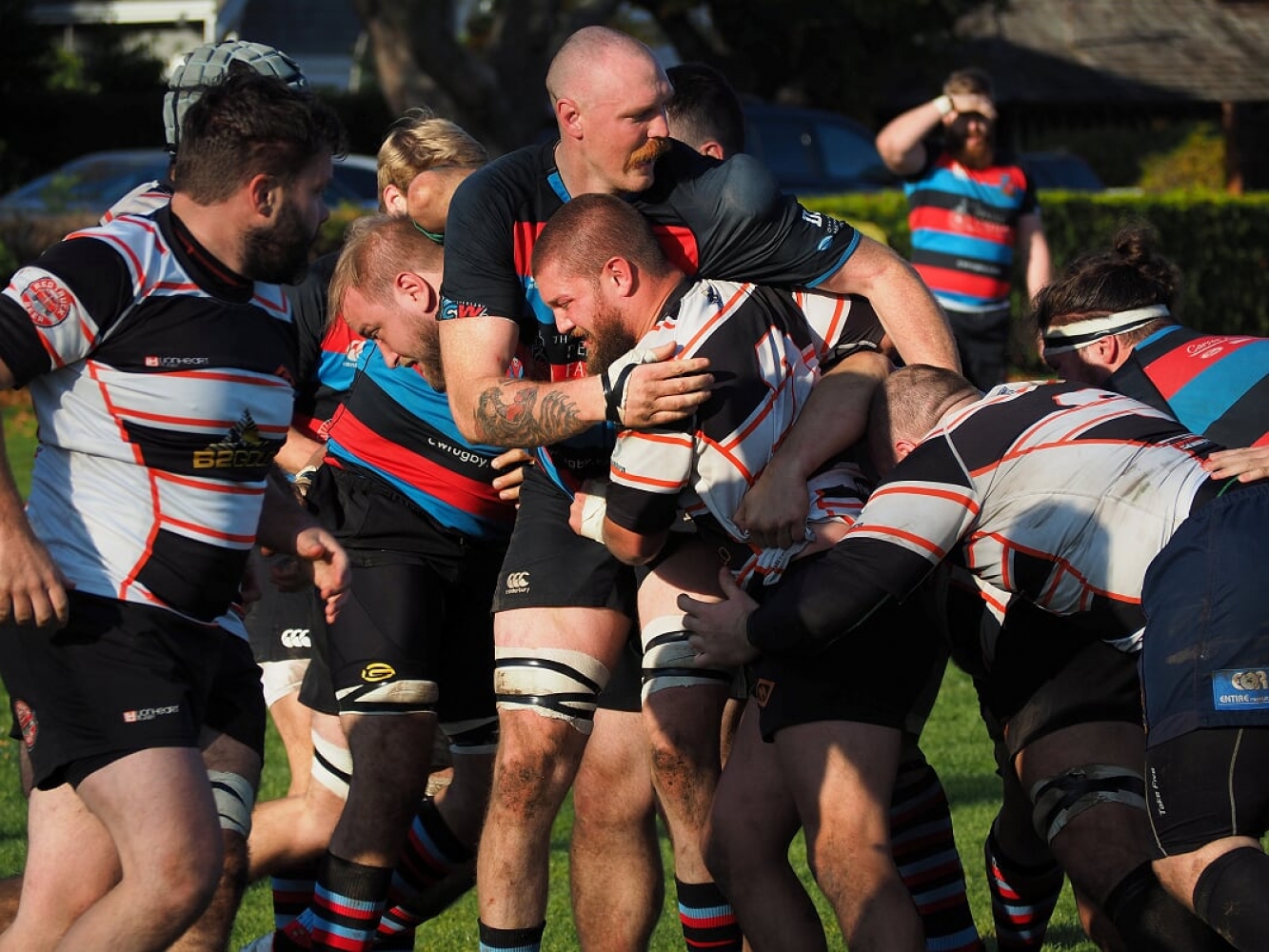 A perfect fall day at The House of Windsor was witness to three very entertaining games of rugby yesterday. CW's Premier Women dropped a tight result to the Cowichan ladies, 33 – 37. The powers that be were very satisfied with the effort in this one.
A Kapi 'don't argue'!
The Men's Reserves opened with an early penalty to the Visitors. CW attacked and came close only to see a Loma "breakout" and 95 m. later Peko (?) crossed for a 10 – 0 lead. Again, CW responded with good territorial advantage only to err and require fortuitous and stout defense to hold the score. At the thirty minute mark Gus Porter finished a good attack and converted for a 7 – 10 differential. Despite pressure from the 'Divvies', it was Lomas who scored three from a needless penalty and they added a further seven after a glaring missed tackle, providing a 20 – 7 cushion. Ceedub's, Logan, returning from injury, showed clean heels with a good individual effort and 14 – 20 interval score.
Early in the second stanza, a CW scrum got them out of hot water and Olson went 40 m. for the 21 – 20 go-ahead score. Gus Porter added a trey, 24 – 20. A few 'ticks' later, CW infringed and added two more needless penalties, questioning referee Freud. The miscreant shall remain unnamed! A quick tap, a pick-and-drive and CW trailed 24 – 27. Around the twenty-five minute mark a monstrous "miss" pass from the Queen Gerhardt went to Olson, crossing for his brace and regaining the lead, 29 – 27 with a potential winning conversion missed. Lomas ended the scoring with a penalty goal, 30 – 29. The Home team had chances but what seemed like a lack of urgency, saw nothing capitalised, including a massive, marginally-missed penalty attempt.
In seasons past Lomas Reserves have laid a solid licking on CW, so perhaps a two point bonus point loss may not have been deemed too bad but it was really a result that went begging. The Reserves League is a tight bunch apart from the top two clubs and yesterday, James Bay took it to the Norsemen, so it will be no walk at the Park next Saturday. Thanks to ref, Freund who seemed called upon to blow the whistle often and in fairness, almost always correctly! To the players. For the Visitors, Harbone led his team well and I liked a cheeky #9, Aplin. #1 star must go to the goal-kicker, O'Hanrahan (?). For CW Olson was dangerous, along with a lively return from Logan. Kanty gave his backs plenty of chances. In the pack, Watkinson, Mallard and Gerhardt deserve mention. As mentioned, next Saturday Vs James Bay for fifth place.
The Ruggernut, all-seeing, checks out Kanty's form!



To the main game. Lomas started with jump and it was a Schelly tackle that stopped a try, one of many he made on the day! Around twelve minutes after a pointless kick from CW, the ball was moved wide by the Loma and "Dewi" opened the scoring, 7 – 0. CW replied with one under the sticks from McCarthy after quality work from Woolridge and Chisholm. From the re-start CW came again and Chiz, feeling his oats on this day was prominent, sending Clayton "Burger" on a twenty meter scamper for a 14 – 7 lead at mid-stanza. The Kenyan Connection threatened only for a knock on to occur with the line wide open, then Pitsy put McCarthy through only for a careless pass, giving up an interception. As the half neared, Lomas added a penalty for a 10 – 14 arrears. My notes read; "not much spark at the park from a disappointing crowd of supporters"!



The second half was not very old when Herron went over off the back of a driving maul, a la Barkwill, initiated by a McCarthy break, 21 – 10 with Devillers being 3/3 from wide out on this one. Schelly followed this up, shortly thereafter with fortuitous possession resulting from pressure; his "dummy" and dot down under the posts, 28 – 10. Thence followed some seemingly inexplicable M-i-M and AR decisions, story short; a CW "yellow" and a concussion protocol; an invigorated Lomas; an eight "hands" movement resulting in a try to Vilijon, 28 – 15. It was "poetic justice" following a debatable "misinterpretation" and Loma attack when Kegode pinched an intercept and went 70 m. to dive over for a "10" and 35 – 15 lead. Play degenerated to a sloppy level. Kegode pressured again and Herron carried it on determinedly before dishing to Devillers for the sixth try and his fifteen points and a 40 – 15 final exclamation point.



For Meralomas, I noted efforts from Pepe, Berry, Bishop, Winter and "Dewi", four of whom were designated as "international", having a good day. For the Home side, senior leadership from Chiz, Wooly and Thornber was vital. The set pieces were solid and Chiz owned the lineouts. Also in the pack, Humphries and Sudsy deserve a note but for my money, Herron was M-o-M. In the backs Kegode was increasingly dangerous as the match progressed; Schelly's defense was impressive; and Pitsy and McCarthy had their moments, although, in summary, the backs looked far from fluent. More cohesiveness will be needed next week against a JB crew who tamed UVic yesterday.



Thanks to the day's officials, although it could be added that referee, Pedrick's decisions on occasions were perplexing to this pundit, contra to a couple of previous solid performances witnessed from this man at Windsor. Despite being one win and four losses, CW must relish their opportunity next weekend at MacDonald, as the league results continue to be inconsistent and mystifying. It is always an occasion that brings out the best and sometimes the worst in both clubs!


CW rugby bond - Hearn (Newfoundland), Johnston (Victoria) and Sinclair (New Brunswick).
---