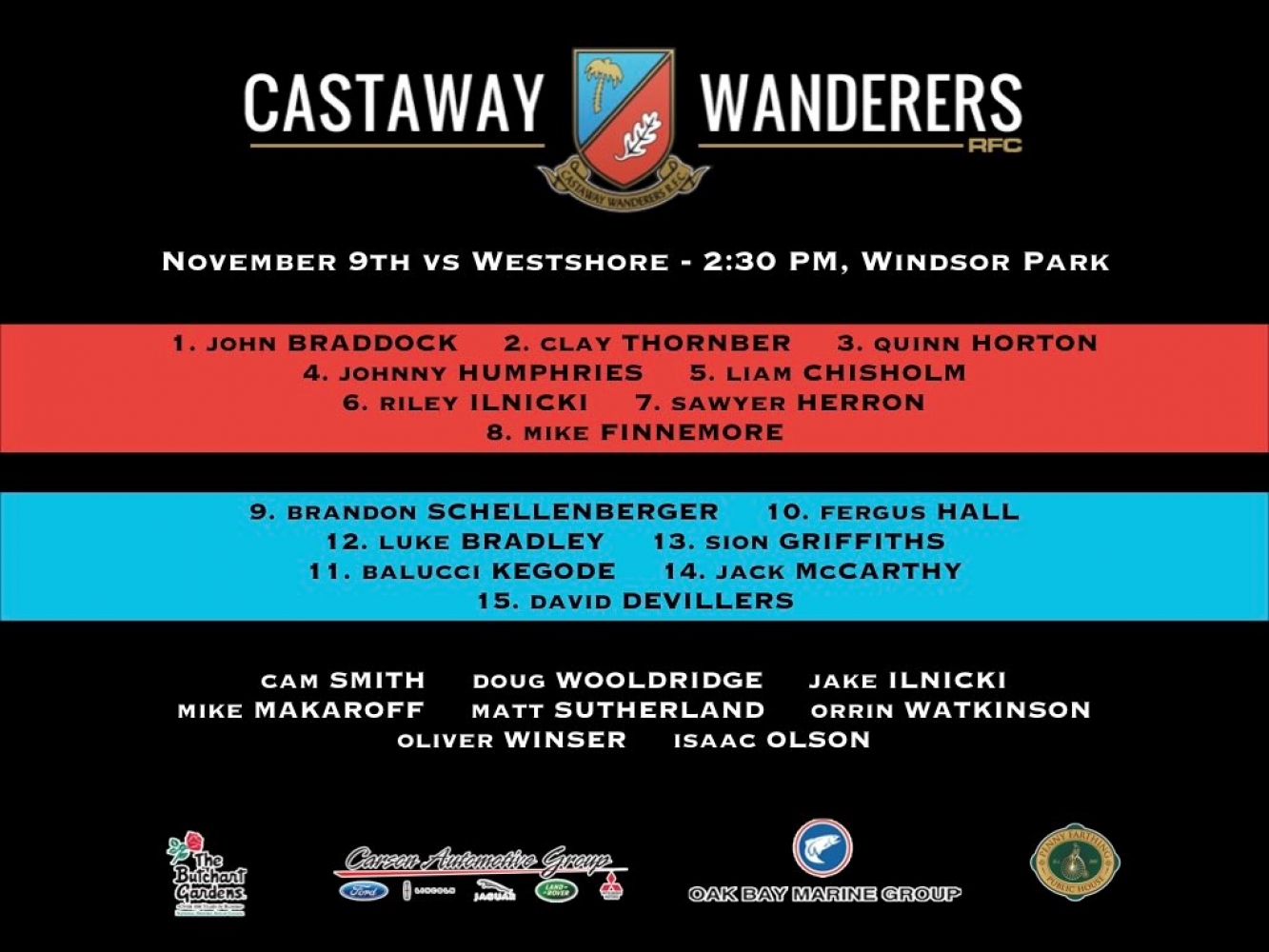 Welcome back, Burger!


Baby steps it must be to get back into the hunt. CW faces tenth place Westshore tomorrow at the House of Windsor, k.o., 2:30. Westshore sits at eleven points with CW, barely out of the basement with eight. The forward pack has a different look again this week with the return of Clay Thornber, following concussion protocol and John Braddock, having a game last week under his belt will be the better for it. Also, Mike Finnemore returns to action at #8, as does John Humphries after a week out with a minor niggle. Quinn Horton, learninng more and more in the 'bigs' each week, holds his starting spot in the FRF. The starters are rounded out with Chiz, Ilnicki, R. and Herron, all three playing some energetic rugby with Herron in particular, beng outstanding.

The backs see a tweak, with Fergus Hall moving into the pivot spot at #10, a position that is proving difficult to fill as effectively as last season's incumbent, Hall, C. Hard man, Luke Bradley is retained in the centres and Sion Griffiths is moved from the wing to partner him. Griffiths is a player of potential and blessed with speed but the lines of defense this week will need to be much better than the porous, excitability of last week. Kegode, McCarthy and Devillers make up the back three. Balucci is solid and the later two have yet to really stand out. McCarthy is trying to make his mark after missing out on the Pride and Devillers has pedigree enough but one suspects the standards to be met are perhaps higher than what might have been expected, to date.

The Pines can probably be bid on as a collective, with some knowns and a couple of unknowns. Woolridge - always solid gold; Ilnicki Jake being a surprise and the bros may actually get time together at some stage; Riley's outing last week being something special; Suddsy, always a favourite who never lets us down; then there is Cam Smith, Orrin Watkinson, Isaac Olson ("unknowns" to this writer) and Ollie Winser and Mikey Makaroff round it out.

We are not aware of the Westshore lneup but they have been an enigmatic club to date. A win and a loss to Nanaimo, a good win over Seattle, a collapse against UVic after a solid start, and a drubbing last week against, Old Boys Ravens. Reading game reports, it is apparent that Westshore start with the goods but are having trouble "going the distance", an indication that there is every possibilty that "the Pines" may well come into play tomorrow. If indeed, this is the case, my money's on the home team, otherwise, all being equal, it should be a tightly knit affair. Fie thee down for Happy Hour and the Player Auction at 5:15 this afternoon and go, CW!
---