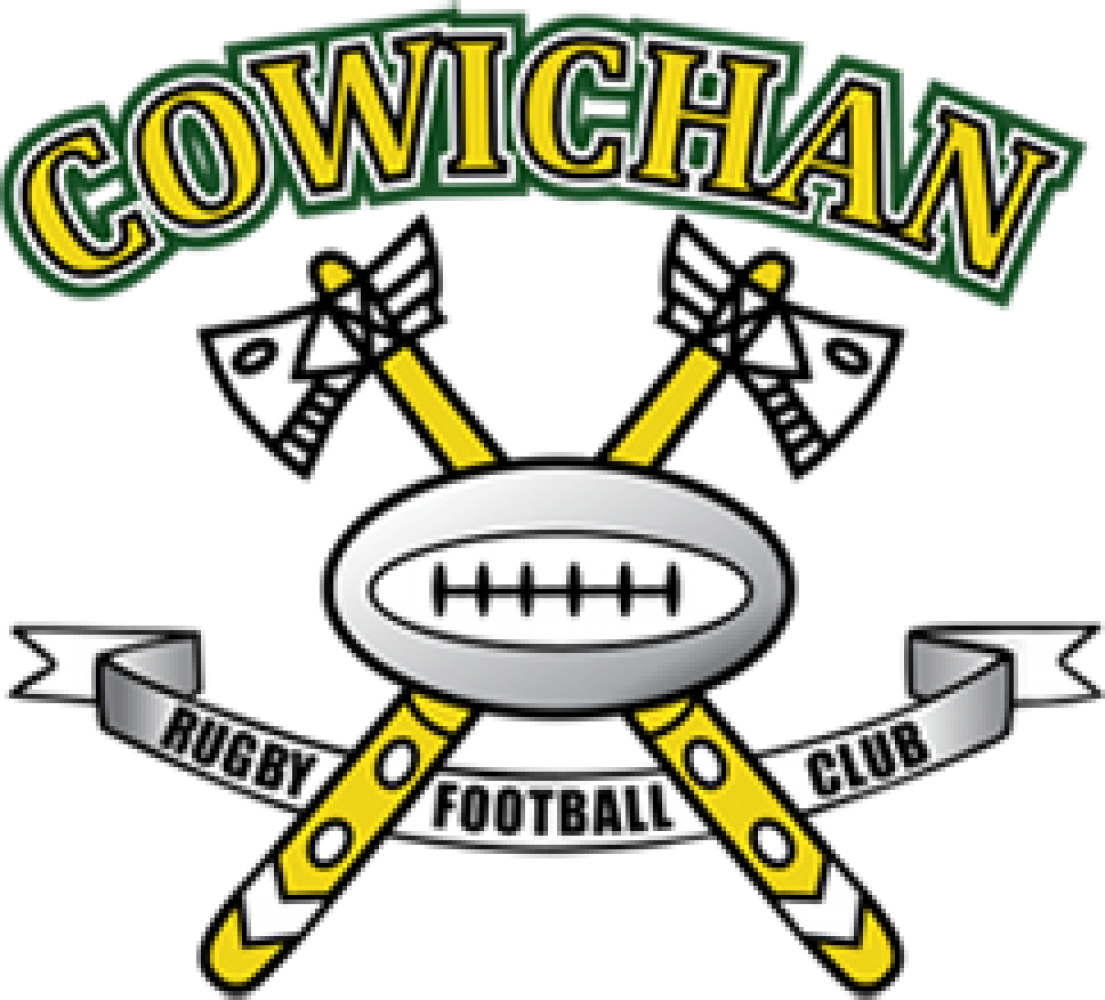 Today we feature the Cowichan RFC logo with respect and thanks.


Despite registering just a lone win so far this season in Premier play, tomorrow's opposition, Nanaimo Hornets will provide stellar opposition for CW's men at Herd Rd. In the true spirit of rugby, the Piggies have made their ground available for CW to transfer three games from the unavailable Windsor and Carnarvon Parks.

Matches will take place as follows;
WOMEN DIV.1 – 11:15 a.m., CW Vs Nanaimo
MEN RESERVES – 12:45 p.m., CW Vs Nanaimo
MEN PREMIER – 2:30 p.m., CW Vs Nanaimo

The writer will just mention a few comments regarding the Premier fixture. Firstly, by 2:30 the field will probably be heavy going. To that end, Nanaimo has two games under their belt, the most recent being a narrow, two point loss, on the road against Meralomas. CW have not had a trot for eleven weeks – almost three months! That last match was against these same Hornets. No doubt match fitness will be a factor and it should help that an experienced CW pack with old hands, Braddock, Finnemore and Chisholm being key.

The Hornet's pack last week featured newcomer (?), Scanlon in the FRF, keeping the experienced Pat Milford on the bench. The remainder – Corbin, Barth, Brook, and Krawczyk are familiar faces, with the talented Melynk at "tail up". We note The Tricolours bench features Dawe, Ilnicki R. and Woolridge, no doubt a potential factor.

Nanaimo's backs sported talented halves – the versatile and nifty #9, Reimer and Captain, Hooke. The other backs have been seen by CW although the centre pairing of Tiumafifi and Hume appears different. CW will counter with Pitblado and Hall, combining for the third match; Bradley and Hammond the Younger, will pair for the first time in the centres, Balucci, fresh from his Kenyan infusion, Devillers and Schelly round out the backs.

With the result being critical to CW, this pundit predicts CW in a one closer than others might predict.
VALE – Brad "Coop" Watson, 1959 – 2020.
We have recently lost a dear friend and rugby compatriot from the Oak Bay Wanderers days. Brad Watson passed away in January. Far too young to be taken so early. He is fondly remembered as a solid club member and great friend of many. A dependable player and all round great guy.
Brad's times go back to the 1970's and 80's. The days when the likes of Denny and Tom Sinnott were players of consideration, Terry "TT" Tabor, Gillie Greg, Tom Livsey, John Morley, Mike Antolin, Larry "Bum" Yore, Hugh Dyer, Walter Low, Paul Shephard, Pinkie Smith, Pete Kilshaw, Jim Dempsey, Dave Graham, the "Burge", Ron Crawford, Ron "Slug" Caton, Derwin Phillips and Paul Leslie are a few playing team mates that come to mind.
Brad Watson, aka "Coop", was a mainline strand in that fabric at that time. These mates and many more, played on and off the field with Brad. Brad had taken his leave from the club to raise his family. He was a private sort and moved away, up island, to rarely be seen. His passing has only just come to notice.
We want to take this moment to share this sad news within our rugby fraternity and express our condolences to Brad's family. R.I.P. good mate, a man who was "always up for it, whatever 'it' was!!" (With thanks to Peter Kilshaw.)
---