..........And then there were Two
---
---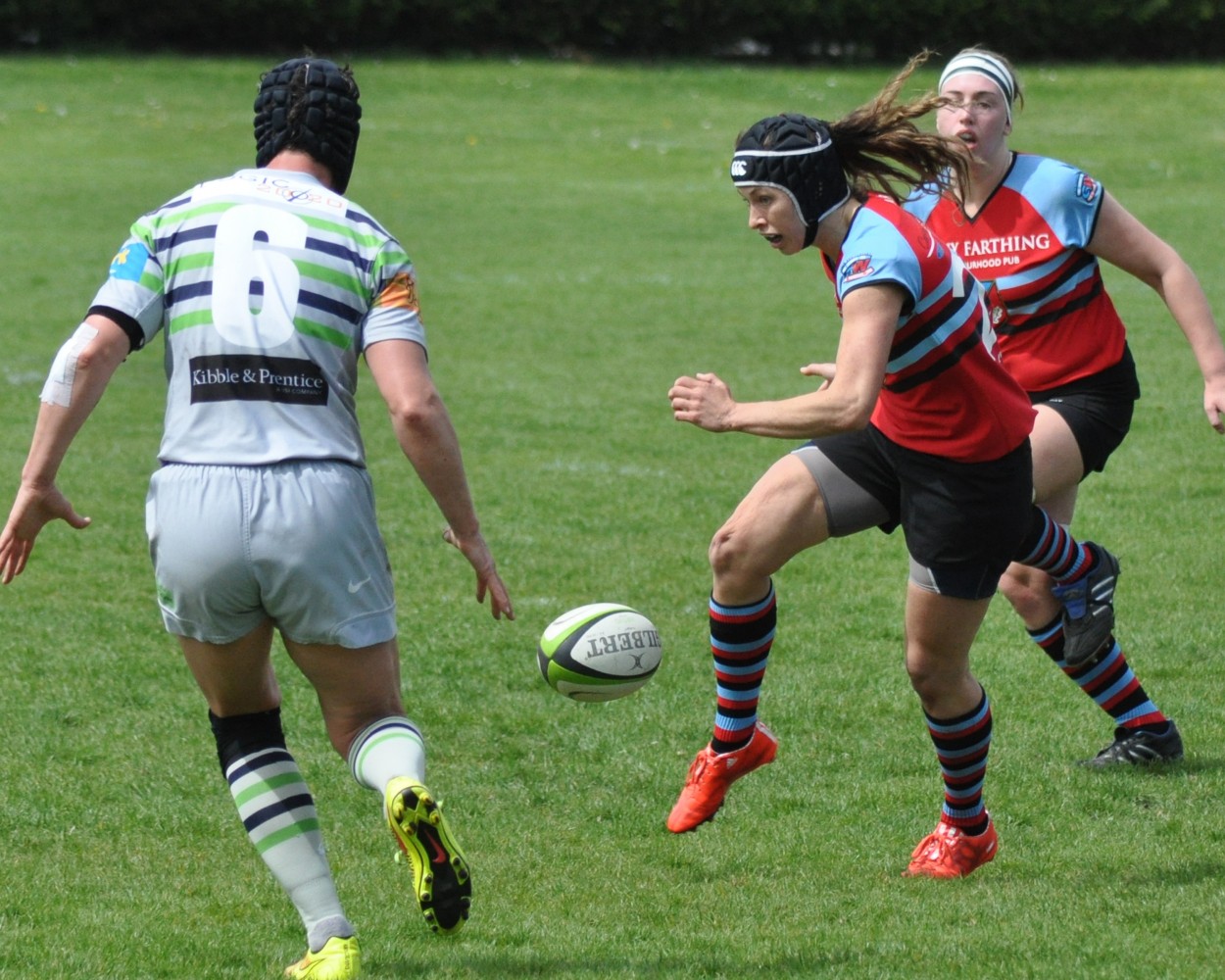 Britt's Boot Does Damage!
With 22 points, the day might have been expected to be called The Jess Neilson Show however, as with all CW women's games witnessed by this critic, win or lose, it was all about TEAM. The game was only two minutes old when CW won a scrum, Waters observantly saw no "sweeper", up on a fast defensive line and The Britt booted to space and Captain Zussman gathered a fortuitous bounce and fed McNally for first points. Seattle came back, making ground only to turn the ball over. Waters replayed the same tape at five minutes for Stef Hansen to catch the bounce, 12 – 0. In the early stages, Galbraith at #10 orchestrated the attack but it was the piano movers that really laid down the wood. Schigas then made a statement with a massive tackle and "re-win" to create pressure. Neilson took an alert tap and crossed for the 19 – 0 lead after a mere eight minutes. Perhaps the ref missed this moment of alert play, the ball being far from the mark! It was a rare error on the day. From the k.o., McNally ran a great line for a 35m burst and again Seattle was under the cosh. Waters chipped again for an 'almost' but she really showed her class when quick ball saw her shimmy and take a gap at the half-way, she fed Zussman when the defence closed and Julie went 35m for the try and 26 – 0 lead and basically the capper after only twelve minutes of play. CW defense was also "on point" and it took 35 minutes before The Sarries really asked any questions. Marty Quick broke, fed Sommer, on to Baker and Jansky crossed, 26 – 5. Right on the half, turnover ball by CW went to McNally, on to Waters who scooted 35m to score out wide, 33 – 5 at the interval.
The second stanza opened with some Seattle determination, duly rewarded when winger, Jansky-Bingel crossed for her brace, 33 – 10. What had been a reasonably steady CW scrum suffered some shunting and a few passes went awry with appeared loss of concentration. Seattle failed to capitalise on this and when CW did win a set ten meters out, Nedved peeled, went blind and sent Neilson over, 40 – 10. Similar to their last encounter, Seattle did not give up, a credit to a struggling team. Jansky made a massive 80m run, only to be scythed by super-sub Sargent, they won the ruck and three quick passes saw Garrett in space and a 40 - 17 score at thirty minutes. From the re-start, we saw a magnificent "Captain's Response". Zussman claimed a loose ball and dodged and dummied 35m for her brace under the posts and 47 – 17 lead. In the waning moments, Seattle punched over another from their other winger, Kmiecik and a final score of 47 – 24. Perhaps, a rather disconcerting second stanza for the coaches, being outscored 14 – 19 by an under-manned team!
This pundit gives W-o-M to Seattle's #8, Sveinsson. Others who put their hands up were; #2 Esonu and #3 Reddick. In the backs, the halves White and Captain, Sommer, tried hard all game. Seattle was extremely hampered in having only 17 players and have fallen far short of their dream as B.C. Champions in a game that was probably "all over" by the half. As mentioned, the lack of concentration and second half errors from the Home team will be a matter of concern for the coaching staff. CW showed an interesting combination, using Galbraith at #10. Kara did a good job with rapid fire distribution to her heavy-hitters in the centers, Waters and McNally who were full of running and Zussman's pace from #15 was always a threat. The complete pack and subs did well, Nedved and Crow-Hutchon being the most noticeable. Full circle, I give my W-o-M to Jess Neilson. This combination will give the coaches food for thought going forward. Thanks to game day officials, especially M-I-M, Luke Bentvolzen, viewed by this pundit as a good "up and comer".
So the table is set for the B.C. Final, V.W. vs C.W. The teams have met four times this year with results strongly favouring the incumbent Champs, scoring a mammoth 156 points. This being said, every outing the challengers have reduced the differential from 44 points in game #1 to ten, last time round, significant progress! I believe CW has a chance but Westshore must be "odds on" with their experience and a more complete game they have displayed in the past two contests. They warmed up with a 53 – 5 shellacking of perennial challengers, Burnaby out at Westhills on Saturday. No matter what, the rivalry is intense and I suspect, the respect, mutual and the rugby will be of the highest order. Time and venue will be announced here.
Hard yards!
---