....And Then There Were Four!
---
---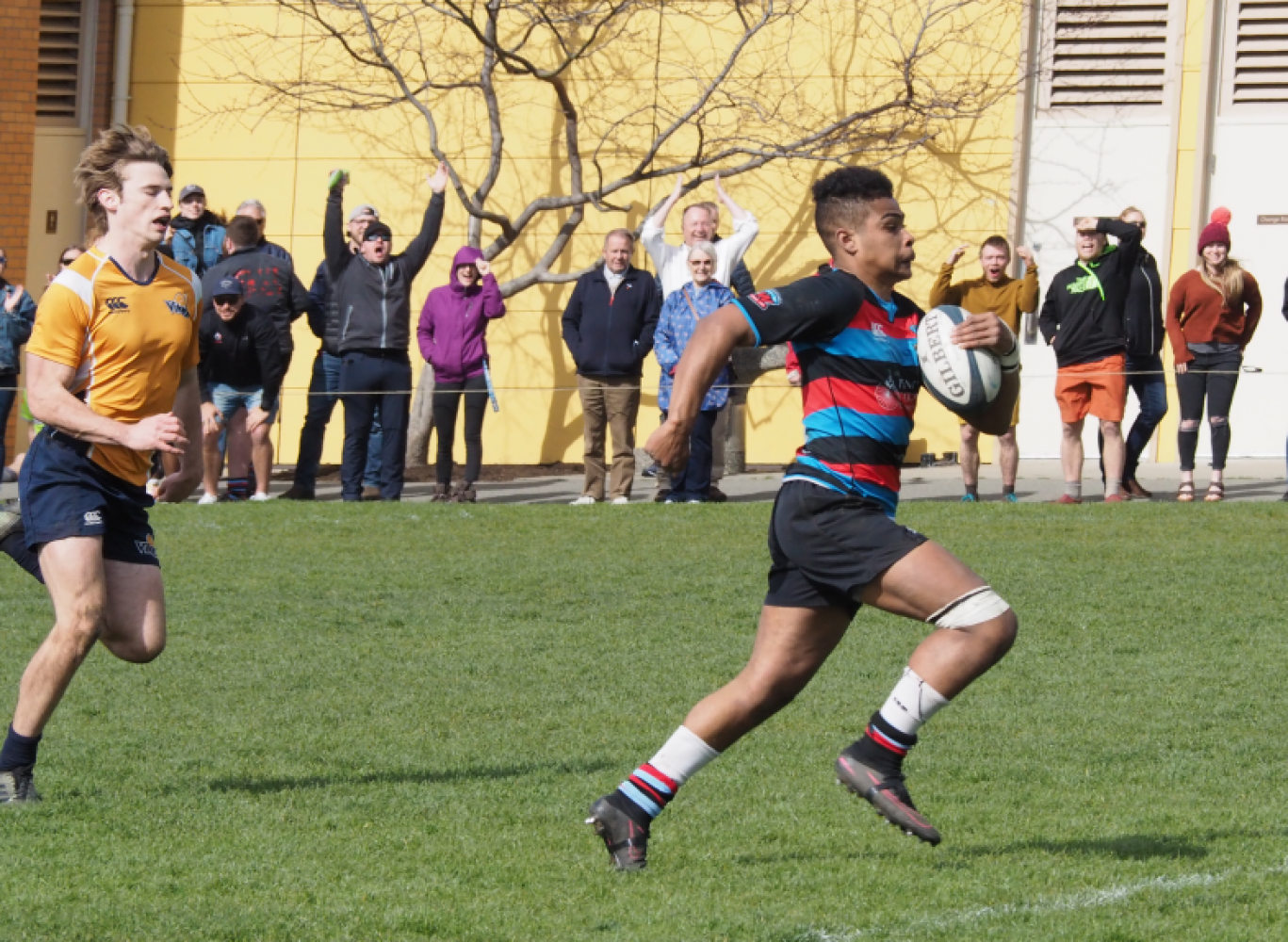 OMG....Shut the front door!
Heartiest congratulations to CW Men and Women Premier teams, both qualifying for the final four. The Men turned the tables on UVic with a 45 – 37 win and the women had a fantastic victory over Burnaby, 53 – 29 on Saturday. Indeed, CW is one of two club sides with two teams in Premier Semis, a tribute to players, coaching staff, trainers and managers. We only have sketchy information about the women's match but CW was ahead 36 – 0 at the interval, compliments of a hat-trick by Mandy Marchuk and held on, adding a further seventeen points for the win. Our ladies will now play Westshore next week and we urge as many as possible to be on the sidelines to support the team, (if you are not travelling to UBC!).
The men also featured in a Tryfest, some eleven tallies in total, crossing the line. The kickers were on much better form this week, despite the conditions being more difficult, with at least four converts slotted from near the sidelines and CW's Adibe going 6/7 for thirteen points. His counterpart, Prevost added twelve and a try for seventeen of the students' total. Despite the excitement, there was so much action that a game monologue would almost be too tedious to describe. A flavour of the action will sought to be achieved.
The match opened with some twenty CW phases of retention, the patience displayed being admirable and finally, it was Finnemore to Leask to Johnston under the sticks, 7 – 0 at three minutes. CW came again after along break by Johnston; good, alert play by DiNardo, Adibe to Pullin, 14 – 0. What a start for the "Bobbsey Look-alikes" in the centres! CW then was assessed with a number of transgressions; mixed in with The Magician being "Held up" over the line. Pitblado was away but Finnemore made the stop. It was exciting moments of attack and defense from both teams and with CW on the attack again, a wide pass was "telegraphed" and Hager was away with the intercept, a fifty meter sprint and a 14 – 10 score. It was another Johnston break and when he was scragged, Pullin slinked alongside for his brace, 21 – 10. The scintillating pace continued with the interval looming. Quick UVic hands and a "wide" pass to Prevost in the line, saw him outpace the cover on his overlap for a 45 metre scamper, sideline convert and 21 – 17 total. The Faithful on the balcony were almost silent, between glimpsing watches and not wanting to miss any action for it was still game on and after three recycles, The Vikes managed to free, Long, on the wing, for a 22 – 21 half-time lead.
Who knew it but there were many more points to be scored by both protagonists in the second half! It was Long who opened the first gap to foray into Tricolour territory but then arguably, the first, small momentum swing occurred with a tight-head scrum win to the home side. It was followed up by an elusive Johnston break of fifty metres and a feed to Anton, 'The Magician' Ngongo to finish, converted from the sideline and regaining the lead, 28 – 22 after a mere ten minutes. The students came back with a bullocking Bos burst of ten metres – unstoppable! 29 – 28, UVic. Soon after, Woolridge who had replaced Sponarski who took a bump but had soldiered on for some time, received a yellow card and The Faithful slumped! Both kickers contributed a trey, 32 – 31, Vikes. Déjà vu all over again? UVic looked ever so dangerous and it was the diminutive Pullin who "saved the day" with a commendable counter-ruck. A hard line from Nanyak and he was served a flat pass, back to Pullin (or was it Johnston?), to Chisholm who made yards with good effort and a flip to the ever-present, Finnemore for a deserved tally for this man and a 38 – 32 lead to CW, Adibe having slotted from the sideline, yet again.
About 27 mins. in, the ref went down with a punctured tire – calf issue, dealt with by CW trainers. The balcony prognosticators predicted the lengthy break would assist one of the sides but which one? From the re-start scrum, UVic probed left and came back right for Mathews to cross, and a rare miss from Brennig, 38 – 37. Abdelnour could not continue as the pace was far too scintillating and Foster came on to finish the contest. A tough task in this pressure-cooker and he did a commendable job. The Vikes did not let up and it was somewhat "against the flow", not the first time on this day, that Captain Stewart made a thirty metre break after a shrewd "show and go", only for the ball to be turned over and a Stewart injury, taking him out of the play. Hohert was on and it was Prevost who decided to take a 48m chance in the wind for the lead. Tough choice under these conditions and there was plenty of money "backing the ball". From the re-start, UVic flung wide ball, using their expansive style to back a chance but on this occasion it was Morra who had a shot at redemption, he athletically sprung and juggled the pill and then scampered 45m for his intercept and 45 – 37 lead. A final exclamation was put on this one, fittingly enough by the CW pack, splintering and shunting the student's set scrum back metres for the third occasion, earning the penalty which was booted to touch. Phew! What a match. Compliments to all the participants, players and officials.
There was plenty to like from both team's performances. Ollie Nott made a noticeable return, Mathews (voted UV, M-o-M) and O'Neill complimenting an active back row for UVic; more than capably matched by their counterparts amongst whom, Finnemore was pure gold. Pitblado in his hundredth and last game for the Vikes performed admirably, displaying skill and acumen for attack. Bowd was not the same standout as last week and in fact, Adibe, arguably had the better performance. Kratzy and the FRF were good value but give me the CW boys on this day, led by Finnemore, Chisholm, Thornber; Braddock and Dala when the nose needed to be in the dirt, were the better combo. Of the UVic backs, I applaud Brennig Prevost who we have seen a great deal of in CW colours over the years as a mini and junior. He has gained size, strength and is sheer skill personified. Hager and Long were dangerous all day and the Morra/Long contest was fascinating. CW's backs to a man almost, were the better of the two combinations, specifically, the work of Johnston (won Players Hard Hat Award) and Pullin, set on fire mostly by clever Adibe distributions and throw in Schellie, popping up everywhere for one of his best games in the uniform. Personally, I was so happy for Johnston who finally showed us just what was (past tense?) seen in him by R.C. These young players will go far and if the rumoured return to Ireland comes to fruition, what a memory from Pullin to leave us with. Final word goes to Scott, a masterful job, you earned your oats on this day. The players adjourned to The Temple for an opportunity to embrace mutual respect and laughter. Ah, no doubt, the Game They Play in Heaven!
Let's roll up with a busload of supporters next Saturday at UBC. Plan for a roadie!
Thanks for this memory of the season. Tough at Home.
N.b. Check CW Twitter for Divvies scores from UBC today.
---