AGE GRADE SUCCESSES AND OTHER NEWS
---
---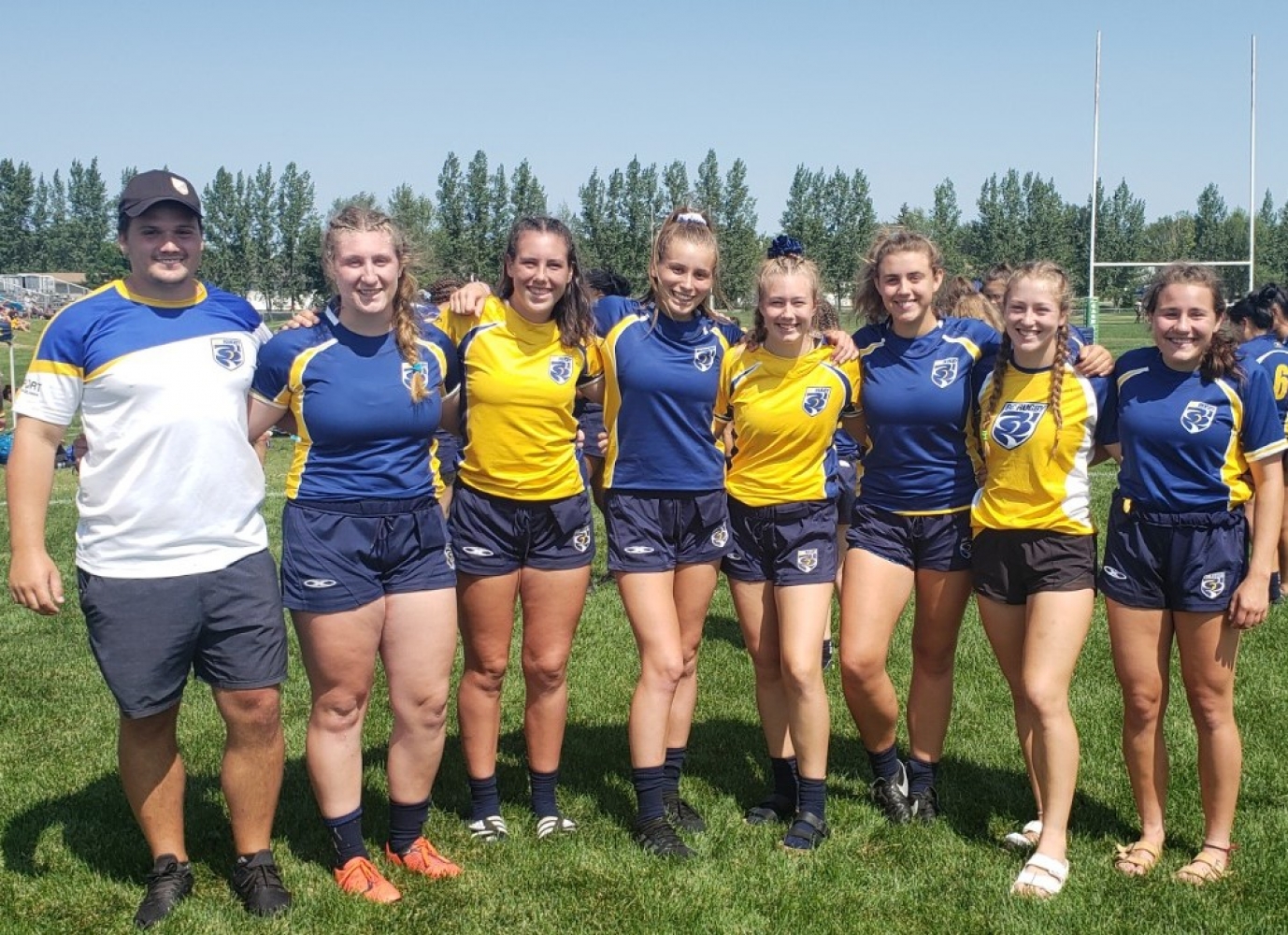 Today, we bring you a report from "our man in the field" at the recent U19 Girl's Western Canada Championships. "The U19 Western Canadian Championships were held in Regina, Aug 1-4th. The Regina Rugby Club sponsored the event offering two great grass, rugby-specific pitches and an inviting, well stocked air conditioned clubhouse. On the girl's side, six teams were competing for the title. Two Alberta Teams (Black and White) which were reported to be structured so they would be equally strong contenders. Two BC Teams structured by age grade, U18 (Blue) and a U17 team (Gold), one team each, from Manitoba and Saskatchewan. CW was well represented at the tournament with eight girls playing and one coach, spread over four teams.
Four games were played by each team over the four days. The final day saw Saskatchewan with CW's Hannah Scherr playing a big role on this squad, edge out Manitoba for 5th spot. The two Alberta teams each winning their respective semi-final games played for Gold. CW's Morgan Warner played with AB Black starting as loose head prop in their convincing 27-0 win. The BC Teams both relegated to the Bronze medal game, saw the U18's dominate the first half over their younger provincial mates. The U17's had a much stronger second half, but in the end were no match for BC Blue, losing 22-0. CW was well represented on both teams, with Maelle Reed, Ella O'Regan, Katie Elsner, Sophia Tafel playing on the U18's and the U17's were Chloe Hill-Huse Team Captain, Renee Cook and Olly Winser Assistant Coach. Above the group is photographed, including Westshore's Zoe Williams who was "on loan" for the B.C. Club Championship Finals. All in a, a great event hosted by a great club."
WESTERN CANADA U18 CHAMPIONSHIPS
It's a tip of the Ruggernut's cap to B.C. Boys who won the gold medal and the B.C. Girls who won bronze at this event. The girl's team included CW's Katie Elsner, Maelle Reed and Sophia Tafel. Sound familiar? Yes, these ladies also played U19's and will be the basis of a very strong team again next year. Congratulations to other CW players who competed with other teams; Renee Cook, Chloe Hill-Huse and Toby Wu, along with Coach Ollie Winser.





CANADA SENIOR MEN Vs TONGA

It was with hope and wishful thoughts that Canadian fans viewed this match between # 14 ranked Tonga and #21 ranked, Canada. History showed us that Canada had never lost to Tonga, going back to 1987. Most readers would have watched the match and formed their own opinions. For mine, I cannot understand why needless tactics of trying to gain ground with poorly executed chips and grubbers, along with the hope of keeping the ball alive with very poor percentage and wildly flung "out-the-backs" is not outlawed by the coach, who stated post-game; "We seem to make two steps forward and two steps back!" I would suggest, maybe half a step forward and two steps back. This is for starters.


For the last fifteen minutes (pedal off by Tonga), when Canada kept the ball in hand, it was the best they had looked in their three matches. The Wallabies yesterday further proved the value of this simplest of tactics, aborting former efforts to gain ground, turn defenders around with kicks that more often than not that had been returned with interest. Lack of size is a factor that we can't overcome at the moment however to see players standing around, either through fatigue or not knowing where to "fill" when they get to their feet, 'knackered', after a tackle made, was most disappointing and this and what looked like a lack of heart at times, was most un-Canadian. There were some players who should not have their names included in these comments – Ardron, led from the front, Olmstead, Rumball, Hassler and van der Merwe, with Parfrey's appearance being the best I may have witnessed, during his short time on the pitch. Positives, perhaps a fair effort with scrummaging and improving lineout work, little else.


So Canada has three more games before Italy. Jones mentioned he is still looking at combinations, I would suggest unless he can pull a bloody rabbit out of the hat, he should be looking at basics and a strategy that might give the boys some hope, translate, self-confidence. Don't hold your breath and it saddens me to write in this tenor. (Opinions expressed are solely those of the blogger.)
B.C. U14 Boys in Washington State Vs Northwest Loggers Reps.
Head Coach Kapi Vataiki picked a 20 strong list of players to travel south of the border for the match in Bellingham, WA yesterday. The match continues a developing relationship between the Loggers and BC Rugby, with BC hosting a similar match at Klahanie Park in 2018.The U14 Boys' XV was selected following a deveopment camp held at Brentwood College on Vancouver Island. A total of 34 players were invited to take part in the multi-day camp where coaching staff focussed on core skills, expanding rugby literacy and forging new connections between players from across the Province.

The match on Saturday was a further opportunity for these young athletes to increase their rugby horizons, meeting players from south of the border and playing in an unfamiliar environment. Not only is this the first opportunity for these athletes to pull on the blue and yellow of a BC Rugby Representatve XV jersey, but it is a first taste of the next tier of competition above club and school tournaments. Hopefully, for many of these impressive young players, there will be plenty more BC Rep Team selections as they grow through the sport.


CW had three players selected to the team; Aidan Chaney, Noah Kynastan and Jackson Palmer, along with Program Head - our President Matt ("The Chaplain") Gordon, Assistant Manager, "Evergreen" Dougie Hepp and Head Coach, Kapi Vataiki. A synthesis of the match from our man at the grounds; "The boys came out a bit flat on offence but full credit to a big defensive effort against a heavier Washington side from the opening whistle to the final one. The boys righted the ship on offence in The second half which was a different, closer match - both sides crossing the line twice. The referring was superb and fair and ultimately their #10 was the difference maker in the game - a higly skilled lad that B.C. didn't have an answer to. In the end the boys can hold their heads up high - not the result we wanted with the final score being 36 - 17 in favour of the home team. B.C. is now 1-1 over last two years so the rubber match will be back on home turf next year!

The Loggers have been a wonderful partner in our mutual desire to increase competition for boys on both sides of the border with their development at the forefront of both program's goals."




A CW Connection with the U14's - Giving Back
---