A Tough Day At The Office
---
---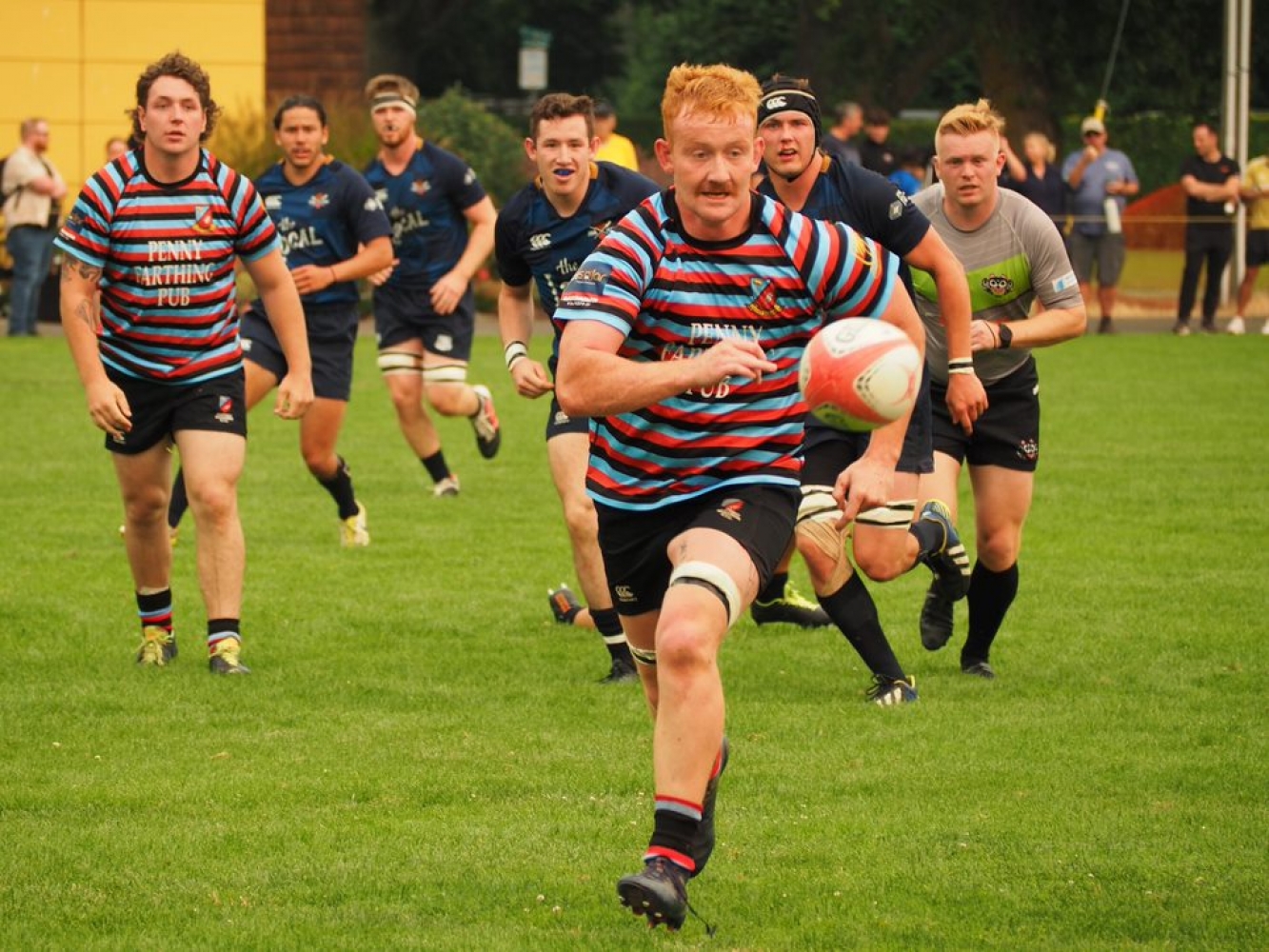 M-o-M, Steve Pyke, breaks out.
There was plenty of scoring, but Saturday was a tough day for the hosts. The curtain-raiser to the curtain-raiser saw the Comox Kickers take the laurels. It was great to see Comox with a full roster, a sign of health of the code in the Upper Island. They were well prepared, and the contest was close throughout. The Visitors pulled away with a couple of late tries, 46 – 32 being the final score. It was good to see CW field several eighteen-year-olds with some old codgers and some who just want to play rugby. Well done, The Don and his Islanders.
The curtain-raiser was also a lively affair with the hosts showing plenty of spark after a shaky start. James Bay exhibited their patented style, featuring strong forward play, retention, and drives. The ball did get out wide in the second stanza when they scored fourteen unanswered points, leaving the pitch with a 33 – 19 win.
It was JBA who started the affair with good field position and possession. A series of recycles saw them post first points, 7 – 0 after seven minutes. A second try was soon added, and it was 12 – 0 after ten minutes. CW did not see much ball in the first fifteen minutes and were mired in their own territory. It was a speedy 50m breakout by Garrett that opened the account, and the fray became more even, with CW sets applying some pressure. The hosts came again after another pacey breakout which was stopped short but a quick recycle saw Jack "fill" from #15 for 12 – 12 score. CW backs were showing as able runners and some promising gaps were taken but often marred with early season, rusty passing skills. Then it was Garrett again who was the willing recipient of a blocked kick for his brace and a 19 – 12 lead. Unfortunately, this was to be 'all she wrote' for the Tricolours for they were to succumb to a three-try onslaught for the rest of the contest.
I thought the TSN Turning Point was mere minutes after the opening of the second stanza when a simple peel following a couple of good driving mauls put the Bays ahead for keeps. There were good efforts from both groups for the rest of the way, tries being thwarted with the tackling being surer. CW could take pride in their set scrummaging, often shunting the men in white backwards only to gain no advantage due to alert play from a feisty JBA #8. CW was also tardy to the breakdown which did not help. The final straw (with ample time on the clock), was an offside penalty and an alert tap by JB's #12 caught the defence napping and the solid 33 – 19 win had been secured.
Positives for CW – solid scrummaging and pace amongst the backs. Today's link with the backs, following good forward drives, notably by Irvine, Peters, Vinnedge and Daume, was disjointed. For James Bay, for a first out of the gate, they looked rather cohesive as a team with some very solid youngsters who will also, no doubt, improve. Thanks to Ref, evergreen Claude Paterson.
To the main game. James Bay started briskly and earned an early penalty, 3 – 0. CW worked play back and aided by a penalty and touch-finder, a well won lineout by Finnie and drive saw either Sponarski or Pyke over the line, 5 – 3. CW received a yellow for a dubious (imo), 'dump tackle' and JBA's Findlay made a bothersome break after a missed tackle, this was followed up by some useful recycles and the pressure was on. A penalty chance was missed by the Blues only for CW to incur another yellow for an attempted intercept. Players must realise that if they don't get both hands on the ball (may only happen in 10% of attempts), this is always going to be the case. It seems to be a recent, more prevalent carry-over from Sevens and regardless of what the spectator might think, that is the law. Insult to injury, this was followed almost immediately by yet another card for the same infraction! Despite CW winning a scrum, a turnover occurred, and the ball was extended wide, and it was 8 – 5 for JB. As the dust settled, CW's Smith, on debut, showed some quicks and this break was followed up by a good ramble from Sponarski, fast hands from the tackle and CW was back in front,12 – 8. Thus, ended the half. Another disruption for CW in this stanza had been a "blood bin" for Ollie Nott.
James Bay was first to score again in the second half after Gonevou had run a dangerous line. Crosby fed quick ball to Sora, backed up to spot the gap he had created and scored himself, 15 – 12, JBAA. CW incurred another penalty, thwarting a promising build-up and the action seemed to give way to several whistles. Despite all this, CW found themselves on the attack but an inopportune grubber was gifted to the Bays. Some inventive interpassing saw the ball quickly move to the other end of the field. Despite all hands on deck an arguably forward pass created run-onto lead for Gonevou to score and leave the Bays with a 20 – 12 lead and fifteen minutes on the clock. Another CW ball was frittered with a grubber and further late arrivals at breakdowns really was causing demise for the home team. Despite this, Ian "Weeman" Hickman who had a very solid game at #9 on debut, and whose age shall remain a secret, spotted some potential and threw a wide spiral "miss" to Smith on the wing. He had some work to do but broke two tackles and Tait converted from out wide, 20 – 19. JBA left points on the park with a missed penalty. Pyke regained the ball from the re-start, but it was not to be. Thanks to referee Pedrick on the day, akin to the players, also a wee bit "rusty".
For the spectators, it was good to have rugby back, reasonably well attended match and the players were active, obviously also keen on this fine afternoon. Lots to like for CW – Pyker was great (MoM and best on pitch), as was Braddock, Kratz, Clarkie, Finnie and Sponarski – all noticeable, also, a couple of the backs showed pace. The link was not as scintillating as what we had grown used to last season but both Hickman and Tait put in a good shift. This pundit, arguably, was not certain that the best team won on the day, and CW did more to lose it than JBA win it. I am sure Baysville would have very different opinions. It was good to see the Bays back in the mix after a struggle last season. Today's result should give enhanced motivation for the return match at the Mac on Oct. 1st. Finally, a MASSIVE shout-out to photographer, Wendy Norman, back on deck at Home games again. 'onya, Wendy, you're the best.
"Weeman" gets a classic, on the verge of a dive, spiral away.
---