A Rollicking Good Rugby Read
---
---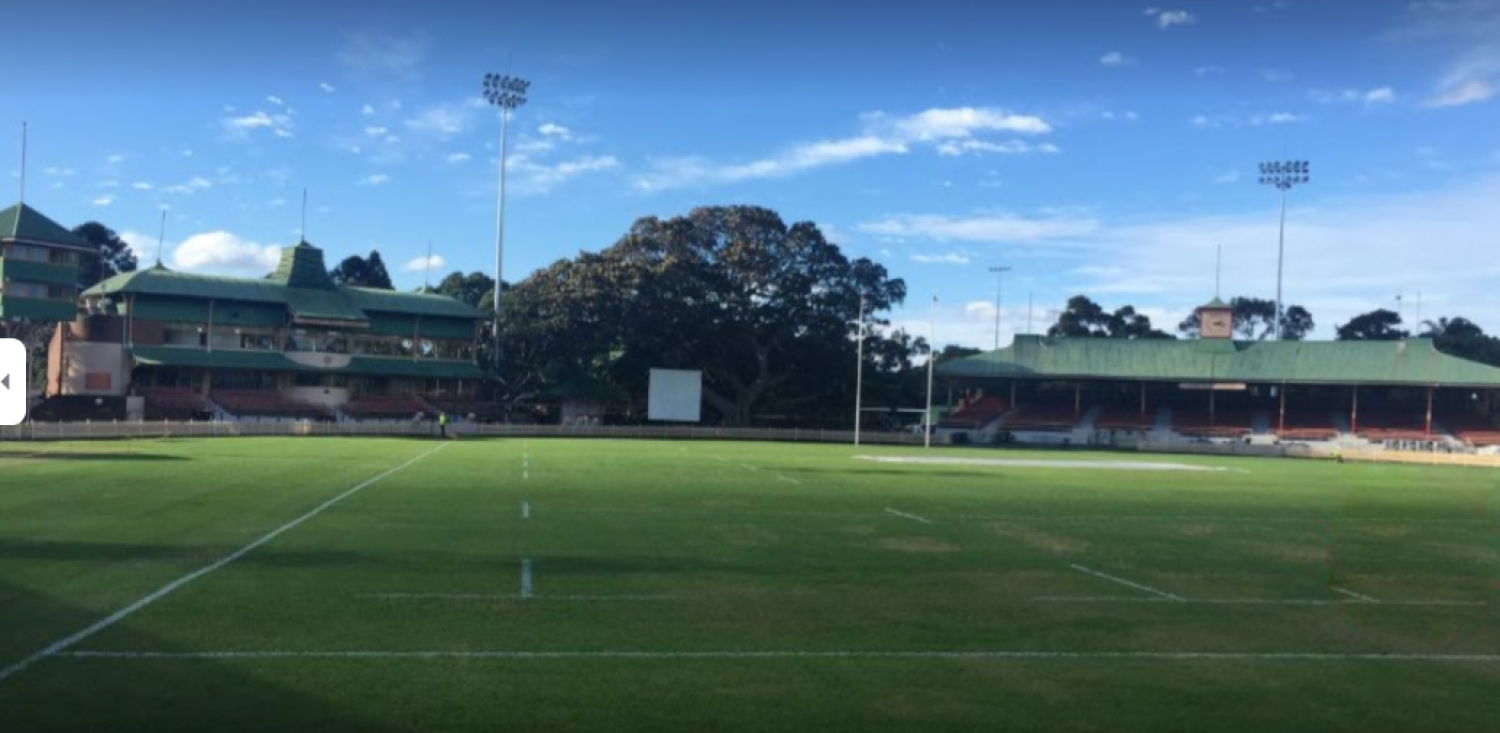 Northern Suburbs Oval
How the Game Gets Into Your Blood!
The following has been reprinted with permission of "Gatesy" a "Guru" blogger to this expert and fan submitted, The Roar, a mostly Australian rugby articles site, with over 1,000,000 likes. (Parenthesis will interpret local jargon and colloquialisms!) It is lengthy but stick with it – it is a rollicking good Rugby read!
"Now I understand that there has to be a ratio — a few of us publishing posts on this venerable site and a lot more people commenting. After all, why would you bother having such a great site if it didn't have a few hundred, or thousand, armchair critics?
So let me throw out a challenge, which I hope will add to the wonderful fabric of this great platform.
I usually get my inspiration to write here when I read a great article and go to post a comment that suddenly goes on a bit longer than I intended, so I think 'maybe this should be a post on its own'.
Open another bottle of wine and get those creative juices really rolling. The problem with another bottle of wine, especially late at night, is that you often just don't know where your thesis is going to end up.
It can go in all kinds of crazy directions, but I subscribe to the view that you should never let facts, or wine, stand in the way of a good story. That usually ensures comments from all ends of the spectrum from downright vitriolic to nice praise.
Now, of course, the likes of Brett McKay (site "expert") don't have that problem because they are professional journos who walk the professional line, and soberly.
But, hey, I'm not, so I can say what I like. The editors will soon tell me if I have crossed the line (and they do and have done — frequently) and one or two posts never got published. As they say, it happens.
But I often wistfully think how good it would be if we had more contributors of articles here and fewer snipers. I've come to the point where I hesitate to post articles because there are just too many Roarers pushing their own barrows of narrow thought, or just trying to score cheap points, with one or two small points of correction or because I have hit a nerve in relation to the national team that they support who can apparently do no wrong.
I don't mind that, and my skin is thick enough, but I do sometimes wish that those snipers and gripers would put themselves on the line and open themselves to the commentators.
So, how good would it be if ordinary people, such as me, shared their humble story. We see the comments posted by the regular commentators, but we don't get to know much about their personal rugby journey.
So, let me start the ball rolling – to categorize myself.
A rugby 'tragic' (absolute rugby devotee), that's a given.
I spent my early years growing up in the Shire (Municipality), supporting Rugby League — the Dragons (local suburban club, St. George) in the days before the Sharks were born. I can remember going to the first Sharks (a nearby, Cronulla suburban team) versus Panthers (Penrith suburban team) game at Sutherland Oval, in their respective first seasons, probably around 1967. Pretty unsophisticated gear that they were wearing if memory serves. I can't remember the score, because I was most likely too busy as a 14-year-old trying to impress chicks (with apology but not this site's writer) and be cool. (There was a real difference between the 13-aside League, professional game and its followers, even in those days, and the strictly amateur, Rugby Union.)
The Dragons — I mean, who wouldn't support the greatest team of all time? — won 11 consecutive Grand Finals. Reg Gasnier lived just around the corner in Gymea Bay — we used to go to Jubilee Oval and watch training and the kids were all allowed into the sheds afterwards. I don't know how many times I got Norm Provan's or Johnny Raper's or Billy Smith's autographs. (GOAT, three stars of club and National Kangaroo R.L. teams.)
I joined the Navy in '69, as a 16-year-old junior entry, and went to that magnificent establishment, HMAS Creswell, which is the esteemed Royal Australian Naval College
No League, only Union, and from the first training session that was when my love affair with the beautiful game started. Trouble was they asked me what position I played in League, and I said second row — dumb, because I wasn't tall enough, so I was pretty much relegated to the seconds. I should have said hooker or flanker but how can you when you didn't even know what a flanker was.
Plus, the first XV hooker was from Scots College (elite Private School) and he knew what he was doing. Eventually I graduated to my rightful place as loosehead and from there my love of the great game took off.
If you saw me today, you would immediately assume that I was always a prop — not so. In the St Pats (Sutho) (Sutherland suburbs) four-stone sevens (weight divisions for safety and equality back then) I was a fleety winger! But that was back in 1962! A few grapes have been fermented for my tasting enjoyment since then, and some have been quite fulfilling.
So, I spent twenty years in Her Majesty's Service, mainly playing for ships teams, got my referee's ticket but didn't enjoy it that much.
It's not a good idea to wear glasses when refereeing but being called "four eyes" a hundred times a game by Army yobbos is better than not being able to see what is going on… and anyone who knows me knows that I don't mind winding up a few Army yobbos on a Wednesday arvo when they made me drive all the way out to Holsworthy (Military Camp). The winners might deign to offer you a can, the losers just want you to piss off (colloquial –"leave"), but even the winners want you to piss off after the one can (of beer.)
I remember the transformation, clearly one Sunday, the lightbulb moment… I was asked to drive up to some god-forsaken oval halfway to Newcastle, at the top of some hill at Jugiong. Some game between two army teams. Load of rubbish — one team won by a cricket score — nothing I could do as ref to influence the outcome.
As I was walking back to my car, I walked past the winning dressing shed and the smell of liniment, goanna grease, Dencorub, whatever it was, was so pungent that it told me that that was where I would rather be — with a team of blokes, who had just put in eighty minutes for each other. I didn't even get the can!
A lot of blokes become refs because they see it as a great way to stay out on the paddock, but that paddock can be a lonely place, if you were a player.
By sheer good luck, not long after, I was at a lunch, post the '91 World Cup, where we sat at the same table as Richard Tombs and Phil Kearns, both of whom had been guest speakers. I think it was at the Camperdown Travelodge if memory serves.
I just happened to mention that I thought it was time I got involved with a club, and I said, "But you guys must have heaps of people helping you out".
Tombsy, to his eternal credit said: "Mate, clubs can never get enough volunteers… we (Norths, the mighty Shoremen) (Sydney club), are having a trial at North Head tomorrow, so if you want to get involved just turn up and put your hand up for a job". Lovely bloke, Tombsy, and a real hero if you know his story. If you don't then Google him.
Okey dokey, I turned up and I saw this bloke hanging out jerseys in the sun so I figured he might know how I can help. It turned out to be Tony Hearne ('Hearney' or 'Captain Grumpy' to his close mates). I told him that Tombsy suggested I get down and put my hand up to help. The rest is history, and this was the start of my second love affair with rugby.
Hearney introduced me to former Wallaby Russ Tulloch, who was the club president, and Russ assured me that there will be a task for me.
First year managing Sixth Grade.
I had no idea what a Sixth-Grade side was, but I soon learnt that it was the archetypal social rugby side. Blokes who had played all grades for the club, who just wanted to keep playing at a nice level when they retired, blokes who had always played lower grades, backpackers travelling and passing through, staying just long enough to knock off a pair a shorts from Bon Andrews, our much beloved gear steward at the age of 94, 'All Black Trialists', 'former Irish/Canadian/[insert name here] Internationals' — you name it, they turned up, but they were mostly great blokes.
I think just over 100 people passed through the team that year and just about everyone contributed something to the fabric of the club. Most clubs had Sixth Grades that year — Eastwood had a Seventh Grade. I think Randwick might have had Sevenths as well.
At the presentation night, my captain (last man standing) 'Rorky', made a speech and said: "Gatesy, you weren't much of a coach, but we always knew who was driving the bus."
I thought, that'll do me, and if twenty years as an officer in the Navy means anything, being an effective bus driver means I clinched it.
It was a wonderful aspect of club rugby, but unfortunately as financial pressures hit, those lower grade teams either disappeared or were sent down to the Subbies Division (sub-districts) to play for the John Thornett Cup and therein lies another good story.
You wonder why I love that club. Just about everyone you met was a top bloke, many of them ex-players or parents of players, their wives. I was made to feel welcome from day one, especially by my great mate, the bloke that was hanging out the jerseys at North Head, Tony Hearne. His two sons, Ant and Dan, both played, and both have gone on to highly successful careers in the tech sphere — his late wife, Sal, was loved by everyone in the club.
The head coach that year was Dennis Brown, a dairy farmer from the Waikato, who had been a tough Waikato forward in his day, who was married to Gaelene — many great post-game evenings at our favorite Chinese restaurant in Crows Nest, with the Hearnes and the Browns and the Hollidays, Marty, 'Boof', Davo, and many others too numerous to name (damn, that wine has kicked in, again).
I haven't seen Hearney in a while, so if you are reading this, Grumpy, get in touch, will ya?
I actually held what I think was a club record.
Forced, by injuries, I had to pick myself to play one week, as we had run out of props. I was 46, so I think I had a record for being the oldest person ever to play his first game for the club. Problem was, I mentioned it to the late, great, Larry Ward who was coaching Sixth Grade and he begged me to pick him the next week. Not thinking about records, I selected him, and it turns out the bastard (colloquial endearment, mate) was a year older than me! RIP Larry. Records are made to be broken, and all that jazz… shortest record on record.
Next year, Fifth Grade coach — the nicest bunch of blokes you could ever meet. We won the Grand Final, managing to beat Southern Districts, who were a very tough team to beat. Most of them had been together since first grade (at school) and were still staying together. The final score was 11-9.
My manager 'Reardo' and I took a slab of beer and knocked on their dressing room door. I've never seen such a scene of devastation. We handed the slab through the door and made a real quick exit.
We got the team together and headed over to Concord Oval in time for the Second-Grade Final — Campo's (Wallaby, David Campesse) last club game for the Wicks (Randwick, a world-renown, top Sydney club). As we walked into the grandstand, we got a standing ovation from the Northies section, I will never forget that feeling. The lads did a lap of honor of the paddock at halftime – never let anyone tell you that club rugby is not a beautiful place to be on a Saturday afternoon.
We also had the great Geoff Mould at our club that year. He was famous for having been the school master who discovered the Ellas while teaching them at Matraville High and went on to become a revered rugby coach, despite the fact that his chosen sport was baseball. His daughter, Karen, who was on my Level 2 coaching course at Joeys (Sydney Parochial Private School and Rugby hotbed) in 1994, also went on to do some notable things in coaching.
'Mouldy' would turn up at training at Tunk's Park on Tuesday and Thursday nights and would make himself available to all the grades. All I had to do was walk over to first field and ask him to come and have a look at our (Fifth Grade) backs and he would come straight over and spend about twenty minutes with them and do some kind of back's magic that I didn't understand. Just a lovely bloke.
So, after that, to cut a long story a little bit shorter, I moved to Canberra in 1997 for three months and stayed sixteen years. I moved to Brisbane in 2014 and I am still here. Despite all of that moving around, I have tried to get involved with clubs in Canberra and Brisbane.
I coached at two different clubs in Canberra and had a brief assistant manager position at Brothers cut short by COVID, so I have decided that there will never be a club as great at Northies in Sydney and once you have been there, you don't want to change your colors.
I coached the Navy women's team and the Australian Services women's team at the Australian National Tournament in 1997. Take it or leave it, I am sure that there are people out there who are cut out for coaching women, but I don't think I'm one of them.
I took the Australian Defense Force Academy (ADFA) men's and women's teams to the University Games in Melbourne in 1997 — what a week. The games were played at Albert Park on what is the Melbourne Grand Prix circuit. We got through to the last game of the week with about 14 men standing after a lot of injuries. The opposition, an AG (Agricultural) College from somewhere in Victoria, turned up in their bus about five minutes after kick-off time and all of them poured off the bus, each with a tinny in hand.
At halftime we are leading by a decent amount. Just as I started walking out to give the halftime talk, I hear them yell out: "Boys, three cheers for ADFA, three cheers for the ref"! Game over and everyone happy — a few more tinnies go down. What a week!
My last coaching gig was under nines, tens and elevens at Marist Canberra — my son, Charlie. It's one of the great rugby schools in Australia, which has produced one or more Wallabies: Joe Roff, Geoff Didier, Rob Egerton, Joe Powell, numerous Super Rugby and Australian Sevens reps and lots of great club players.
I was their first webmaster and proud to say that they are going strong and are one of the leading clubs in the ACT (Australian Capital Territory) junior rugby comp.
These days, I am just a happy spectator, but I hope that this little CV indicates how much I love this wonderful game.
I think that to really appreciate it, you have to immerse yourself in it, because, at the end of the day, rugby is a game that is best appreciated when you have stuck your head in dark places, when you have been in the sheds and smelt the liniment, when you have celebrated the day, back at the club, clapped politely at the ref's lame joke, gone on the town on Saturday night for a great meal at the club's favorite Chinese or Indian nosh, with the people that are important in your life, spent the whole of Saturday watching all the teams go around, helping in the sheds after the first grade game, taking down the gear at the end of the day, sweeping out the sheds, and switching off the lights as you leave to head back to the club, realizing that your time might have passed, but the players' time is now and doing what you can to make their rugby experience brilliant.
If you haven't experienced that, I recommend you give it a try. It will enrich your life."
FOOTNOTE: "Norths" – a North (Shore) Sydney/ Northern Suburbs club was the club where Garrick Fay (former Middlesex and local, JBAA), gargantuan lock went on to play on his return to Australia and complete an All-Star, Wallaby career. JBAA travelled to Australia in 1974 and Norths was on the docket. One would need to ask any of the members of that team about further tales of the Shoremen.
Coming full circle and much closer to home is the fact that the late Jim Gallagher played for Northern Suburbs for many matches in the 60's and was a loosehead prop of some renown. The connection with CW is the fact that he was the grandfather of Gavin (current loosehead prop with CW Prems) and Lockie Kratz (NSMT member). R.I.P., Jim. The rugby world is a small world indeed, with brothers and sisters universal.
---