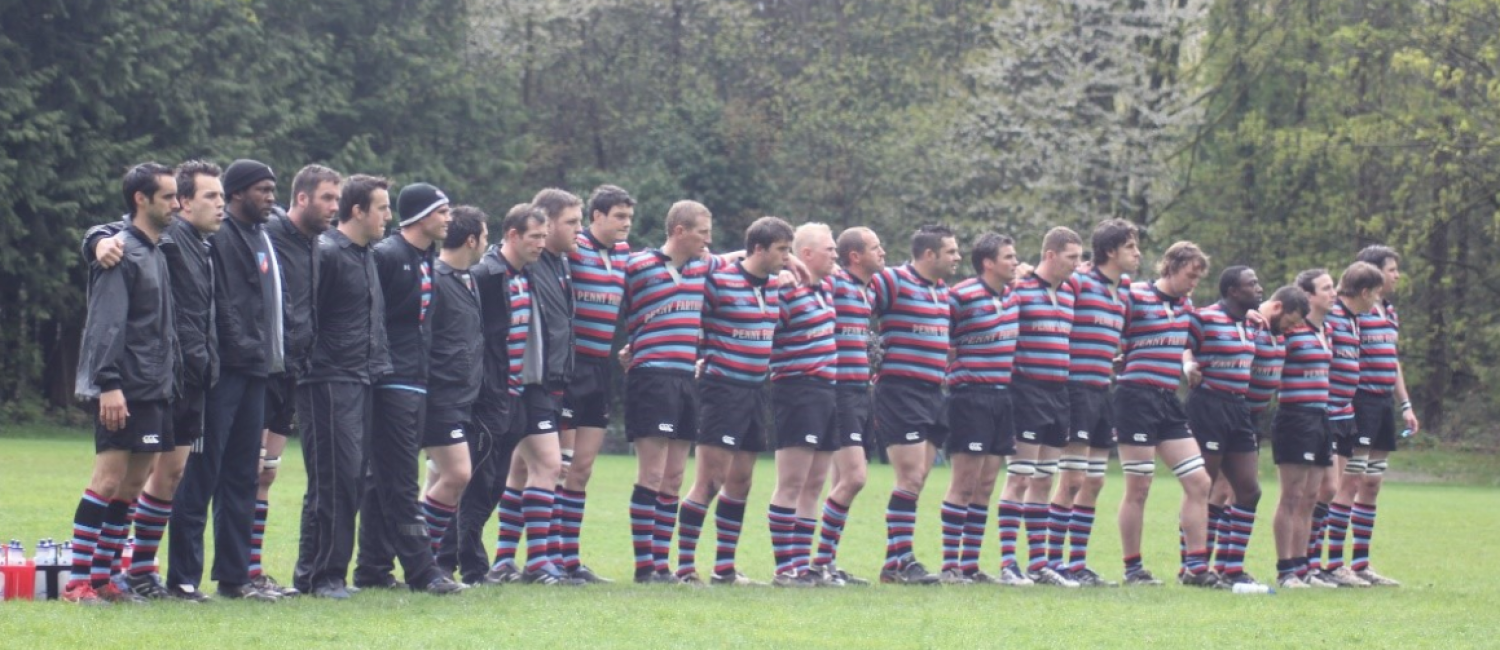 Rt. to lt. Starters - Goodland, O'Toole, Weingart (C.), Walsh, Williams, MacSween, Daume, Gilmour, Gay, Franklin, Buckley P., Thompson C., Scholz, Buckley M., Hearn
Bench – Racine L., Monro, Morris, Ilnicki R., Mallory, Hodge, Cordle, Crawford, Pope.
It has been ten years to the day since CW Men have stood atop of the B.C. Premier Rugby pedestal. On that date, The Tricolors defeated another storied BC club, Meralomas by a score of;
Despite the drought so far as the ultimate prize is concerned there have been many occasions when the boys have come close and have always provided genuine opposition to those teams that have been ranked higher. As followers, we thank the many players who have given us that hope with their hard work and good skills. To Ian Hyde-Lay, Lee Lindwall, Chris May, Roger Robinson, Noah Molia and Spencer Robinson, coaches of this winning side and their charges, a very talented collection of rugby players – thanks for the memories.
CW PLAYERS IN THE NEWS


JESS NEILSON

APPOINTED WOMENS HEAD COACH YORK UNIVERSITY, TORONTO.


Jess started her rugby career on the fields at Windsor Park where as an eight year old Mini rugby player she determinedly showed she was as good as or better than her male counterparts! From being an activist for girl's rights to play rugby to competing on a national level, and coming back to teach those lessons back to the community as a coach, she has excelled at all aspects. She reached many pinnacles and her career was possibly ended, adjudged by some as prematurely, exacerbated by injury and good personal choices as she strove towards her goals. This recent announcement is a credit to her and we at CW wish her all the best.
JULIANNE ZUSSMAN


OLYMPIC OFFICIALS NAMED

(Credit World Rugby & BC Rugby News)

"The squad of 22 match officials that will take charge of the women's and men's rugby sevens competitions at the delayed Olympic Games Tokyo 2020 has today been announced by World Rugby to mark the 100 days to go milestone until the action kicks off in Tokyo Stadium on 26 July, 2021.

The match officials' squad contains representatives from 12 countries spread across four continents and includes eight female referees. The group includes a blend of highly experience referees and exciting young talent making their debuts on the Olympic stage.

The individuals were selected by the World Rugby's Match Official Selection Committee following a comprehensive review of performances and fitness. All selected referees have proven themselves on the annual HSBC World Rugby Sevens Series and many also featured at Rugby World Cup Sevens 2018 in San Francisco and the Gold Coast 2018 Commonwealth Games.

The group also includes five internationals who have swapped the playing shirt for the whistle. Selica Winiata is a current Black Ferns player who has been capped 40 times and is aiming to compete at the Rugby World Cup on home soil next year. She was a Rugby World Cup winner in 2017, scoring two tries in the final at her second Rugby World Cup. She is also a former Black Ferns Sevens player, becoming Rugby World Cup Sevens champion in 2013, and runner-up in 2009. She has since refereed at four events on the HSBC World Rugby Sevens Series and impressed when refereeing at the Oceania Rugby Women's Sevens Championship in November 2019.

Also making the conversion from player to referee is Julianne Zussman who scored 18 tries in 44 tests for Canada and played in three Rugby World Cups, claiming a runners-up medal in 2014.

By 2018 she was showing up in the local BC match official lists, at first taking on some of the lower division matches. By 2019 she was taking on the role of Referee Assessor in some matches and officiating in the men's BC Premier League.

In 2019 she was named as a match official for the women's World Rugby 7s Series."
Quite the vitae Julianne is compiling! 'onya, Zuss!
SPENCER ROBINSON
Spencer has been a mainstay around CW club for yonks. His recent retirement from a thirty year career as a fire-fighter, 18 of those with the Esquimalt Department, where he earned the rank of Captain in 2016, has provided him with a golden opportunity to get back to what one suspects as the second true love of his life, coaching young people in rugby football. Those of us who know Spence or who have watched him coach, know the rare skill that he has with this art. "He will be working directly with youth, aged 12 – 19, caring adults and partners in play, introducing and coaching the sport through an athlete-centred and trauma-informed approach." (TRF – DEI Coach.)
Spencer produces champions! This team, one of many, 2017 BC U18 Boys Champs.




MLR UPDATES
Former CW and now, Houston Sabrecats #10, Robbie "Ice Man" Povey notched a hat-trick in a losing cause last week when his team dropped an exciting 43 – 50 decision against Utah. We read that "Ice" has been a constant starter in the #10 slot and notched a couple of other tallies along the way. 'onya, Ice.

And from MLR's Geico Team-of-the-Week…………..ON DEBUT…………

Recently signed CW Junior, Lockie Kratz got the call to start with NOLA Gold when injury occurred and he certainly made the most of it! Lockie was named in the League's Geico Team-of-the-Week! Attaboy!

"Inside Center, Lachlan Kratz – NOLA Gold

Kratz debut onto the MLR scene in one game was nothing but amazing for a rookie. He was physical while he carried and around the breakdown. On attack he made nine carries for 77 meters, three tackle breaks, and an offload. In the breakdown he had 10 ruck arrivals." (Credit, MLR website)

The writer viewed this match. The Gold defeated a 'tails up' Toronto Arrows, led by NSMT's Lucas Rumble. Good for New Orleans, and their Canadian contingent, Captain, Kyle Baillie, hooker, Eric Howard and Kratz. It is to be noted, that with time, the standard of rugby has noticeably improved in the MLR. Along with better officiating and studio commentary the total product is looking much improved. It will be with interest that we look for the outcome of this weekend's match when Houston travels to take on New Orleans.
---