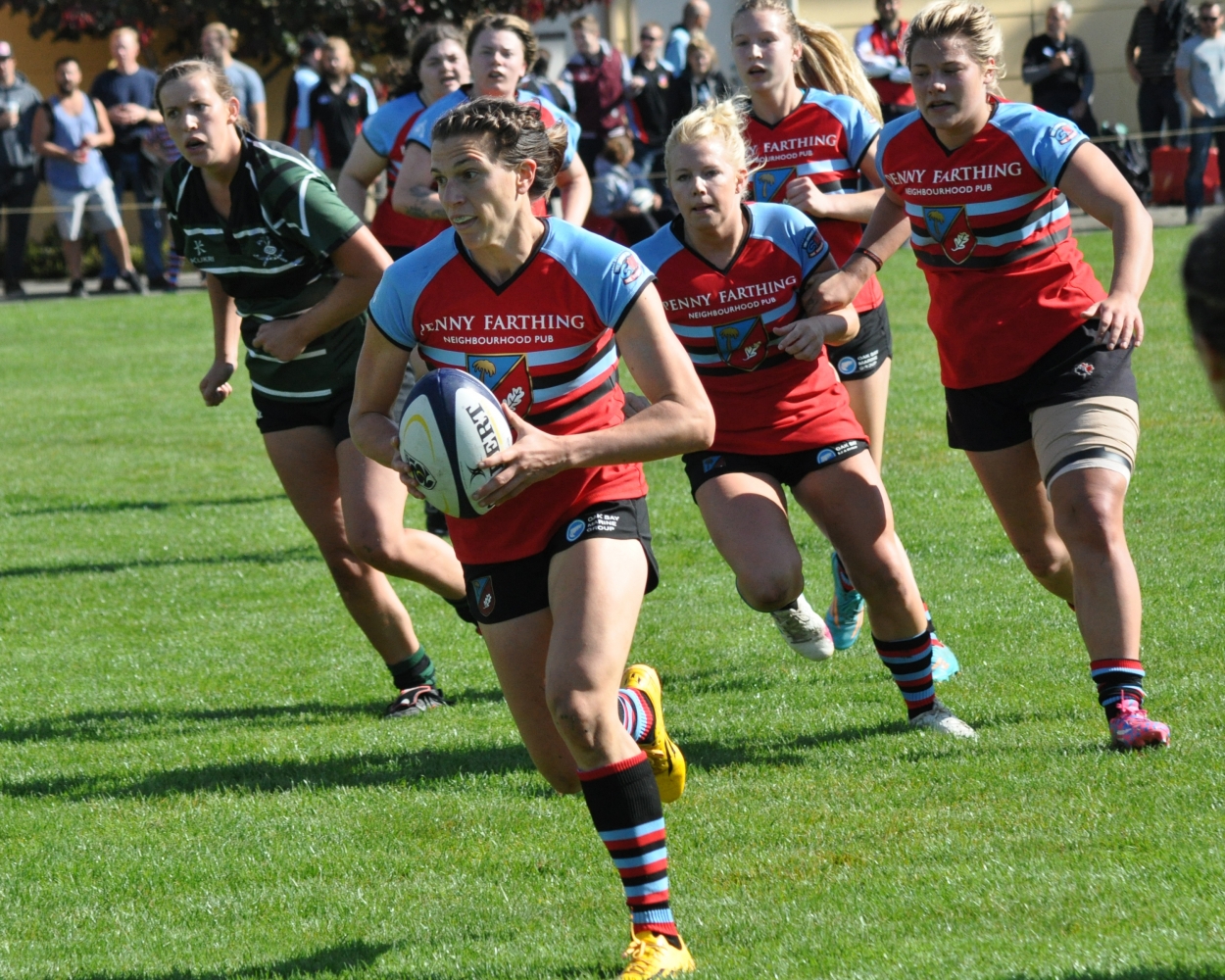 It would be most inaccurate and unfair of CW to lay any more claim than that of choice to Julia Zussman and Ray Barkwill. Both players learned the game elsewhere however, having been chosen as the most recent club for them to hang their hats, we are totally proud of their honours earned this year. We have had the joy of watching them perform at The Park – Julia for a season and a half, Ray, for some 5/6 seasons. Julia was named Canadian Women's Player of the Year this year and Ray was awarded the Men's Canadian Shield. We would be remiss if not recognising in the same breath, Sophie De Goede, awarded the Female Youth Player of the Year. Contra to the previous two players, Soph has learned her game and practised and honed her game on the playing fields of Windsor. All we want to say is; "Congratulations!"

2017 has been a good year for CW rugby. The season closed with our women playing eventual winners, Westshore very close, 23 – 25. Westshore concluded their undefeated season with a resounding victory over Seattle. The women were found wanting in their campaign to repeat as Champs but it was a good effort and much was learned in season #2.

Both CW men's teams made it to the semi-final berths of the playoffs. Both teams lost to the eventual winners, the Reserves to Burnaby and Prems to UBC. The crowning point of the men's season was arguably, a home win against UBC, one of only two losses for them "last" season. The student's revenge back at Windsor in the semi was comprehensive. So, it was a good first season for new coach, Scott Manning and players dispersed with appetites whet for September which rolled around soon enough.

The Prems were quick out of the gate, sharing the lead and going undefeated in five, scoring plenty and allowing few. Reality hit home with injuries, players called for higher honours and unavailability. Three games were lost before the ship was righted with a rollicking victory over the Ravens who had been undefeated until this point. The boys have celebrated their Christmas at 7 – 3 and solidly ensconced in fourth spot.

Our women, akin to last season, found their first half to be a challenge however they are better off than this time last year. The team will relish the influx of some ladies from UVic in 2018 as they strive to attain a playoff spot. It has been a banner year for mini and age grade girls and boys. The pinnacle of success of the club's youth programs came with the U18 Boys being crowned as B.C. Champs after an undefeated season and the U18 Girls, amalgamated with a little help from Westshore, the BC Girls Champs.

It was a year of far too many huge losses of life connected with our club, leaving voids and fond memories.

We offer our sincere thanks and congratulations to all of our coaching staff, managers and trainers and all of our supporters. Most of all we thank our sponsors. When we realise that the UBC program has infused some $3.5 million over the past four years into their rugby, we realise just how hard it is to compete. Our sponsors at all levels, especially President' Elite level, Bard and the Banker/Penny Farthing Pubs and Carson Automotive have been huge in our efforts towards success. THANK YOU.

Finally, to the copious individual honors bestowed on so many of our players, almost too many to mention. We genuinely apologise for any omissions and encourage you to notify us on Facebook. Here goes and in no particular order. We have mentioned Zuss, Rayzor and Soph. Caroline Crossley NSWT 7's; Mike Fuli, Luke McCloskey, Isiah Morra and Pat Kay, NSMT 7's; Olivia De Marchant, Karen Paquin, Julia Zussman and Britt Waters, NSWT XV's and RWC; Ray Barkwill, Hubert Buydens, Dan Moor, Ciaran Hearn, Dustin Dobravsky, Jake Ilnicki and Justin Sears-Duru, NSMT XV's; Jim Newman Canada U18; Denise Roy and Sophie De Goede Canada U18 7's and Lachie Kratz, Canada U18 7's for Youth Commonwealth Games; Payton Cochran and Shaye Tudor © NSWT U18 XV's; Jen Appleby and Gabby Senft © NSWT U20 XV's; Brandon Schellenberger, Jonas Robinson, Aiden Cole Gavin Kratz, B.C. U19 National Champs; Dustin Dobravsky, Cam Polson, Doug Fraser and Riley Di Nardo B.C. Men XV National ARC Champs. This does not touch youth honoured for select Island teams, so it is a plethora of success, we believe serving us well in recruiting any player who is looking for a club in BC where they might hang their hat. A record almost unparalleled.

So, it's a few more days of R & R for our players although we know most of them have been at the grind over this Christmas season! We wish all our readers all the best for a healthy and happy 2018 and remember to imbibe responsibly over New Year.


Postscript
. It is with sadness that we publish the news of the recent passing of Milos Benesh, a player who was with our club for a short time but endeared himself into the hearts of many. R.I.P., Milos.
---