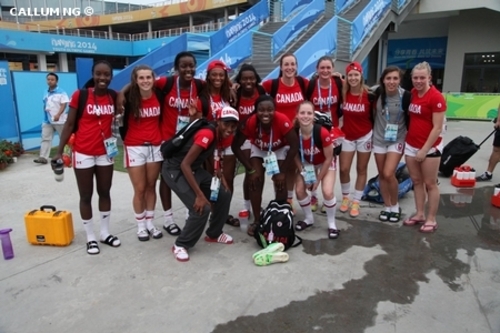 Another High Achievement for Women. Canada's U20 Women won a second, high profile silver medal yesterday when they finished runner-up to Australia at the Youth Olympics at Nanjing, China. Perhaps the journey was more important than the destination. In Pool play, Canada lost to China, 24 – 10 however in the semi-final, the girls came back from being down, 19 – 14 to score the final twelve points over the hosts. Coach, John Tait, described the victory as remarkable. Just another example of fantastic achievement by our ladies' program. 'onyas, girls!
This item segues into news about CW's, Caroline Crossley who continues to impress. Caroline, at only sixteen years of age has joined B.C.'s Jess Nielsen and Tiffany Pickett on Canada's U20 Women's squad as they prepare for an 'International' Can Am Series. Best of luck, Caroline!
Giving Back. Our club seeks to give back to the Oak Bay community where possible and recently provided a number of volunteers for the Classic Car Show. Hats off to; Alex Berlmeier, Antony Fenlon, Bruce Watson, Tony Watson, Noah Price, Braonain Masterton, Jack Nyren, Adrian Smith, Clay Thornber, Scott Franklin, Old Spice and Macca.
Senior Men's Training. The season gets underway on Tuesday, 26th August at Windsor Park, 6:30 p.m. Training will be on Tuesday and Thursday evenings. (Season Opener Vs Velox – September 13th) There will be an important players' meeting to be held on Thursday 28th @ 8:00 p.m., following training at The Temple to discuss the upcoming season and club matters. We remind all players that registration is up and running and that there is an Early Bird Special, saving you $60, a reduction which runs for a limited time only. It is always difficult for players to swallow registration fees but we encourage you to do a comparison check with other clubs to assess your bang for the buck! Go, CW!! Speaking of players……The Tricolors wishes Andrew Tiedemann, Plymouth Albion and Jake Ilnicki, Exeter, all the best for the coming season.



B.C. News. Well the Senior Men's Bears seem to have become the Bad News Bears, having dropped their second match to the Prairie Wolf Pack in Kelowna last weekend by a score of 30 – 3. Having blown our horn about the summer success of our junior programs, this result must be a matter of real concern for Head Honcho and Coach, Jim Dixon. We have heard that injuries have not helped matters but on the surface, the pin has truly burst the Uruguayan bubble! Canadian prospect, Gordy McRorie had another standout game with all-round, good tactical play and a contribution of twenty points. Next game for the bears is Vs Atlantic Rock. Other B.C. news sees the resignation of Dave Brown, long time Manager of Junior Development. Brownie has contributed much to B.C. rugby for many years. We wish him the best.
Wolfpack On The Prowl!
---