What A Difference A Week Makes
---
---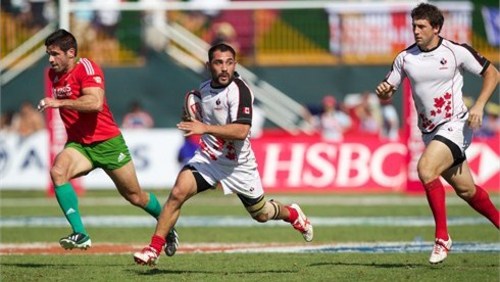 Phil Mack featured here. Phil was the tourney's #5 leading scorer.
Portugal took delight in avenging a heavy loss in XV's, this time last week to Canada, when they finally broke away in the last minute or so of play in the Dubai Sevens, Bowl semi final, last night. The match was 14 - 12 @ the half for Portugal and they scooted away to a 26 -12 lead, took the pedal off and Canada reduced it to 24 - 26 before the late try. Some pundits described Portugal's performance overall as the surprise of the event. Australia defeated the Portuguese in the Bowl Final, 17 - 12.
In Cup action, Fiji trounced N.Z. 44 - 0 in the semi final, probably rendering the biggest points against the Kiwis all time, in Sevens. The Islanders' play was faultless in this one, making Canada's effort in pool play against Fiji, rather special. The Fijians showed their value when they made clinical work of South Africa in the Cup Final, 29 - 17. The paradox that is Fijian rugby - from war dance, pre-kickoff to prayers at the post! This team is always marvellous to watch at their best and it looks like their new coach has done wonders to bring back some fine tuning and maintain consistency.
Games this writer saw, noted outstanding play from Captain, John Moonlight (four tries); Nanyak Dala, Phil Mack, Adam Kleeberger; Ciaran Hearn and Connor Trainor for Canada. Surprisingly, Harry Jones was not his usual outstanding self. The show goes on and it's off to Port Elizabeth, down south for next weekend's resumption. Dubai was a huge success with 42,000 + in attendance on day #2. The Sevens Circuit of rugby troubadors is becoming more interesting each year. Canada's boys must be fighting tiredness at this stage but their results really must buoy them up for the battles. Overall they are in eleventh place on the circuit, an outstanding result, with always the chance of upsets at any time. Portugal jumped to 13TH with their performance this time round. Safe travels and good luck in South Africa, boys, everyone back home is very proud of your efforts!
Postscript; Having now read R.C.'s reports, apologies to Harry Jones, evidently Day #1's efforts were heroic. There is a hint in this site's report that a few viewings extrapolated to the tournament effort. We are high on Jones as both a VII's & XV's player and had grown used to exceptions all the time. Apologies, Harry.
Mack's Performance Recognised.
---