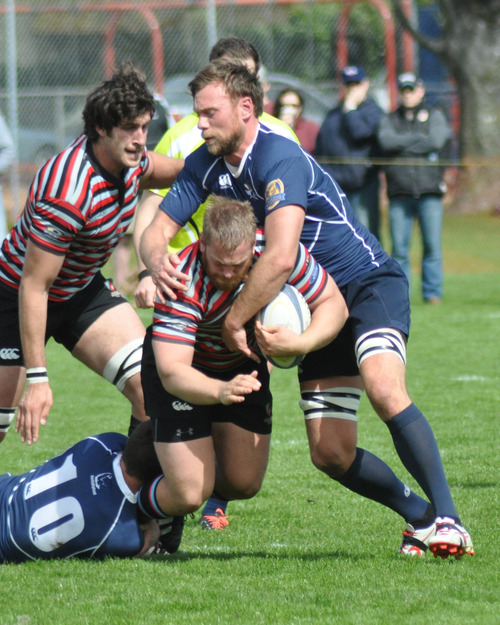 The day was a magic one for rugby – sunny, firm surface, testing breezes, not to forget the "MacDonald Slope". Fans were amassed in number and we must editorialize that it would be great to see such "home" support on a regular basis at Windsor. Two evenly matched teams promised to make this a "block-buster" and they did not disappoint. Despite winning the toss, a slight advantage against the "Mac's Slope", CW did not appear to come in with much early firepower. Prominence by JB's Barker, resulted in a CW high tackle and at only five minutes, Mathie opened the scoring. This man was to "bookend" the game with a closing three-pointer, being the final difference in the score.
TIMELINES (approximate!)
15 min.–Three or four mauls to JBAA, good retention at the tackle and Miles over the line,8 – 0.
30 mins. – JBAA awarded a penalty, runners well organised, "heaps" of possession, thus front foot attack, a series of pick and goes and Tyler Dalzeill acted in a "familiar" loosies' role, 13 – 0.
35 mins. – CW finally created turnover ball and good thrust by Morris, six play advantage and Monro goals at 38 mins.
38 mins. – A CW penalty missed from wide out.
43 mins – Monro, a long touch finder, forwards lineout drive, some p & g's thwarted, Horton blind side, bundled into touch. From the lineout another good drive and Jake Ilnicki scores, 8 – 13 (much to the jubilation of Ken Goodland - ask him WHY??)
CW energized and Panga long gainer, feed to Henderson, try saver from Wilson-Ross. Parfrey cleared to Horton, linked with Hearn, on to Morris to keep JB under the cosh.
55 mins. – Key decision not adjudicated. A JBAA front row splintered, only for ball to squirt out and be hacked away by an alert, Spencer Dalzeill (one of the aforementioned "missed opportunities"). CW set scrum dominance and position advantage all went rather wrong.
62 mins. – Henderson was dismissed for "stomping". Hydes subbed with all the best moves to keep the pedal down but with a man advantage, JB was even more motivated to defend like a Banshee.
68 mins. – Against the flow a Tiedeman, Buckley charge, followed by two masterful Monro "misses", saw Hearn cross wide out. 13 – 13.
James Bay amassed a superb effort with a couple of Parfrey breaks and Blevins put the "capper" on with a good gainer, forcing scrambling defence and a penalty at the breakdown for not extricating from the mess of bodies.
73 mins. – Mathie goals from in front of the sticks, 16 – 13. The final six minutes were frantic, with Kehoe and Dingwall threatening from a penalty, Morris bundled to touch and some guileful handling of the clock by the hosts, saw time whittle and fittingly enough, it was Captain Spencer Dalziell who walked into touch and the whistle blew.
Pick of the backs – Hearn for CW and Blevins for JBAA, who had a far superior outing than the last time these two clubs met. Horton and Wilson-Ross both sparked and had a "stand-off". Forwards – JBAA – Wallace and Barker, in the tight and the three loosies were good value, maybe with an edge on CW. CW – Rayzor Barkwill and Kehoe were warriors in the tight where the "five" had an edge – a decided one in the second half, on their opponents. Panga was the most noticeable of the back row and Dingwall injected some energy from the pines.
JBAA proved to be worthy defenders of their title and are to be congratulated on the win. In the words of Hearn; "these are two very good teams with the better team on the day, winning." I think with some minor nuances, that sums it up for this pundit. Thanks to Ceedub guys for an exciting ride since February. Almost made the last stride! Thanks to volunteers, trainers and team coaches.
Thanks to videographer, Shaun Barry who has produced sterling work al season.
---