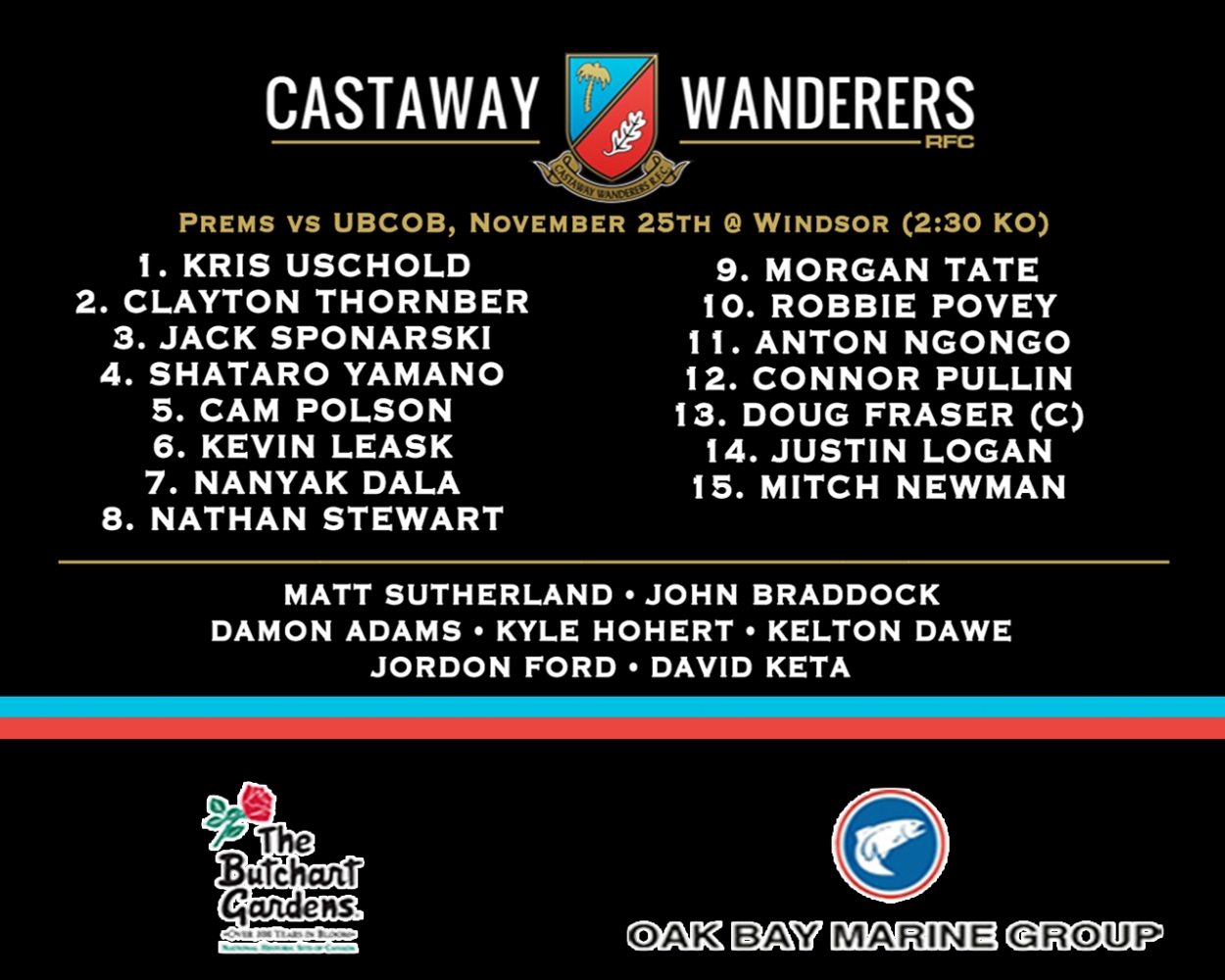 Back in April when the Ravens last visited, they were underdogs in both grades yet went home with two wins! Tomorrow, it is CW that is the dog in the Prems where Ravens 8 – 0 record makes them the overwhelming favourite. We note that their team will be led by the irrepressible, Garret Garbe – the consummate club guy, duly rewarded and he always gives a good account at Windsor. We also note, Jon Phelan is missing, Ahn at #2, we have seen, Sam Clarke and Kol Hendrickson, who scored a tally in April, are still present in the pack. The UBCOB's club will be bringing nine identified "international" players with them, so there are plenty of unknowns in both grades. Ravens backs have Ben Grant, Sean Ferguson and Harjun Gil, all skilled and dangerous players, Grant also leaving a touchdown at Windsor last outing here. It is hard to compare teams via score lines but how can anyone dispute the Raven wins over UBC and Burnaby as not putting them into this one at "odds on"?

Perhaps the Tricolours might have something to say in terms of disagreeing with this comment? Again, this week, shuffles have been made out of necessity. Kris Uschold has earned his start in the FRF and we will get to see if Rugby Canada's interest in this lad is justified at his young age. Sponarski has held his starting spot after a spirited outing against Burnaby. Cam Polson returns to lock to partner Yama, a man punching pounds above his weight. The loosies will consist of Yak, Stewart and Leask, a formidable bunch of foragers and defenders. Morgan Tate comes into #9, we suspect via injuries however, he is experienced enough and so long as he can provide space and time for those outside, he will have done his job. The rest of the backs are thoroughbreds and hopefully the footing will enable fans to see some good matchups, as the Raven is no slouch either! The bench looks formidable, so all the ingredients are there for the potential of a closer result than the bettors may wager on.

The Reserves see a CW team that really wants to show that last week was an anomaly. The Rippers have not won a game to this point. They also had a poor record in April but came on like gang-busters against a CW team that capitulated softly, so one never knows. For the locals, Adams is back and needs to show that he can play to a disciplined and energetic potential if he wants to continue to be considered at the representative level. Damon should lead the FRF with 'Evergreen' Heppy providing the mature balance to other youth in the squad. Thomas is available again and will take the #8 spot with the hopes that he too will challenge once again for higher honours. The backs look to be a balanced selection and it will be great to see Keta in action again. Johno reports that venues may be an issue contingent on overnight weather. Check out this site tomorrow for confirmation. In all, potential for an exciting day as these two clubs meet again in competition that for many seasons has been fairly equal. May the best teams win!
CW Premier Women travel to Burnaby to go against a struggling Laker club. If last week's form can be reproduced with an almost identical team, the result should not be in the balance. That being said, the game is rugby, so who knows? The pack remains unchanged with the exception of Nedved, moved to center to accompany Adams and replacing an injured Bronson. The insertion of O'Keefe at lock covers this change. In the backs, there are only two changes, Fioretti on the wing and Bridget Connors at #15. The ladies are travelling with a mere 19 tomorrow, so they will not have the substitution "luxury" they had last week. We wish them well, as they take one rung on their climb to the playoffs.
---