News From Around The Rugby World
---
---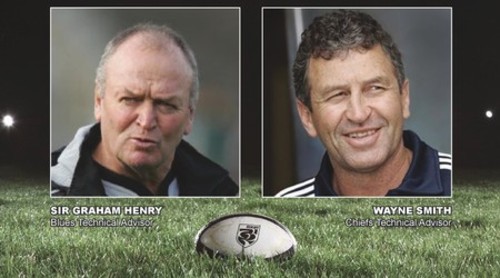 VANCOUVER:
Rugby Canada provides the opportunity for a fantastic learning experience for current and future coaches, when Graham Henry and Wayne Smith, RWC coaching team winners with N.Z. at 2011 RWC, visit Vancouver on December 2ND. The clinic's duration will be four hours and registration fees are $125 (early bird, before Nov., 21st) or $150. If any CW coach or prospective coach is interested, you could phone 721 1527 for possible assistance. The registraton fee will include a clinic tee shirt and a light meal and a one year membership to The Rugby Site (value $200). Register HERE.

DINNER FOLLOWING;
Following the coaching clinic on December 2nd with Graham Henry and Wayne Smith, there will be a dinner held on December 3, 2013 with cocktails at 6pm and dinner 7pm. The dinner will include a live auction, Q&A, and a full three-course meal at the Terminal City Club. The topic of the event will be "becoming the worlds best and the opportunities that has created."

Tickets are being sold for $500 each or $3500 for a table of eight. Please RSVP to Helen Welch at hwelch@rugbycanada.ca before November 25, 2013. The event will be limited to 50 guests. Your host for the evening will be Mr Gren Thomas.


ENGLAND:

We knew it would be difficult but it was a little one-sided as England achieved their revenge for a previous loss to Canada's NSWT by a score of 30-3. The half score was 21 - 3, so it looks like the ladies dug in their heels for the final forty. The women's team finished their European Tour with a 1-2 record. It is for sure, that the coaches would have learned much from the exercise as the time to the WRWC draws near - a mere 260 days away. Good effort, ne'er-the-less. ladies.

BERMUDA:

The Mens CLASSICS (over some magic age barrier and mostly former International players), lost their opener to Argentina at the Annual Bermuda Classics Tourney last weekend. They play Italy tonight however in terms of "giving back", the guys joined arch rivals on the field, but brothers off the field, the U.S. Bald Eagles, in running a skills and drills session for over one hundred kids in Bermuda! 'onyouse, guys!

ROMANIA:

The Men's Nats U18's play their three match, 'Test Series' decider as a curtain-raiser to the NSMT's "Exhibition" tomorrow night. The lads lost their first match, 7 - 20 however, they came from behind in the second match to nip the hosts, 20 -17. No particularly well-known names to CW fans but a pretty talented bunch of guys, as Rugby Canada searches for yet, another opportunity for talent tabbing, providing a future opportunity for a pathway to the NSMT. CW wishes the team all the best.
---