CW Pinches a Pair in Opener
---
---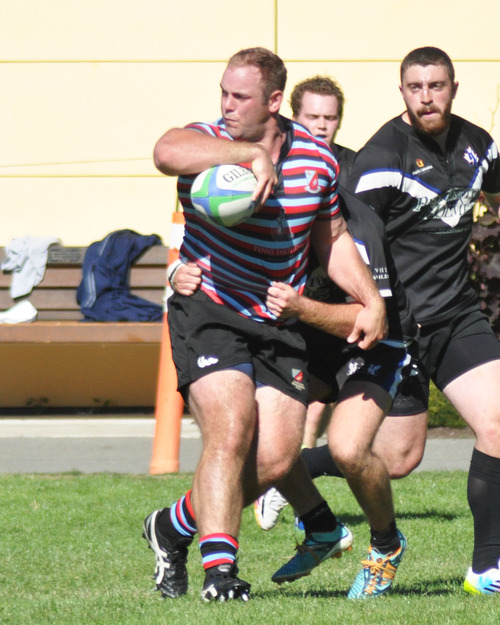 Sony Bill Woolridge Offloads
The table was set by The Ones against a "younger" Academy from the Valhallians when they wound up, led by a four-try performance from Sammy Rocher, defeating the VV, 37 – 10. Down 7 – 10 at the interval, The Tricolors cranked it up a notch, scoring thirty unanswered points in the second stanza.
Windsor, bathed in sunshine, was the site of a "reasonable" opening crowd, fed by food and oiled with a cool one, the locals were well pleased with the performance of "The Lads", posting of a 43 – 15 W over the Velox. The FRF of 'Burger' Thornber, Doug Woolridge and Captain Braddock, later filled in with Ray Barkwill, set the platform for good ball, well fed by MacPherson to a hungry enthusiastic backline, led by newcomer, Jamie MacKenzie who more than capably filled a huge void left by The Maestro and Matty Bucks. Good to see "Aussie" Nathan get a start. He pushed his cause last season and it's excellent to see him back. Fat Johnny and MacKenzie scored a brace, with five of the seven tallies, going to the backs.
This writer "watched" from afar in Osoyoos, and a HUGE thanks to whomever was the Twitter Feeder, a very active recent addition to our web site. More feeds, more reads! Personal comment, I was pleased to see Gridic get a start and from reports, showed some of the potential he has if he gets "stuck in" on the field and in the gym. CW led 21 – 3 at the half and scored 22 in the second spell for a job, well-done. Saw a few comments re officiating but also heard "beaking" from the hosts was at a high…if in doubt, crank it up, so any matters of doubt are taken out of the equation.
New Prez, Don Swainson, was pleased with the overall look of the day, with a great exhibition from boys and girls Minis at the half and U18's running a 50/50 to kick start their "Tour Fund". We look forward to the season and hope the fire catches to our supporters to get out and support The Lads. Next up, Uvic and their host of former Ceedub Juniors. Led by Fergus Hall, the Vikes were very closely nudged at MacDonald Park last weekend.
Half time action at The Park
---