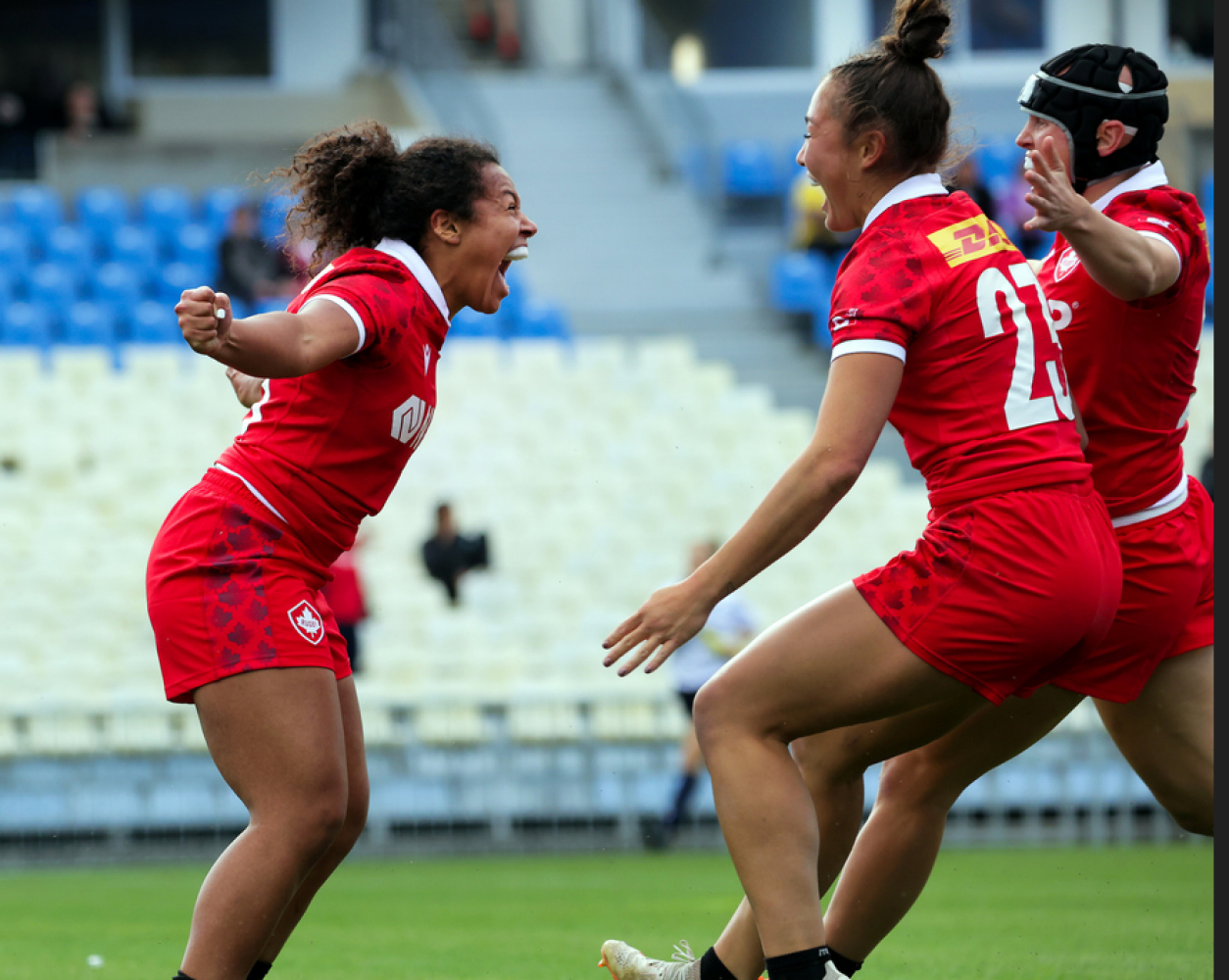 (Photo, Rugby Canada.)
THE THRILL OF VICTORY - JOY TO THEIR WORLD
CW Premier Women's match against Bayside was preceded by the good news from New Zealand that the NSWT had defeated France and a subsequent loss by the New Zealand Women to England, put the Canadian Women into #2 ranked XV's position in the world rankings.
France opened an early lead, 10 – 0. Late in the half, Canada posted points with a Tuttosi try from a forward's drive. This lady has mastered the art from a lineout drive and can almost be guaranteed a try per game. Canada went ahead early in the second stanza, with France serving a yellow card, Bermudez broke and fed winger, Scurfield for the 14 – 10 lead. It remained this way for some time before Canada was able to execute another perfect lineout drive, this time Holtkamp was the deserved scorer, and a 19 – 10 lead. France was not about to relinquish the affair easily and added a converted tally. Then came the TSN Turning Point when Fancy Bermudez (W - O – M,) determinedly jinked and gave a good dummy before offloading to Symonds (off the bench), Symonds's break saw her get the ball back inside for Bermudez to cross for a cracker of a try. Both teams added a penalty to bring it to Canada 29, France 20.
There were plenty of standouts – Beukeboom and Holtkamp in the tight, Julia Schell had a good outing and Scurfield and Farries on the wings were always a threat with ball in hand. It was Bermudez who stood above all with a very determined display. The kicking department still can cause fits but there was not much else to be critical of and Coach Rouet is to be congratulated for his work with this group. Although born in France, Rouet has been in Canada since 2009, when he came as a young man, so could be labelled Canadian. It makes one wonder now we are finally starting to see some Canadian coaches be recognized, just what is going on with the NSMT program. (Solely pov of the writer.) Congratulations to Sophie and her team. You can take some time to sit back and enjoy the fruits of your hard work.
Women's action now had the table set for BC Interlock play at Windsor Park. It had been a night of heavy rain however sunny skies welcomed the action at The House.
In an exhilarating Premier Women's rugby match, CW emerged victorious against Bayside in a thrilling encounter that showcased outstanding skill, teamwork, and determination. The game resulted in a well-deserved 43-5 triumph for the hosts.
The match kicked off with intense energy, and it didn't take long for CW to make their mark on the scoreboard. #12 Louise Eriksson, displaying good vision and game awareness, expertly found a gap in the Bayside defense. With precision, she offloaded the ball to #13 Lucy Beauchemin, who capitalized on the opportunity and scored the first try of the game, setting the tone for CW. Bayside, proved to be formidable opponents, earning penalties which enabled them to gain territory. Despite their relentless efforts, the Castaway Wanderers' defense held strong, denying Bayside's advances. CW continued to build on their momentum, with #8 Temitope Ogunjimi making a significant impact by adding another try before the end of the first half.
The second half commenced with CW displaying intense commitment. This resulted in a home-team try in the opening minute. From that point onward, Castaway Wanderers maintained relentless pressure, displaying outstanding teamwork, ball control, and strategic play. Despite Bayside's best efforts to regroup and retaliate, Castaway Wanderers' defense remained resolute, thwarting any attempts to breach their line. The CW offensive prowess continued to shine, with players working seamlessly together to create scoring opportunities and capitalize on Bayside's defensive lapses. It was this way until the final whistle. CW now stands at 2 – 2 and will play their last match against Abbotsford on November, 18th.


Premier Women celebrate victory!
CW Women's Divvies travelled to Comox on Saturday and despite a determined effort, lost in a one-sided encounter. The match was played as ten-aside on a sunny, but muddy, Saturday afternoon.
From the kickoff, CW showed their intent with a good offensive effort, making their presence felt on the field with powerful rucking from forwards Anne Murdoch and Imogen Maxwell., while also keeping the pressure up and stealing the ball for many turnovers. The CW women pressured the Kickers, forcing them to defend their territory and seek creativity in their attack. The Kickers lived up to their reputation as a skilled and disciplined team, as they managed to capitalize on the outside space, scoring crucial tries to gain the upper hand in the first half. Castaway Wanderers made Comox work hard for each try.

The second half of the game saw CW's determination and never-say-die attitude. Despite being behind on the scoreboard, they continued to fight and eventually found luck as the young speedster, Cameron Ormond, found space and put CW on the board, having been put through a gap by Juno Hoar and Gianna Felicella. And so, the league play ended.

A 3rd, twenty-minute period was played, with Comox providing CW with extra players, and a game of 12's was played. This was a great testament to growing the game and ensuring more playing time for each team. Despite the loss, Castaway Wanderers left the field with their heads held high and in good spirits. The game served as a reminder of the true essence of rugby – a sport that values camaraderie, determination, and the will to never give up, regardless of the outcome. (Reports - Frankie Fraser.)



M-o-M, Gavin Kratz, shows his stuff. Photo - Norm LeBus.

THE AGONY OF DEFEAT - MEN MISCUE

A cock-o-the-hoop Uvic club started their day well with the Norsemen's bonus point win over CW in Divvies, 28 – 14. The victory was led by the second half brace from impact sub, Shawnigan grad, Josh Ketch. This writer picked up the action at the quarter mark with the teams tied at seven and CW severely under the cosh. However, it was a CW yellow card that finally cracked their goal line stance and so it was until the half with the Norse having the territorial advantage.

The second half saw a good start by the hosts with no points produced. It was Ketch who extended the gap to 21 – 7. The Norse kept the pedal down and despite some potential breakouts, it was all UVic. At 28 – 7 the outlook appeared glum, despite some rather good CW effort. It was this effort that was finally rewarded with a deserving try and ten minutes or so remaining. And so, this one ended with the Norsemen pressing, 28 – 14.

Gareth Sandner, returning from an injury received the player's M-o-M. Newcomer, Pepper and veteran, Cole caught this writer's eye. Played on 'Pitch B', it was a pleasure to have this added facility, reducing use on 'Pitch A'. The Norse were worthy winners in the curtain-raiser for what was to be a UVic brace.


The Men's premier action opened well for CW. An early penalty saw touch found, lineout won, 8/10 recycles that were rebuffed A second penalty to the hosts saw a repeat and from the lineout drive, pilgrim was over, 7 – 0 within five minutes. The Vikes showed immediate resiliency following some good gainers by a couple of big forwards, and they earned a penalty. Quick transfer saw Norris (?) feed inside "delay" ball to fullback, Smith, for the equalizer. Play then ebbed, kicks misplayed, and errant passes were negatives amongst some good play from the hosts, Fuli putting Nott through on short ball, being particularly threatening. From a UVic lineout following a penalty, ball was "pinched" and went wide to Smith, who was caught, and the ball stolen for a soft try and 12 – 7 lead. Next it was an unforced Tricolor error, 5/6 sets of hands and UVic showing clean heels with unmatched pace, outflanking the defense, 17 – 7. UVic were cheekily taking their chances with faith in their game plan of attack, quick transfer and backing their pace. Matters then unraveled with one a yellow card and an almost immediate second yellow, with only five minutes to the half. Disaster occurred with Vike's Di Nardo evading two or three tacklers, a couple of quick recycles and a slick "dummy" from #9, Gamage for a 24 – 7 bonus point lead at the half.

Despite these five minutes of unmitigated disaster, CW was first on the board after the break when quick ball from a tap penalty for a late tackle, came to Nott whose perfectly timed, short ball, saw Mitchell on an unstoppable line, some work to do for thirty meters and a 24 – 14 score. With CW still two men short, it was easy pickings for the Vikes to pull up their socks and regain the difference, 29 – 14. About midway and CW settled again, they applied pressure and 4/5 recycles from a forced turnover, saw Dring over the line and the score 29 – 21. UVic #10, Gamage with an "A", skidded a chip through which produced a favorable bounce for winger Di Nardo and his brace, it was 36 – 21. Gamage had previously successfully used this ploy through small gaps on a couple of occasions, turning defenders around and providing chasers with front foot chances. My notes indicate "CW might be in the hunt with useful build-up, only for a comedy of errors, good recycles and forwards drive and hard work only for it to unravel". Finally, it was a spirited lineout drive by CW that saw Jace Peters deservedly post a tally for the bonus point and 36 – 26 differential. CW finished with territorial advantage, marred by errors.

Thanks to the officials of the three games. It seemed to this watcher that back in the day, I might have described matters as "whistle happy", in the Men's Premier, to which the M-i-M could well have responded; "I calls 'em as I sees 'em!'! The report indicates the number of errors, and the number of whistles were probably in accordance with each other. So, thanks again.

The Vikings were good value with some very talented and speedy players. Their set piece held together quite well, and their ball handling was a strength. I like Kokan and Kim and Heany-Corns in the pack. I give my M-o-M to #10, A. Gamage, although Cleaver and Smith also showed flashes of brilliance. In defeat, Gavin Kratz was tireless and gets my M-o-M, followed closely by Jace Peters. Ollie Nott, Hugh Mager, and James Mitchell showed at times, although the overall cohesiveness in the backs was not what the boys would have wanted, probably due to the many substitutions. A break next week for REMEMBRANCE and the Pride will be next up on the 25th.
FROM CHILE – CANADA 7's, PAN - AM GAMES

CW offers their congratulations to NSWT (Silver) and NSMT (Bronze), on their efforts at the recently concluded Pan Am Games in Santiago, Chile. The Women suffered defeat in the hands of an old nemesis, USA, and the Men, to a very proficient Argentina, and USA Men's outfit.


FOOTNOTE - The Ruggernut thanks, Alex Gamage for his 'Thank You' card.
---