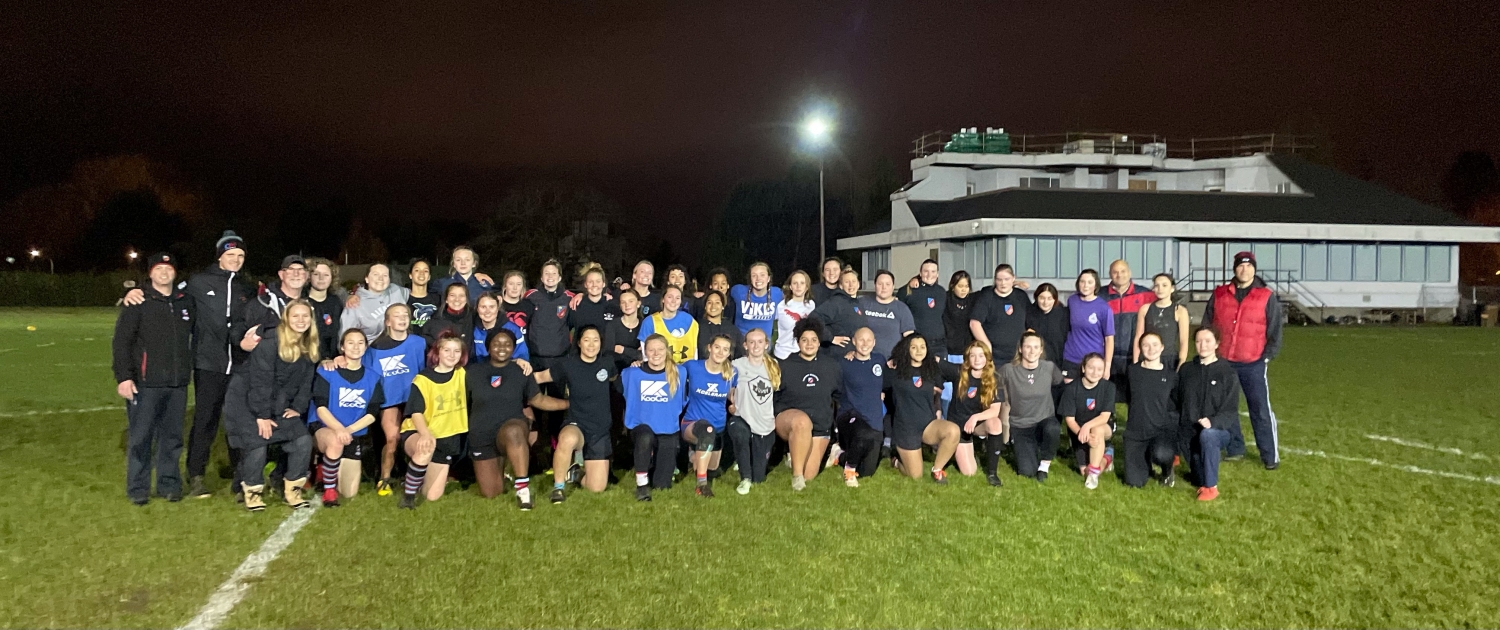 OP-ED. RUGBY IN CANADA.
Almost 45 players, plus coaches came together at last Wednesday's CW Women's practice. The players consisted of U14, U16 and U19 Girls and Senior Women. What a sight, seeing all these players on one field together! This was a large logistical task to coordinate. The players rotated through skill stations and touch variation games with great enthusiasm. A reflection of how the girl's game has grown at CW!
This segues into the bigger picture of women's rugby. Last week, culminating in weekend Finals, the Women's National University Championships were held in Ottawa. Our local UVic ladies, featuring several CW Age Grade "grads" and ladies who have worn the Tricolour jersey, represented with the Vikes. UVic lost their semi-final in overtime in a tough battle with Ottawa Gee-Gees. Unfortunately, they lost the third-place match to Laval, 26 – 32. This was the Vikes best-ever finish in the tournament. CW types with Coach Watters (member of CW BC Champs), were Ada Okonkwo, Chanelle Edwards-Challenger, Katy Elsner, Chloe Hill-Huse, Maelle Reed, Marina Skakun and Ella O'Regan. "Grad", Jessica Nonay was with UBC.
After the hosts, Queens, had upset the previously undefeated UBC team in pool play, all eyes were on them. Led by Canada's U Rugby Athlete of the Year, Sophie De Goede, the team also included CW "grad", Sophia Tafel, Queen's became the pundit's favourite. Predictions proved accurate when they defeated the Gee Gees in the Final, 26 -18, on the back of Sophie's 16 points. This blogger was stoked with Soph's loyalty to her Uni team, obviously excusing herself with Coach Fiorino from being with the NSWT in England. This team attitude of loyalty has been a trait of this young lady throughout her career. She will give 200% the next time she wears the Maple Leaf. Soph was selected as U Tourney, MVP. What a "grad" role model for the above girls and women. Terrific story. (Ed. Love the Tricolor knee strapping!)
So, what happened in England? Canada's NSWT including well-known at CW, having played for the club, starters – Karen Paquin, Gabby Senft, Sarah Pullin and Captain, Olivia De Merchant, fought hard for a long time in a match where they had few chips fall their way, mostly, their battle with a match-long offside defensive line being a bane. Sara Poulin (short stint CW) scored a good try and Westshore's reps and Laura Russell and Tyson Beukeboom with Cowichan, all showed well. England notched another half century in the end with their depth from their professional game almost putting them out of the reach of the chasers for now.
I found the ignorance and patronising statement of the TSN's English color commentator (in relation to Karen Paquin), "You heard a little bit of French and a little bit of English, but the Canadians do speak English!" Pathetic! And later, after Poulin's try, "They're here to play!" Really?
The above accounts raise the bigger question of how do we grow the game and develop a rugby culture which existed some years past, particularly considering RC's seemingly disastrous downward spiral, coaches fired, losses prevalent and fire-drill damage control? Just how do we get the game into the blood? In ages past, tours, billeting, memories, sagas, lore, a part of the rugby experience and our young people learned the depth of the culture of the game in foreign lands. Current costs of insurance and operational costs with limited income potential and Covid, make this insurmountable and difficult, even at the club level.
Now we have come full circle to today's header photo. There is some structure in place with potential return to Summer Games inclusion, National Age Grade and National Senior opportunities at the end of long-term development. My thesis is that until we return to a grass-root structure at the club level, the game will not grow. Many clubs in BC have recognised this. This article is a synthesis of what may be possible with development of good coaching, teamwork, and family, within a framework of Safe Sport. Grow your own culture and offer missionary support when and where you can! CW's, Director of Rugby, Ken Goodland's mantra of "One Club" is a good start. Let's go, Canada.
(Opinions expressed are solely those of the blogger.)
---