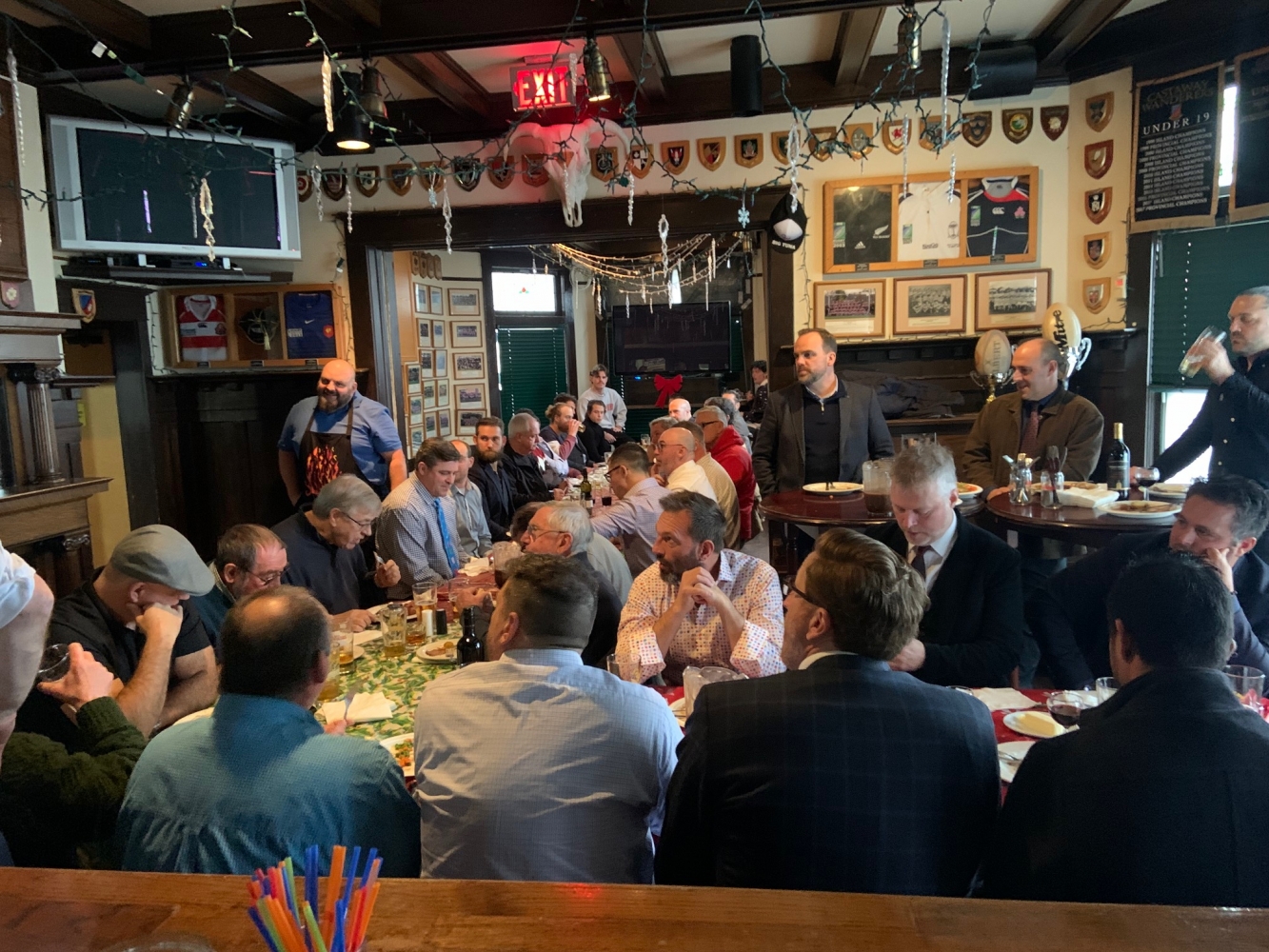 Yesterday afternoon saw a gathering of some of Rugby's best at the Temple for "Guido's Christmas Lunch". Sponsored by Guido Danger with tons of support work by Ed Knaggs and Ian "4 Try" Jones ….the return to a sit down lunch was well attended. Consistent with tradition, each person present stood and gave thanks while noting a memorable rugby moment in their lives. Memories when a young player new to the game …. questionable stories of greatness ….. happy tales of friendships remembered ….. this lunch was one for the ages
Happy Christmas Season to all and much CW love for however you celebrate this special time of year.
Be sure to check in on those close to you to be sure they know they are loved.
FUN(D)RAISING DINNER - TICKETTING ANNOUNCED
When: Saturday, Feb 25th. Bar opens at 6:00pm. Dinner at 7:00pm.
Where: The Union Club, 805 Gordon St.
Who: CW Community (19 years of age and older).
Tickets: $150 per person; $280 per couple; $1350 per table of 10 people.
How to Purchase Tickets:
Step 1 - Email Brent Johnston to secure your tickets. Please include the names of the people you are purchasing tickets for.
Step 2 - Payment Option #1 - E-transfer to Brent - please include the name of the event and number of tickets you are purchasing. Payment Option #2 - cash, cheque or credit card in person at the dinner on Feb 25th.


Auction Items: There are many creative ways to donate an item* or experience* from within your work/business and/or specific interests. Reach out to colleagues, friends and family for donations too. Large or small contributions are appreciated! We enjoy taking smaller items and combining them together to create speciality packages.
Here are some examples of donations: gift certificates, sports equipment/clothing, massage therapy sessions, framed artwork, a weekend getaway for two, boating/fishing adventures, a round of golf.
We would also love some fun community building donations from players and families - these types of donations were hot auction items last year! Some examples: cooking supper and delivering it to the winner's home, hosting a supper at your home, homemade baked goods delivered (1 per month for 3 months). The scope is endless!
* To donate auction items or experiences please contact Lindy Van Alstine or (250) 889-6899 by December 31st.
---