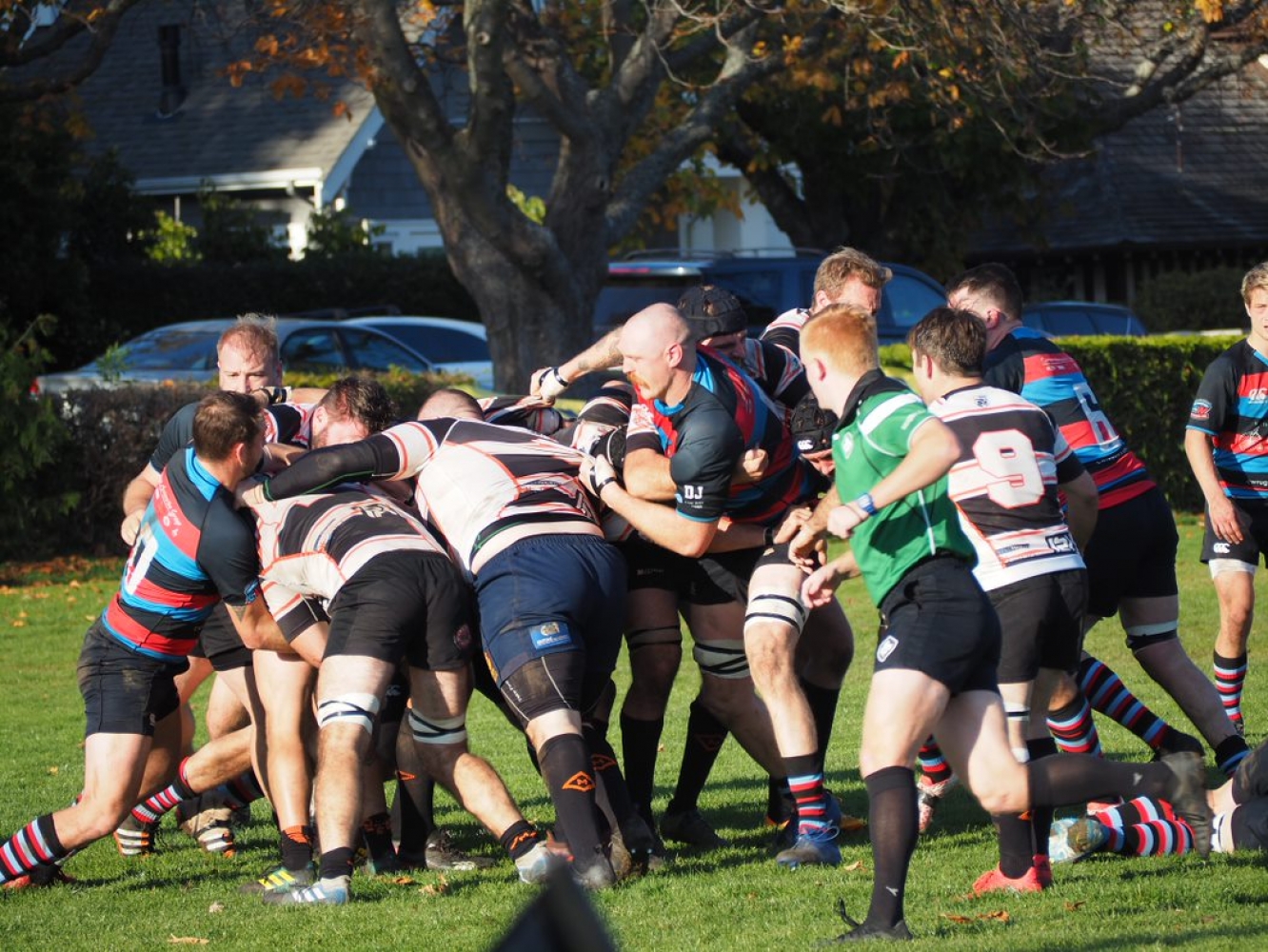 Tomorrow sees a full slate of men's and women's action. The Women play UBC at Carnarvon Park, kickoff at 1:00 p.m. Men play at the House of Windsor, Div. 1 at 12:45 and Premier at 2:30. Lots to love about this weekend!
Meralomas have invigorated their resurgence this year with a triad of offshore coaches from South Africa, England, and Australia, assembled by club V.P., Jeb Sinclair. Perusing the Lomas lineup, it is apparent that it contains a number of players who could well be of RSA country of birth, led by a feisty half back, Tommy Viljoen, his #10 cohort, O'Brien, also comes with some good ink. Jalan Farris at #8 is also touted as being the goods. Steff Evans, Captains the side from his center position. Scott McGinley in the hooking spot is one customer we know at CW, as he has been a rock with his club for many a moon. As mentioned, earlier in the week, this team had a stellar second half performance last week against Ravens, a performance which would have steeled them well for their first road trip.
For the home team, Anton 'The Magician' Ngongo returns to wear the Tricolour jersey via way of injury and surgery, the Pacific Pride and the National Men's Sevens team. The selection in the pack features the starting eight against Burnaby except for Steve Pyke, earning a start at flanker. The backs also remain the same with the exception of Ngongo. The bench is quality and deep which could well be a factor to test the travelling team. No matter what, this Premier contest will be well worth taking in on what is predicted to be a sunny afternoon.
This match will be preceded by the 1st Div ("Divvies") match. Lomas have always seemed to be a craw in CW's throat in the past. This may not be the case tomorrow with the locals fielding a strong selection, led by evergreen, Kyle Hohert. The FRF is a strong combination, particularly watch, #2, Jace Peters in the loose. There are some real sparks in the backs, and the experienced Oly Winser at #10 orchestrates them ably. Boyd-Porter returns from injury, DeVries on the other wing notched a try last week and Makaroff and Sandner are "grads" from our Mini and Junior programs. Again, this one goes at 12:45.
Where the heck is Anton??
The Women take on a very strong Thunderbird side at Carnarvon. CW ladies have put in hard work since last season. Players hailing from national, professional, and collegiate teams are being melded together in this season's version of CW. It is safe to say that CW boasts a strong roster. Leading the gang on Saturday, are experienced forward, Madeline Berry and speedy Emily Samek (#15). "Berry" (#5), is a newcomer to CW RFC, hailing from the 'Hornets' Nest' in Nanaimo. Thus far, she has been a standout in consistency and focused play. Samek leads by example, setting a high standard of athleticism on the team which is sure to be on display Saturday.
The CW side will be suffering from some absences this weekend- (#8) Louise Eriksson and Chloe Hill - Huse will be at UVic for trials for the Can West 7s. Nonetheless CW presents a talented line-up. Power centers, Aberg and Ogunjimi are sure to be ones to watch for on Saturday. A well-deserved start for Beauchemin (#7), her physicality in contact is sure to be on display. It will be fun to watch the #9 -10 connection with experienced athlete Folk returning to join Schell. The CW bench is deep with experience and enthusiasm.

Postscript - Six Nations at The Penny, breakfast, $9 before 9:00. Our thanks today to Wendy Norman for photos.
---