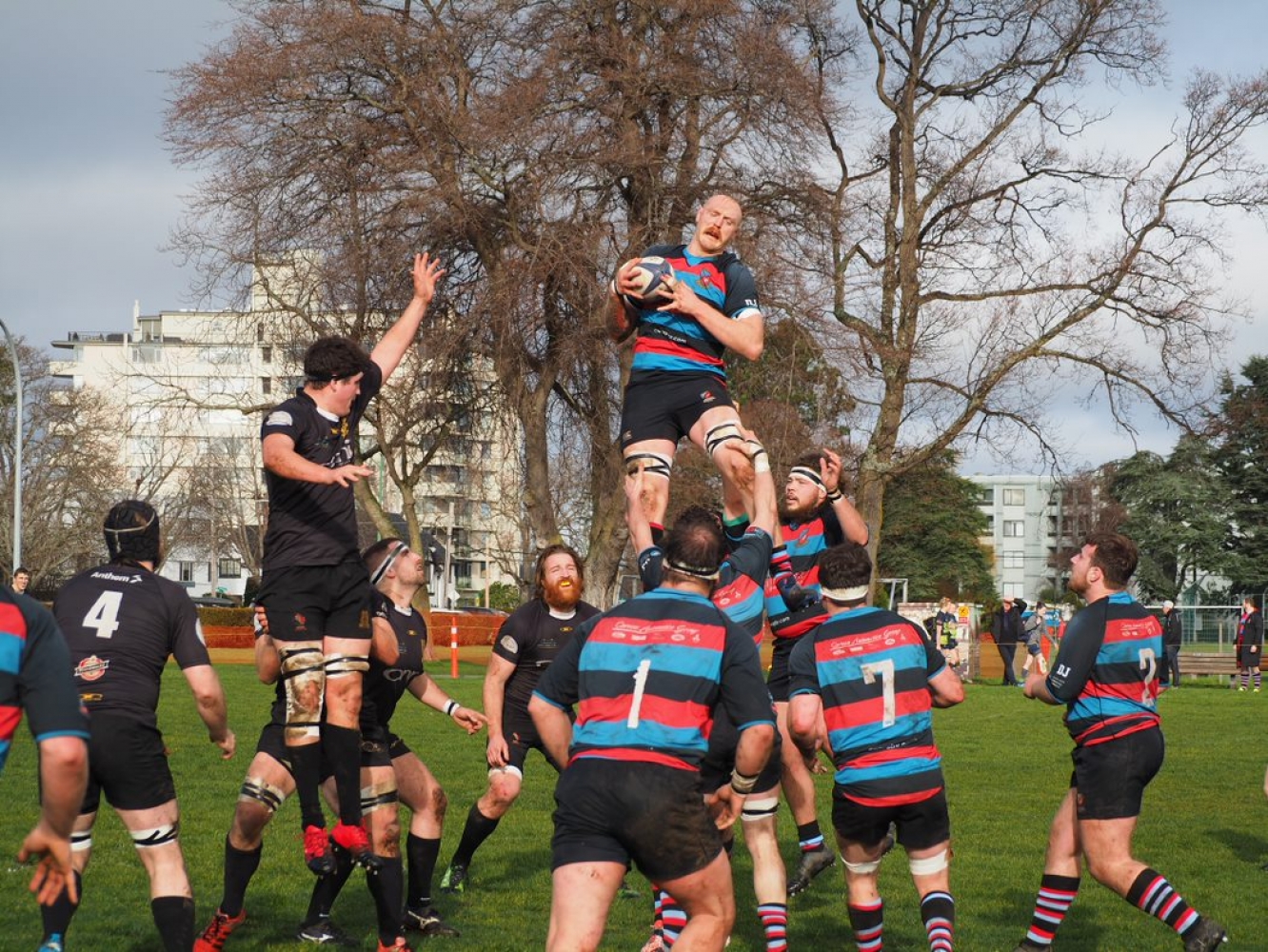 Both scheduled games for today were cancelled due to the catastrophic weather issues that have occurred in BC this past week. Our thoughts go out to the plight of many people in our Province and our thanks to the volunteers and front-line responders for your risks and kindness.
UNSUNG HERO – On the Field
Liam 'Chiz' Chisholm
It has been some three years since we have been able to recognise an "On the Field" Hero, due to exceptional Covid times and basically, no rugby. With the recent re-start and hopes of continued competition today we bring back this feature, and it is an honour to recognise 2021-22, Men's Club Captain, Liam Chisholm.
CW: 'Chiz', we congratulate you on your selection as Men's Club Captain. Indeed, an honour and we deem, well-earned and deserved. Following your graduation from UVic you hung your cleats with CW. When did you join up and why, CW?
LC: Thank you Macca, it is a true honour to be able to Captain a side with such a storied club as CW. One point to clear up is that this year we separated the Club and Premier Men's team captaincies. I am captaining the Prems team and Riley Ilnicki is the Club Captain this season. As I'm sure most who are reading this are aware, Riley is an incredible club man and leader within our group! (Ed. Thanks for that clarification.)
I joined CW in 2017 and, like most who are not home-grown CW members, I can attribute a lot of my interest to the tireless efforts of Johno! While I was at UVIC he reached out and started to reel me in. The games I played against CW also attracted me as they were always hard-hitting, heavy rugby matches then straight to the Temple for festivities, the way it should be! The CW men I played against were great on and off the pitch which was exactly the type of culture I wanted to be involved in.
CW: When and where did you start playing rugby and what was your pathway to UVic?
LC: I started playing rugby just before I turned 18 when I attended the Athol Murray College of Notre Dame in Wilcox, Sk. Like many Canadian kids, I grew up playing hockey, which is what brought me to ND. Within my first week there the rugby coach came up to me in the cafeteria and informed me that I would be playing rugby for him that year. Where I grew up (Kenora, Ontario), rugby was unheard of, but I figured if I got to hit some people it was worth a try.
After that season I went to UBC Okanagan and played with the Kelowna Crows RFC. That was my first experience with a club, and I absolutely loved it! They have a wonderful group over there who took me in and started to teach me how to play rugby. The UBCO team attended the Inaugural University 7's tournament and following that weekend I was introduced to Doug Tate who gave me the opportunity to play at UVIC. (Footnote – The Crows had many former UVic and Castaway members who no doubt, may have influenced Chiz.)


CW: Whilst at UVic you earned selection with the NSMT. How many caps did you earn? Against? What did you attribute to be the greatest difference playing at this much higher standard?
LC: I earned 7 caps with the NSMT against USA, Chile, Georgia, Uruguay, and Brazil. Whenever I have moved up a level, be it Divvies, Prems or Rep, the game just seems to be faster paced and have heavier contact. At the end of the day, rugby is always rugby!
CW: Our suspicion that your continued selection was hampered due to injury needs to be confirmed. Can you share this dilemma with our readers?
LC: Ya, that was a big part of my tenure with that squad. About three weeks before my first tour in 2016 I fractured a vertebra and bulged a disc in my back (undiagnosed at the time). I was keen not to get left on home soil, so I played on that tour until I was in rough shape after a game and a long travel day down to Argentina. After a roughly transported trip to the hospital they let me know that I had a L5-S1 spondylolisthesis, which means that my vertebrae shifted and was pinching my spinal cord.
The next two years were spent in a continuous cycle of rehabbing just to the point of being able to play again, going on tour and aggravating the injury again. Eventually the medical team would not clear me to play anymore. Thankfully, the neurosurgeon that I saw let me know that one of the biggest issues was the volume of training involved with playing for the NSMT and that with some rehab I would be able to play club so here I am!
CW: In what field did you earn your degree? Has your educational preparation helped you with your career and how?
LC: I got my degree in Kinesiology and started working as a personal trainer in 2017. Now I manage a personal training studio called Innovative Fitness. My degree set me up with a great foundation but, like most jobs, the real learning began when I started working with clients. Now I spend a lot less of my time working with clients and more with my staff, focussing on cultivating leadership skills within our group.

CW: Physical training, Covid times has been a challenging career no doubt. How have you survived and what keeps you motivated?

LC: It has certainly been an interesting time to navigate in this field! We focus on being resilient. It was shared with me once that when adaptability meets perseverance, resilience is created and that has stuck with me. We have had to change the way that we offer our service; in the summer we took clients outside to train, we offer virtual sessions, we have sectioned off our floor space for physical distancing, etc. In short, we have changed with the current climate and have slowly been building back towards where we were before COVID.

The motivation piece for me is very simple. I am fortunate enough to be exactly where I am supposed to be in this world (I have also put a lot of work into it!) and all the aspects of what I am doing build the life that I want to live. From what I am doing professionally, to my relationship with my amazing wife, to this club and how I get to spend my free time playing rugby with my mates. I have found my path and once I settled into that, there is no other option but to keep moving forward.

CW:
Let's transfer this to your personal training. What does a typical weekly regime look like? We note that your speed has not diminished and in fact, for a big man, you have quality pace. Do you do sprint-specific work or rely on natural-born talent?

LC: Now I am engaged in an in-season program, which does have less volume than I was doing for the past year. In general, I will hit weights 4-5 times a week, depending on what kind of damage I am carrying from the fray on Saturdays. My body responds well to focussing on high volume in my main lifts with less emphasis on accessories, but that's just me. Then of course I have rugby twice a week plus games.

I don't do a lot of sprints, but I like to work with kettlebells and plyometrics for my conditioning which helps with my fast-twitch movements.
CW: What recollection do you have as being the highlight of your rugby career?

LC: Highlight of my rugby career would be singing the national anthem during my first cap on home soil. I found my father in the crowd and we made eye-contact and belted out "O Canada" together. It's a moment I will never forget!


CW: Liam, you are very happily married to Ann. Obviously, she supports your continued playing of the game. Can we ask you to investigate the crystal ball and comment on the Chisholm's, and the future?

LC: Understatement of the year! That woman is incredible. How she puts up with me, I'll never understand. Ann and I are focussing on starting a family, so hopefully there will be some little red-headed monsters running around Windsor Park soon. She says that she wants them to have my hair, I say only if they have her hairline!

CW:
Chiz, we have asked you some probing questions and we thank you for your thoughtful and honest answers. We have loved your vocal ditties at The Temple, and we love your leadership for The Lads. Are there any final thoughts you may wish to sha
re?
LC: Thank you for your kind words, Macca! I know that I can speak for many a Tricolour when I say how grateful we are for everything you have done, and continue to do, for our club!
(Ed. Thank you, an honour and a joy.)

It is an honour every time I have pulled on a CW jersey. I could not be more thrilled to have been welcomed into a club of this caliber and thank everyone who has made this such an incredible experience for me. To the lads, sharpen up the shoulders and let's hunt some hardware!

CW: All the best, Skipper – a man who leads by example and thanks so much for sharing your thoughts.

N.B. - Massive apologies to Liam and readers on this story. A friend, and wag asked if CW had Chiz on ice for a century when pointing out a typo with dates (!921/22 Vs 2021/22)! Oh well, the world's not perfect.
---