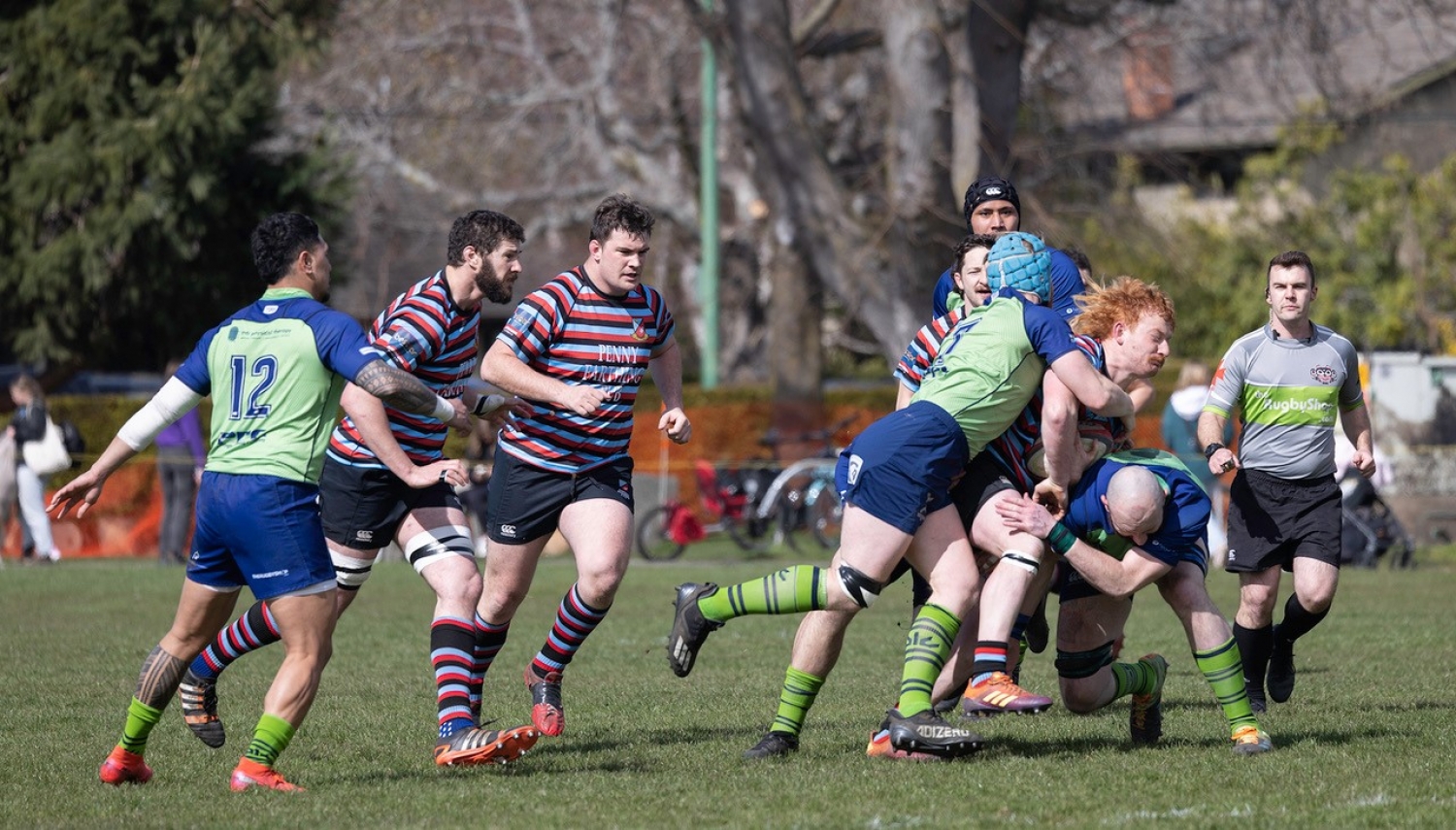 (Photo credit - John Richardson) Tackle techniques or not, with sternum-high experimentation by RFU?
VITAL BONUS POINTS IN THE BANK
Tricolour Men's & Women's teams achieved their goals last Saturday with a pair of bonus point victories. The Men opened their account in the fourth minute with a Sandner penalty, three of seventeen points on the day. What soon followed was a huge tight head shunt and a Carson pickup and drive for a good start, 10 – 0. Seattle was carded for constant offside transgressions which did not help their cause. It was mid-half when a penalty to CW saw Sandner find touch, a lineout peel, one ruck and Pyke was over. When Pilgrim executed a nifty "man-around" and grubber, the Visitors were forced to drop out. The ball was taken at mid-field and a swift-thinking, flick-on with the ball from Sandner saw Ng cross and a 22 – 0 lead. Seattle finally earned some possession and showed they could do something with it when a clever little grubber saw a fortuitous bounce for Lincoln to cross around thirty minutes. This was a half owned by CW when from another tight head scrum, Carson went blind, offered a skilled dummy and fed Pilgrim to increase the spread to 29 – 7. Scrummaging was proving to be more than Seattle could handle and from yet another penalty against them, Michael Smith alertly tapped and cruised twenty metres to close out the half at 36 – 7. It was a most rewarding exercise.
The second stanza opened with some slight of hand from Pilgrim, earning a penalty, capitalised on by Sandner, 39 – 7. This was really, all she wrote in this one, as the remainder of the half produced little of any quality. Substitutions en mass seemed to quell the rhythm rather than a seamless continuation of the enterprising attack witnessed in the first half. In fairness to Seattle, their bench produced a much more dedicated effort in the scrums and a substitution at #10, Chinen, showed off good skill, making this spectator wonder just how this man could not have started in the contest. For CW, Pyke continued to be noticeable and when he is healthy, he is a definite threat. Despite spending a good portion of the half in CW territory, the green machine was unable to break a solid defensive effort and when Sandner added yet another penalty, that ended the scoring and a somewhat uninspiring "second forty".
To the Visitors, thanks for the game – a 5:00 a.m. departure and re-route via Duke Point, compliments of BC Ferries, not really a safe and healthy precursor to a hard rugby match and again, a definite difference in performance between Seattle at home and Seattle on the road. Given the costs to the CW club, four teams to Seattle, overnight stay, when the schedule is reversed, it once again raises doubts in the mind of this pundit of the values of this exchange, not to disparage Seattle by any means. Thanks to a good exhibition of officiating by Riley Robinson and his youthful AR's – well done. For the Visitors, Chenin at #10, off the pines was noticeable, big lock, McKenna was feisty and worked hard all day, Gordon at #8 and Alainuuse were others whose contribution was worthy.
(n.b. Credit to CW Women who have also had to complete this feat on trips to Vancouver for early scheduled matches.)
(Credit John Richardson) Support en mass.
For CW, I liked Pyke, although I think the boys gave the Hard Hat to Humphries, not a bad choice either! Nick Carson was obvious, but his challenge was often halted, however this was compensated with good distribution. Pilgrim at #9 was efficient and Schelly kept things tidy at the custodial spot. For my money, it was a pity that Ng and Mitchell seemed to see few touches and the centre combination did not click to its full potential. The kicking game was incorporated a little more frequently, although this often went to hand rather than space and the potential for retention. Next Saturday, the final day (unless the BCRU decides to somehow complete a round that was cancelled due to weather), will see the men back at The Mac on a day when JBA vintage 70's – an era of Island rugby supremacy - will be celebrating Til Briggs and players from his era and will provide feisty partisan support for the boys wearing blue.
The Premier Women felt the love from the alumni and home crowd on this Saturday, and in return gave an excellent show of rugby against a well-matched Seattle team. Seattle started the game quickly, getting into CW's 22, however a well practiced set piece saw CW re-gain the advantage with quick hands, and #7, Lucy Beauchemin opened the scoring. Seattle responded with a try of their own and then a scampering run in from #9 Danica Pedrick added to the CW tally. Next it was Maddy Aberg fending off three Seattle players and delivering the offload to #14 Caitie McNally on the wing who scored the Host's third try. CW was not done, when a mere minutes later, a series of off-loads down the middle of the field saw #10 Emily Samek touch down. Thigs were certainly going CW's way. Seattle, not to be deterred by this scoring parade, threw down the gauntlet and found space under the posts to end the half with a 24 – 12 score line.
The second half started with Emily Samek scoring her second try of the match within the first minute. Seattle stiffened and made CW work hard to earn their next try, which was scored by Danica Pedrick for her brace. Aided by a penalty, Seattle broke the defensive line to add to their score. Seattle, further added to this, with another five-pointer to close the gap. As the game see-sawed, CW kept the pressure on and a well placed off-load saw Emily Samek into space for her hat-trick and a score of 45-24 with fifteen minutes remaining. Seattle remained undaunted and despite being held up on one goal line stance, they managed to cross the line. With ticks on the clock, they found a second wind and scored a final try to end the game, CW winning 45-38! CW players were gassed and pleased there was not another five minutes on the clock. It was mission accomplished, putting CW in fourth place and a more favourable playoff position. Thanks to referee, Kevin Smith and AR's. (Report, Frankie Fraser).
A touching side bar to this one was the aged couple from Carlton House watching their first ever rugby match. They were present to cheer on employee, Josie Anzai. Ah, the joys of rugby. 'onya, Josie. (Ed.)
---