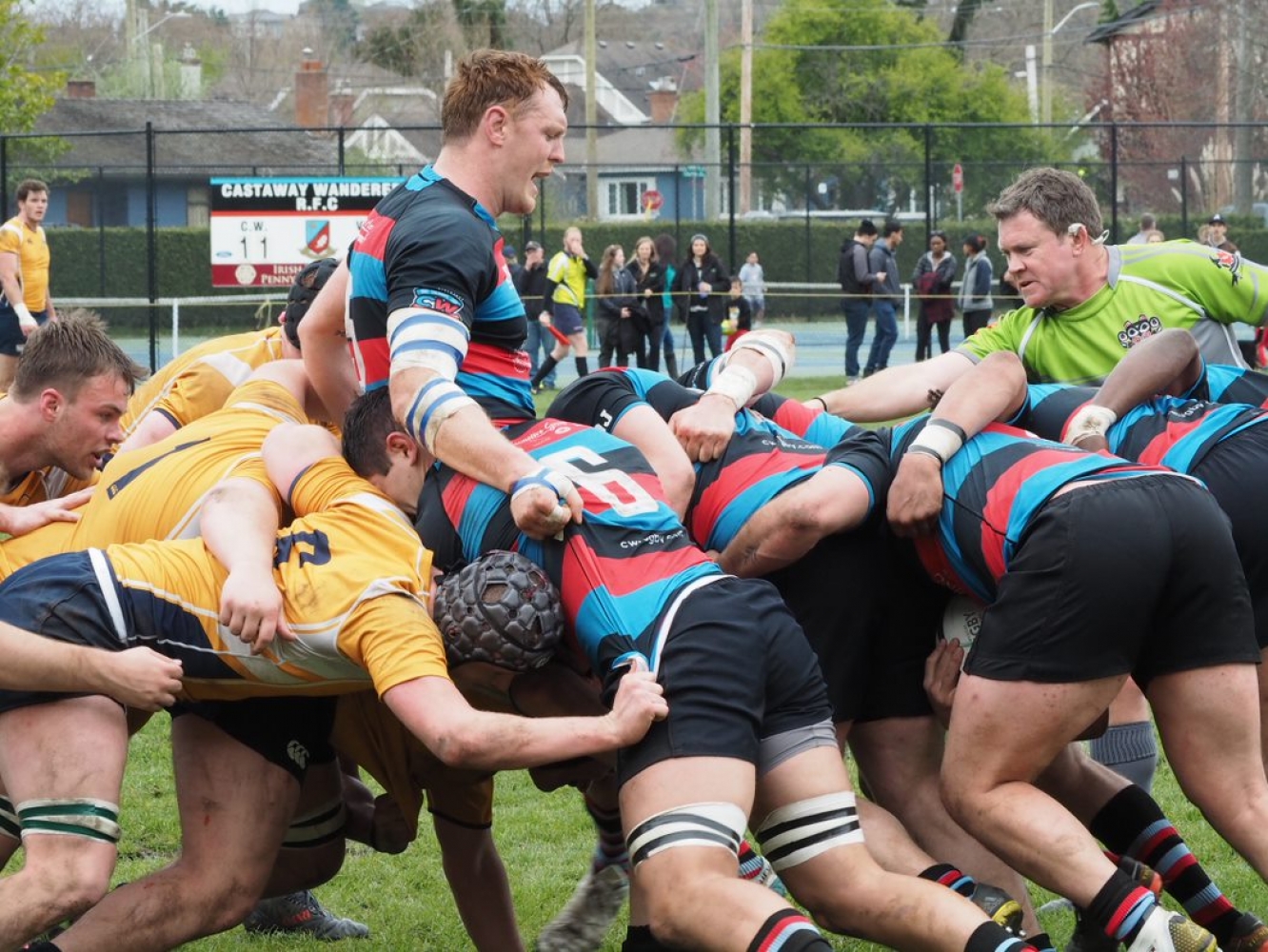 A frequent line out sight on the day at Wallace!
MEN NOTCH DAILY DOUBLE
CW had approximately eighty vaccinated and registered men and women in rugby gear and in action on Saturday last. Action opened with he 'Divvies' (2nd Div.), playing Cowichan RFC at Windsor. Pre-game predictions about experience in the selection came to fruition early when Kyle Hohert crashed over. Brandon Gerhardt added the extras, along with a pair of penalties. Around 25 min. last week's M-o-M, Jace Peters, showed his worth with his tally and another convert was added. The scoreboard 'ticked over', 18 – 0. Cowichan opened their response with a well executed 'pick and go', 18 – 7. A plethora of whistles punctuated any real continuity however, led by a 30m run from their winger, The Piggies mustered motivation and a couple of recycles and six missed tackles saw the score close to 18 – 12. Thus, endeth the half.
From the kickoff, Howes sent Gerhardt blindside for a couple of long gainers, and it was Lucas DeVries, the final recipient, over for 23 -12 lead. A somewhat CW unalert, defensive lapse allowed the softest of tries with an alert Cowichan response and it was 23 – 17 within five minutes of play! The game's structure for CW had broken down to a shambles, as set scrums were fractured to the point of being a detriment and play at the breakdown became very ineffective. It was only efficient and aggressive tackling that prevented Cowichan from taking the lead. At the mid point of the half, it was another of the 'experienced', Mike Crawford who forged over the line, 30 – 17. Breathing room, and what turned out to be the turning point, breaking the Cowichan resolve. CW visibly pressed their superiority. The writer left at this point to travel to UVic. Twelve more points were added for a 42 – 17 score line.
For this fan, there were many a Tricolor who caught the eye. Gerhardt was recognised as M-o-M, with no argument here. Peters proved he's the "real deal". Bookends in the FRF, Smith and Montgomery were useful with a noticeable lull, when the sets seemed to go awry. All the pack was strong, and as usual, Hohert did heaps. The backs had many seeking to shine, centered around the steadiness of Captain, Winser. Howes gave good service despite close and often off-side, and sound-alike 'Moss Jr.'s' attention, and White and Smith in the centers were always a danger. Great to see an "old-timer", Stefan Moser, back in the fold, much bigger and almost as fast as yore. There were many keeners off the bench, of note, new arrival, Sandison, other names evade the writer. Thanks to Cowichan for their customary, feisty, and competitive display. Well done, Divvies!
At Wallace, as predicted, it turned out to be a long afternoon for the Norse. With mere ticks off the clock, Pyke was under the sticks from a lineout. Captain Chiz was next, also off a lineout, won and done. Around fifteen minutes, Towers went on a forceful and fancy footed, forty-five metres ramble for 19 – 0. Thence followed a beautifully executed three-quarter's passing medley which ended with Adibe notching #1. The first quarter had been all CW. With the Norsemen finally earning some possession, their efforts were commendable, but scoring was not to be. Adibe earned his brace and the half ended when the guile, quick hands, and fleetness of foot of Pilgrim, saw him dummy and scoot thirty meters for his second similar score in consecutive weeks and a 34 – 0 halftime lead for the visitors.
There were extensive substitutions from CW, but it was more of the same in the second stanza. Chiz earned his brace, Adibe, a hat-trick, Humphries, evergreen warrior, Riley Ilnicki and Sandison, mentioned earlier, off the pines and over with a resolute burst and his first touch, completed the parade! A lot to none was the final. There was enough of a contest for all to enjoy and a feather in the Norse cap for their resolve and it was a pity that the final play of the game saw them bundled into touch in the corner, depriving them of a deserved score.
For CW, it was hard to select a M-o-M for this pundit, for all showed, most of the time and that goes for the many Divvies who added a second trot for their afternoon. Previous winner, Gavin Kratz, awarded Jace Peters with the honour. Jace had a full match with Divvies and put in a noticeable fifteen minutes with Firsts, concluding with the final try-saving tackle. The writer gives special mention also to Sandison, White and Cam Smith. Next week it is the reciprocal, on the road to Nanaimo, for both teams. It seems like there have been some postponements and some forfeits to date, so there is no idea of Barnard & Times Cup points. Well done, all. Go, Ceedub!
Meanwhile, back at the House, the Premier Women battled visitors, Westshore and despite a score line deficit, reports were positive, with improvement, good efforts, and enjoyment, despite what turned out to be a sizeable differential. For the Women, the pre-Christmas emphasis is on development and growth, featuring newcomers in the league, James Bay. The competition for real takes place, post-Christmas. It is reported that CW has around forty registrations and that augers well for the entry of both a Premier and 1st Division group in the Winter/Spring League. The club is still welcoming experienced and new players.
Players of the match for CW were: Forwards - Amy Dirks; Backs - Emily Samek. Well done to all, from Coaches, Catie and Albert.
A special shout out to the U14 ball girls: Nola, Sydney, and Maddie. That's the CW style!
BIG THANKS to all officials on the day.
COASTAL CUP ACTION
UVIC Vs VAN EAST
Opine that the spread in this one may have been double digits based on prior score lines and results. Watched it with Coach Ken and we were surprised by UVic's stiffness against a multi-possession start by the East and their well-earned try by a big and fast unit on the wing. The Vikes, in fact, arguably outplayed the East and were only the cause of their own deficit at the half, leaving possibly, two tries on the field and giving up a late one. We left shortly after the half with Vikes in arrears by three, but it ended up a twelve-point difference in favour of the Easters, a side constituted totally by BLRFC players.
CRIMSON TIDE Vs VAN WAVE
Did we underestimate our boys or overestimate the Wave? The spread in this one was double digits yet the outcome boiled down to a single point, fortunate win by the Wave. In fact, "a more vaunted pack was outplayed by the hosts" (our man at the Mac) and it took until the last play of the game when point-scoring leader, Moloney, booted a penalty for the win.
PRIDE 46 d TWU 17.
---