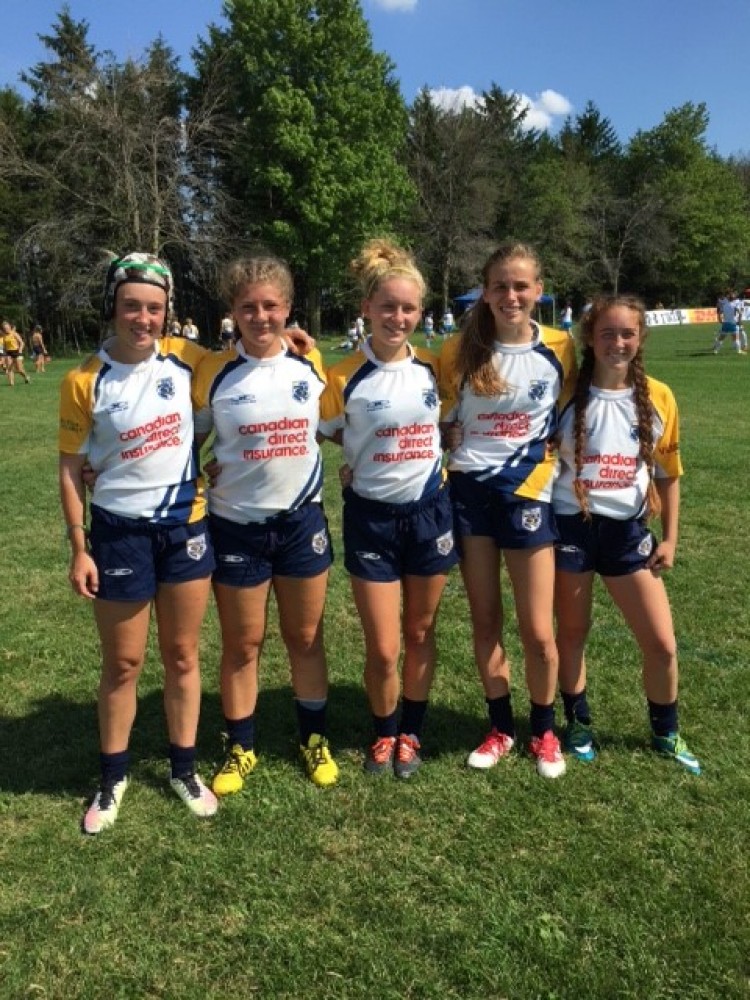 CW at the Nationals
Today it's hats off to B.C. Girls, Boys and Senior Women on their successful achievements in Toronto at the R.C. National Championships over the past six days.
B.C.'s Senior Women finished in third place. They did manage to defeat Julianne Zussman's, Quebec and National Champs however, a loss to Ontario, 15 – 26 put them out of top two. CW's Lara Crowe-Hutchon and Jess Nielson figured prominently in the scoring.
B.C.'s U18 Girls, including Shaye Tudor, took the crown, winning a hard-fought battle, 8 – 5 over the Wolfpack in the final. B.C.'s U16 Girls swept all aside in round-robin play with some very lop-sided W's. However, Ontario must have been a good study of this group, as they nudged B.C., 17 – 10 in the final, after losing pool play action 19 – 34. CW provided Peyton Cochrane, Kelsey White, Emily Parker, Amelia Gordon and Maelle Reed to the team (pictured above).
B.C.'s U18 Boys included Brandon Schellenberger and Callum Masterton. Unfortunately, Carter White had to scratch due to injury. The team won gold, going undefeated. B.C.'s Boy's U17 team, coached by CW's Spenny Robinson, including Sammy Kahn and Gareth Sandover was in action in Ontario. B.C. won all three of their games against Ontario Reps. B.C. took three Boy's U16 teams to Ontario. The "A" team included Lachie Kratz and Conor Hills. Although the competition was tough in his group and B.C. did go down, 5 -19 to Ontario in pool play, they obviously learned from this and went on to defeat Alberta 31 – 24 in the final. You good things! CW's B.C. Champs U14 coach, Shane Muldrew led a B.C. Boys U15 side in action against Ontario teams as well. This side included Brandon Tatalias and we do not have any scores from these matches.
In all, a pretty successful campaign giving plenty of credence to program development at the age grade level with both genders. CW congratulates all the players and coaching staff and a shout out to parents for your support for your kids.
Canada's Men's and Women were also in action in the U.K. on the weekend. Canada's NSMT 'A' opened their UK Tour against Doncaster Knights, losing, 16 – 20. This squad includes Nanyak Dala, Dougie Fraser and Mozac Samson. Former Tricolor, Lucas Albornoz added a lone try late in the proceedings and McRorie added eleven with the boot. Other matches on this Tour are vs Ulster and Glasgow Warriors. Canada's U20 women, including Gabby Senft and Jenn Appleby, lost to England in Test Match 1, 46 – 8 after trailing 17 - 3 at the half. We congratulate all of these players and wish them well with their upcoming fixtures. Meanwhile, back at The Park – training is underway for the upcoming season with Monday and Friday Touch sessions and Gala Opening Day – SATURDAY, SEPTEMBER 10TH.
---