Mission/s Accomplished - No April Foolin'
---
---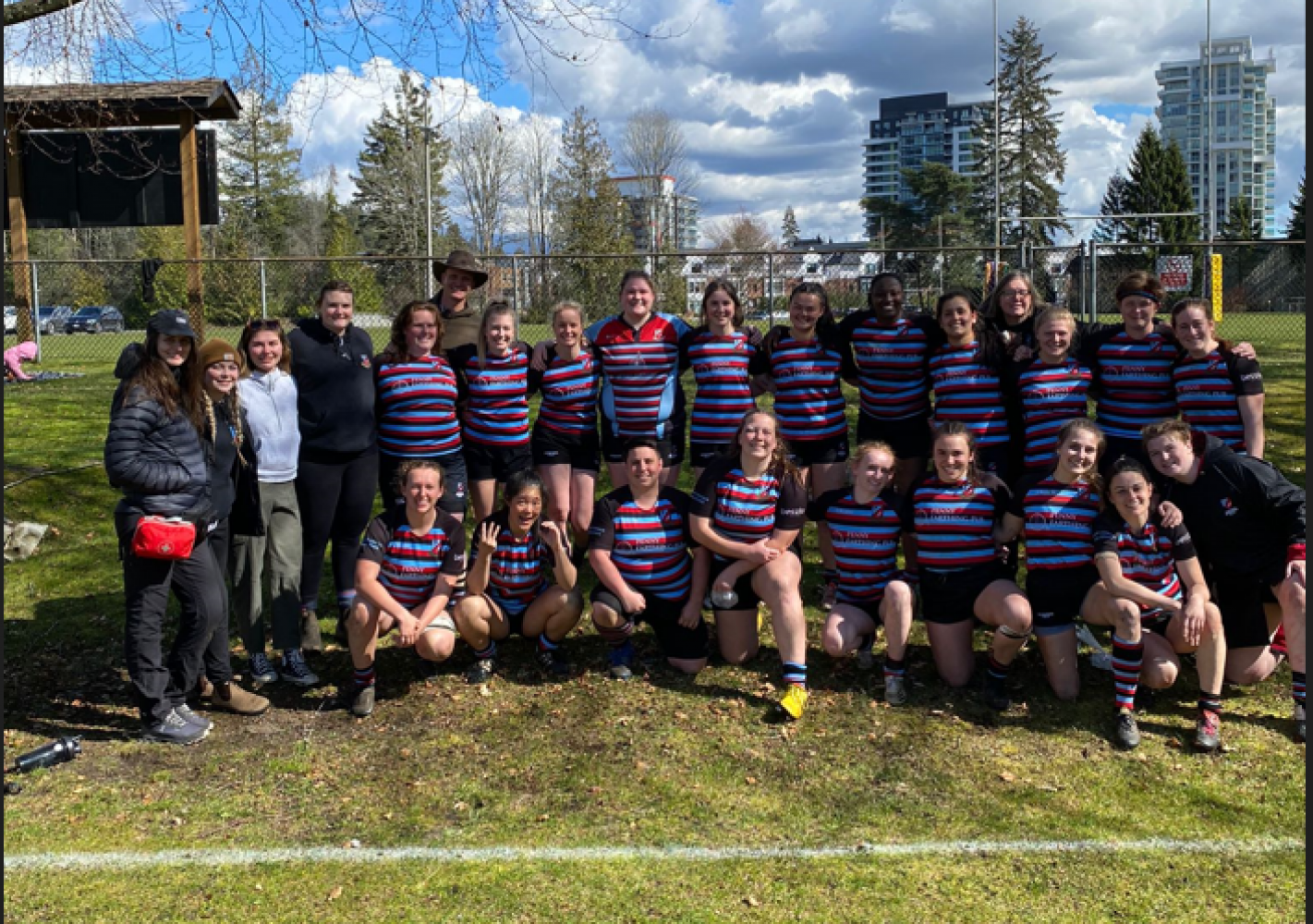 CW Premier Women were up bright and early to catch the 7:00 a.m. ferry for their playoff match against Capilanos on Saturday. The early rise was to avoid any potential ferry cancellation! A rather good reason to ensure the values of home-field advantage. Some players remained at home to suit up for the Divvies match against Abbotsford and twenty strong sallied forth.

As was the case two week's back, this one was also very physical, with CW edging ahead, 10 – 7 at the interval. It was back and forth in the second half with Capilano taking control after back-to-back tries, to go up 31 to 17 in the late stages. CW showed immense resilience and grit – responding with two tries, with Maddy Adberg calmly converting and less than four minutes remaining and so, the match ended, 31 - 31. A rarity to have extra time played in a playoff encounter!

It was more of the same in over-time, a very physical contest with both teams working hard and seeking a glitch in the armour. There was no score in the first five minutes. The teams switched ends. It was to be the season's Club Premier MVP, Emily Samek who carried the torch on a bruising run and Adberg added the extras, at worst ensuring continuation of another extra period. Play became frantic as Caps sought the equaliser. In their enthusiasm, they knocked the ball on, possession was procured by the good guys and the ball banged to touch for the win, 38 – 31.

What a day! The players left everything on the field in an absolute great team effort!

It was wonderful to have the experienced, Chanelle Challenger-Edwards calmly handling the forward pack at #8. Captain Emily Samek at #10 scored a hat trick, including the winner. Maddy Aberg scored a try and had four vital conversations. Singles were added by Sara Einarson and Kelsey McKinnon.

The Divvies at home faced a good Abbotsford team and succumbed one-sidedly on the scoreboard, although reports indicated it was not totally so in the battle. It was a good 'debut' season for these ladies and a great effort from our Women's program fielding two teams all season and only having to forfeit one match. The ladies now move to the semis when they will play UBC. Congratulations team, adversity overcome.
(With thanks to Manager, Chris Shepherd.)

As scribed pre-game, Saturday was a BIG day for the club. The Men's Divvies had a dream beginning against Surrey when Horan crossed after a twelve-phase build up from the kickoff. The ensuing restart, saw Hickman, ducking, weaving, and dummying for thirty metres, Anderson on his shoulder, for a 12 – 0 lead after eight minutes and the beginning of a long afternoon for the Visitors. The writer could go on however, a synthesis pays more respect to Surrey as their season came to an end.

Surrey was starved of possession however, on occasion, their backs, organised by a useful #10, handled well and scored easily early in the match but that was all that was written. Their defence was porous, despite vocal urging from one member. I offer tremendous credit to #8 who was nothing short of amazing, either winning the ball or carrying the ball, always trying to create some structure.

For CW Divvies the twelve-try barrage was a very competent and comprehensive performance, by far their best of the season and it could not have come at a better time. Pavlos Silvestros led the parade with a quartet. The FRF was solid, and Jack Sponarski was wild in the open. The remainder of the pack revelled in the going, earning quality possession, and enjoying numerous rambles. The backs, anchored by Anderson and Hickman displayed further improvements as moves showed precision and support was the watchword. It was not just the finish, but the patterns and style that should stand the boys in good stead as they next move on to face Abbotsford (15 – 1), having scored a mammoth 882 points! Encouragement comes in the form of two close games – Port and lowly,Trinity Western University. I have not alluded to the confidence that is slowly mounting in this group. No matter the adversity to travel at less than full strength, needing to have subs for a Premier contest, I suspect these boys will give Abby all they can handle. Congratulations. Go, you good things!

FOOTNOTE Thanks to referee Zussman, such a competent and positive performance. This lady always facilitates the game for enjoyment of players and fans. Thank you.
Smith sneaks off! (Credit John Richardson)

And so, a dribble of fans drove crosstown to join those already assembled at MacDonald Park. This writer had made a personal choice of watching this game and not taking notes, assuming a taping of the match would be available on Utube. At time of posting, not to be, so here goes, with mostly reflections rather than any accurate order of the events. Prior to……. fans and some players who had heard, were agog and joyous with the news that the club's Premier Women had defeated Caps in overtime! One club.

The Bays opened strongly, putting Schelly under pressure and referee Horton caught an offside infraction and the boys in blue opened their account. CW forwards came back, working their way down the slope only to lose possession. It was in the first quarter, when Steve 'Irish' Pyke, like a wild banshee, proved unstoppable with legs a-pumping, a don't argue fend and the first tally for the Visitors.

The patterns both teams were seeking, soon became clear, JBAA, kicking (hopefully), to space from Sora, a player whose game has improved, backs running quality lines without a lot of fancy stuff, Findlay and Nieuwenhusen taking a gap if it showed and getting ball to Lloyd on the wing. In other words, to have CW's big forwards spread and chase the ball. On the contrary CW clearly showed they wanted to play a controlled possession game, using their strengths to assert superiority. And thus, the first half came to pass, the only thing that perhaps might have been more rewarding for CW was to receive penalty compensation from some massive scrum shunts. It was late in the half when CW ground play "downhill" and Jake Ilnicki scored after several recycles, and a 14 – 3 lead at the break.

The second stanza opened with a lively interaction of passing from CW, forcing the defence to "all hands" and it was Ollie Nott who crossed after a determined and impressive run, leaving a trail of 'would-be' tacklers and a 21 – 3 "uphill" lead. James Bay then displayed grit and put CW under pressure. With a penalty advantage, Sorah mysteriously but skilfully, potted a field goal. From the re-start CW pushed their cause, putting the defense under pressure again and earning a penalty for young Sandner to notch his ninth point and earning a reasonably safe lead. The Hosts did complete the scoring after well-earned pressure resulted in their sole try and a 24 – 13 spread. Add to this, pinching the Gerwing Shield, back to where it started in September.

For James Bay, Slobodian and Lachance were hard workers in the pack. Sorah, Findlay, Brock Webster, Crosby, and Lloyd were backs who all had their moments. For the Tricolours, the earlier mentioned forwards possession game was a success, so much so, that this writer will not delineate one over another. Sandner, in his toughest game to date did not disappoint and gave a brave exhibition. Ollie Nott was the pick of the backs and the back three particularly with a second half re-shuffle, all defended well. A final comment about the scrummaging of the FRF relates to their superiority and their deserving of a couple of penalties related to same. This report concludes with a note of thanks to referee Horton and two AR's who kept an eye on things, sometimes to the chagrin of off-field judges. CW now travels overseas to take on the Lomas, a team who has surprised the League this season, particularly with underdog, late-season victories, obviously not underdogs to the Lomas. CW has always had a good ding-dong with this club, but lost to them handily, 32 – 19 at Connaught in November.




CANADIAN RUGBY ON DISPLAY FROM SPAIN TO HONG KONG


The weekend was a case of the good, the bad and the ugly for our National team programs. Starting with the good. National XV's Captain, Sophie de Goede led her Women's team to a convincing, 50 -17 victory over the U.S.A. This followed up on their 66 - 7 win over RSA on the previous weekend, a game in which CW's other NSWT Rep, Julia Schell, started and scored a try. CW continues to be immensely proud of Sophie - her play, points scored, and her leadership of this program. The Nats next play Australia and New Zealand in Canada in July. Wouldn't it be grand if one of these Pacific Four matches was to be at Westhills Stadium? Terrific stuff, ladies.


For the rest of the story. Although it was good to see CW branded, 'Mercury' Morrah earning his one-hundredth Sevens cap and scoring a couple of tallies in Hong Kong, along with Triclour mates, Prevost and Kratz, the overall results for the NSMT were somewhat disastrous and leaves us all wondering just where this program is going. This is no disparagement ot the players or Coach Whitey. One just wonders, what the heck and how and why. The Women's performance was not much better, bad but certainly not ugly. The ladies finished in sixth place. This is back-to-back tournies that this has occured. For these teams to continue in the dance next season, they will have to qualify in repecharge tournaments.



---