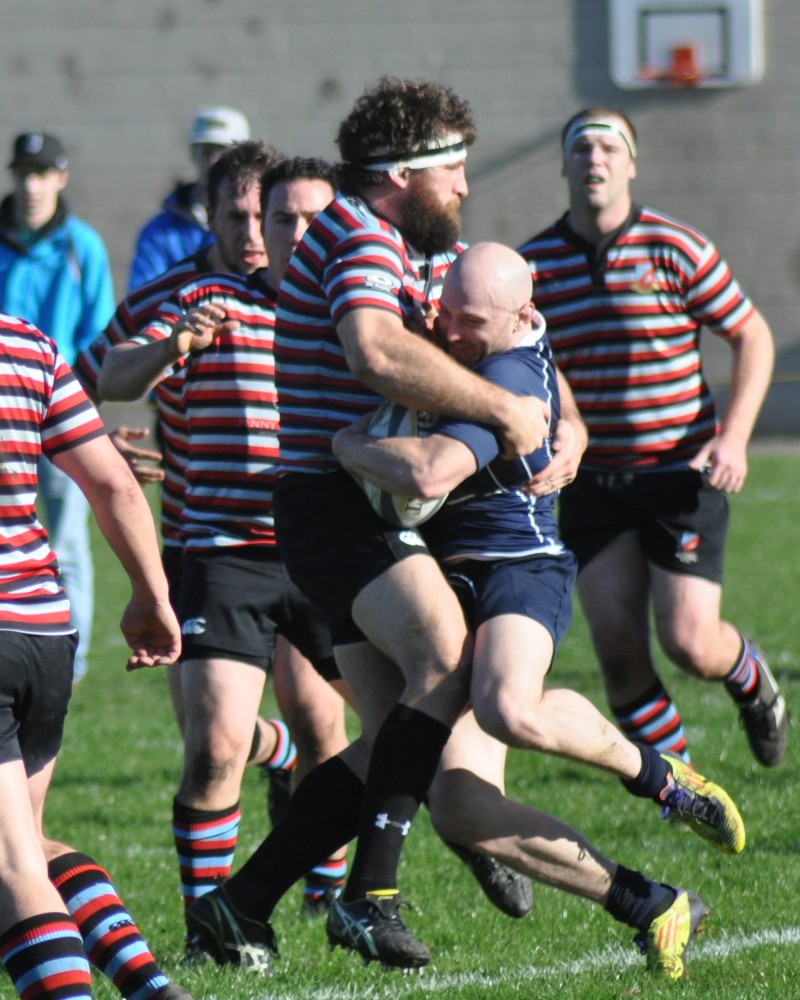 All Wrapped Up With Nowhere To Go!
This scribe did not see this one in the flesh but the video is well worth a watch. It was far from an all-time classic. It was an error-filled, whistled-punctuated, close, hard-fought battle between these old rivals. The report will cherry-pick highlights, personal opinions and comments. JBA had the best of the early going, resulting in a penalty and #8 pickup from Mullins for a converted try, 10 – 0 lead. Despite this break out, CW certainly seemed to "stick around" with their work at the breakdown being particularly noticeable. About midway, Oliver scored from the back of a good lineout maul and drive. The lineout was to prove a CW strength as the game progressed, something that must have pleased coaches. JBAA was to return this favor with a near "length-of-the-field" try. CW punted the ball to hands and after two missed tackles the ball went through four pairs of blue hands for Morgan Williams to finish under the sticks, 17 – 5 James Bay.
The handling and kicking from both teams was far from top notch, strangely, this was continued throughout, with the exception being some important phases of pick and drives, pressure defense possibly to blame. James Bay obliged CW from the kickoff, quick ball came from Oliver to Barkwill. From the lineout it went to Panga to Welshy Morris to #14, Turner, from the ruck, Albornoz was almost in but it was left to Turner to not be repelled a second time to finish and the convert from in front was missed! It is time for a phone call to The Maestro as CW's kicking from hand and tee has been less than stellar all season! 17 – 10. JBA worked play back to the 22 zone and converted yet another CW penalty, 20 – 10. As the ebbing and flo continued it was good runs from CW's tight forwards, ending with a Barkwill Burrow, a good series of retention, quick hands and a good line from Welshy to cross unhanded. Convert from in front missed! What could have arguably been, a larger differential, saw CW well within a sniff at the interval.

Noted in the video are the copious quantity of sideline refs! There were plenty of penalties as both sides sought skulduggery to gain advantages. Early in the stanza, CW won a clean lineout, drove for the line and clever concealment by Oliver saw him finish a ten meter burst for his brace. The third choice kicker, Welshy Morris, slotted the convert from the sideline to give the visitors their first lead – go figure! The tightness of the situation, resulted in some handbags and CW getting an extra ten yards as major culprit. My notes read; "Albornoz most noticeable since arriving; a third tight-head scrum loss, pressure on CW; terrible handling by both teams and decision-making not much better; pressure; penalties". Next, an almost calamitous, blocked clearance kick, saw Dalziel away, only to knock on. CW relinquished the lead when they incurred another penalty. The intrigue was really heating up and from the kickoff, James Bay appeared to lose focus and Frisby was shut down mere feet away. In a critical scrum, the JB #8, Mullins eased pressure with yet another good pick up. CW "stuck around", earned a penalty, for whatever reason turned down a potential 25 – 23 lead and booted to touch.
Lineout strength was recognised by the pack and darn, if wasn't almost Oliver weaseling over again, ball was won and Panga chipped to no CW pressure, wasted in goal and JB, momentarily, got off the hook. The screws stayed on and JBAA was to commit a penalty and CW took the touch, drove the lineout, Oliver almost again but it was a Barkwill Burrow that crossed the line and the convert was made for a 29 - 23, CW lead. The last ten minutes of the game were amongst the most error-free and created great tension. Firstly, Williams probed from a tap, CW repelled five recycles, Barkwill, luckily avoided an offside grab of Dalziel and James Bay came back with, a further three blue recycles and a third penalty to CW, fortunately not deemed "deliberate" and although another eight recycles were to follow it appeared James Bay had no real energy to get the "longest yard" and when they needed the quick tap, was disorganised to execute. When The Train was tackled for the third time by Ilnicki, he knocked it on….and all this from within five meters! James Bay stayed around recycled for another five and it all ended, Ilnicki at Harriman's ankles – again. JBA infracted in a lineout and CW managed to work the ball downslope. It was then time for CW to show how they could retain possession and I counted fifteen possessions and ball held when needed to be and the last possession was banged to touch, with CW fans delirious and players knackered.
After a few brewsks, Barkwill and Buydens gathered their lunch boxes and left for Suva. Valuable minutes had been gained by some suitable and timely forward substitutions, developing experience for games remaining, as the club continues to claw its way from the basement, on the road this week to Klahanie. Permutations after the weekend became complex when Ravens upset the books, nutting their junior Birds and Rowers managing an important bonus point at Klahanie. In conclusion, kudos to the umps and AR's, always a difficult contest and they did their best to make it flow but there were just too many errors. This did not take away from the intrigue til the final whistle and hats off to all the participants for a good contest. I would adjudge JBAA's #8, Matt Mullin as MoM and the diminutive, non-stop, Neil Back-like flanker, Oliver for CW. Must mention MacPherson and Albornoz with very good contributions. The win gave CW bragging rights for this season, 2 to 1. In the pre-cursor, James Bay Ones nipped The Tricolor, 19 - 17. James Bay opened a 19 - 3 half-time gap and hung on like grim death for the W in another nail-biter. Good stuff all round, go, Ceedub!
---