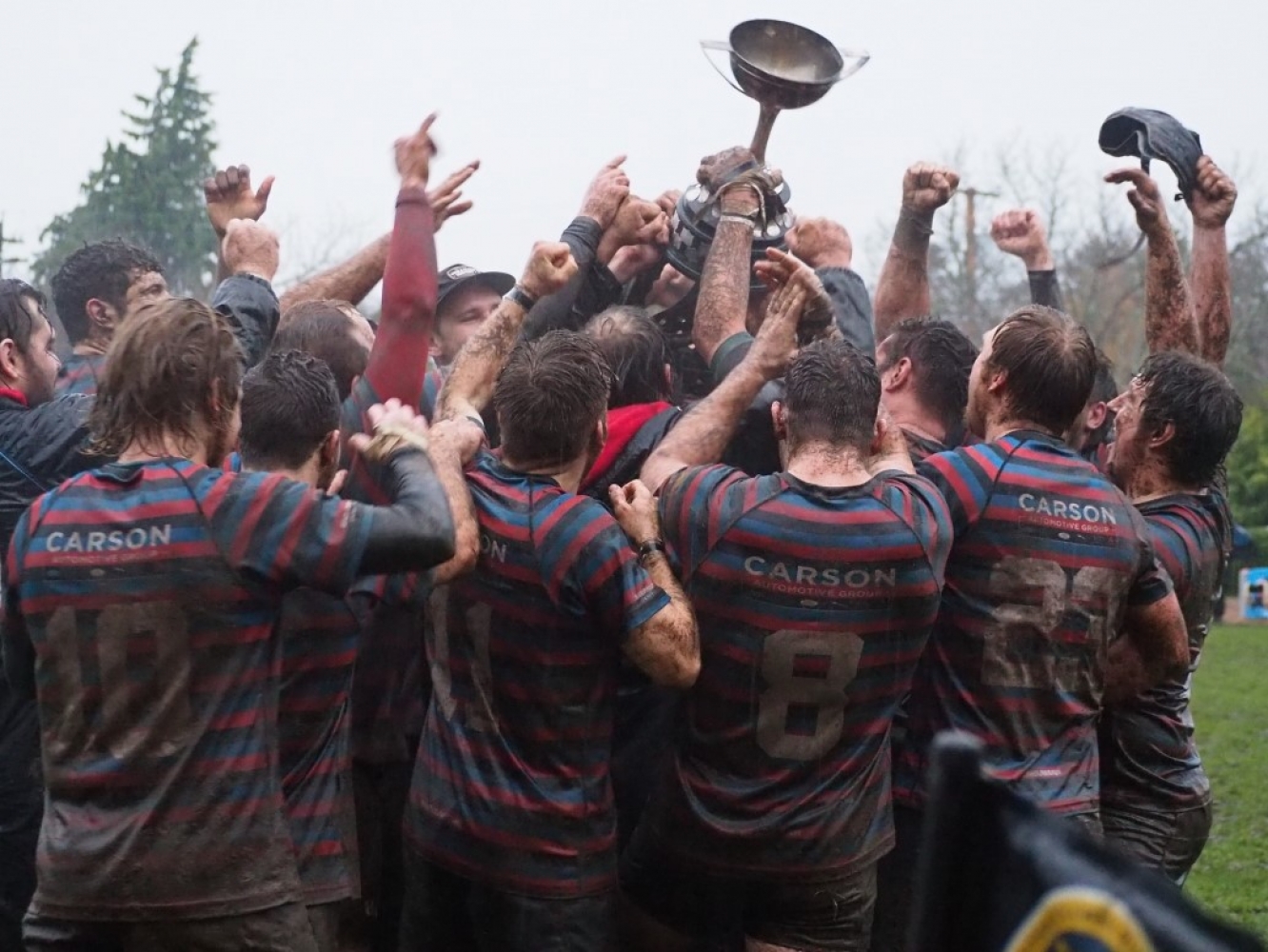 (Photo, Wendy Norman)
After a two-year hiatus, due to Covid, the Barnard Cup was revisited this Fall season. Saturday last saw some of the wettest and most miserable conditions for some time but credit to Brent Johnson and some leniency from Oak Bay Municipality, the games took place, albeit in two locations. Credit also to Paul Shepherd on duty at 7:30 a.m., lining fields for the day, add to that John Morley and his crew for readying Windsor, so that a few dollars could be pleaded for to watch the main game and thanks to those spectators who did not avoid a donation!
The Second Div. match got underway with CW showing some slight ascendancy however, jolting tackles and some fortuitous kicking had the Visitors on the front foot and they were the first to score somewhat early in the contest, from a driving mass of muddy bodies, 7 – 0. At the midway point, CW earned a penalty, found touch and from the lineout drive, put their first points up, 7 – 5. Westshore seemed to be the chasers, however stern tackling caused plenty of spilled balls and kept CW restricted. Play slogged back and forth around midfield, with Westshore having a slight edge in the kicking game, such as it was, and so endeth the first stanza.
The second half was merely ticks old when, from a broken play, Westshore grubbered ahead and the winger got free to continue the hacking and was deemed by the referee to have won the race for downward pressure. This pundit, standing by the corner where the try was given might add, it was a rub of the green, ne-er-the-less, from good pressure, 5 – 12. CW seemed to become the authors of their own demise at this stage of the match, continuing to be unable to control the ball and Westshore proving to be valiant mudders. Then, from an innocuous beginning, a couple of passes went to hand and Mosher was up from his #15 spot, skipped out of a tackle and outgunned his pursuers over 40m, 12 – 12. This was the point mid-half, when this pundit left the ground and was very surprised to hear by the time of arrival at Windsor, the Divvies were up, 25 – 12. That differential did not look to be in the offing. The additional points coming from two penalties from Gerhardt and a penalty try, after scrumming superiority had been well established. Thanks to ref, Cam Neish, for a job well done.
One would have to say a good test and a good win under the conditions. It was valuable preparation for next week's Times Colonist Cup, symbol of 2nd Div supremacy. The opposition will be the Cowichan Piggies who did away with JBAA at the Pigpen on Saturday. Finally, a shout - out to ref on the day, Cam Neish, job well done.
Westshore opened the scoring in the First Div game from a CW offsides, however, as it turned out, that was all she wrote for the Visitors. Boyd-Porter was soon over but "held up". Then it was Schelly, Tait and Humphries before a nice change of direction was initiated from Pilgrim and Towers simply was unstoppable, 5 – 3. Next it was Gus again and an alert snipe from Pilgrim and newcomer Sandison, resembling a freight train, powered over. Fullback Elliott, ever so safe under the high ball on this day, initiated an attack, followed up by Towers, Braddock, and Humphries, revelling in the conditions, started a lengthy period of heat on the Visitors. Finally, there was a crack after 7/8 recycles and Westshore was carded for dangerous play on Schelly. Quick ball in sure hands came wide to Jordan Tait to score against his old club, late in the half. Perhaps, mercifully, for Westshore, the whistle brought an end to play.
CW made some substitutions to start the half and at the ten-minute mark, Sponarski showed good speed and strength to score in his first appearance in the Tricolor this season after a spell of probes and field position. Westshore did respond with arguably, some of their best minutes in the game, but the defense held and was rewarded when Cam Sandison scored his brace., 31 – 3. Schelly, justifiably and deservedly, finished the afternoon with a give and go round Bowd for the final tally and Grady convert for the 38 – 3 final.
In summary, for Westshore, they were only permitted crumbs of possession and when they had the ball, the tackling was sure and punishing. In fact, this fan reminds readers that this team only permitted one try "against" in the five Fall matches. Not too shabby. On this day, CW owned territorial percentage by a big margin. Man-in-the-Middle, good job under testing circumstances.

For CW, there was plenty to like. Let's start with the astute and skillful boot of Bowd which was followed up unmercifully and successfully by Adibe, what a solid player this man is. Johnny Humphries was awarded M-o-M by Skipper, Ilnicki, once again. Plenty of Divvies earned playing time and did not disappoint. For my dough, Sandison, Kratz (aka the "Broom Man"), and Clarke were the picks of the pack. I must give my M-o-M to Bowd, who could well be the #1 fly half in Canada atm. The remainder of his mates in the backs were solid money. So, CW name goes on the Cup for three in a row and the "Prems" now get a spell. Hopefully the players will maintain the very noticeable difference-maker of fitness from other sides on the Island, over the break. The Premier League will be a severe test and this side could well be a "sleeper". Well done all, and go Divvies. Let's put a pair on the shelf!
---