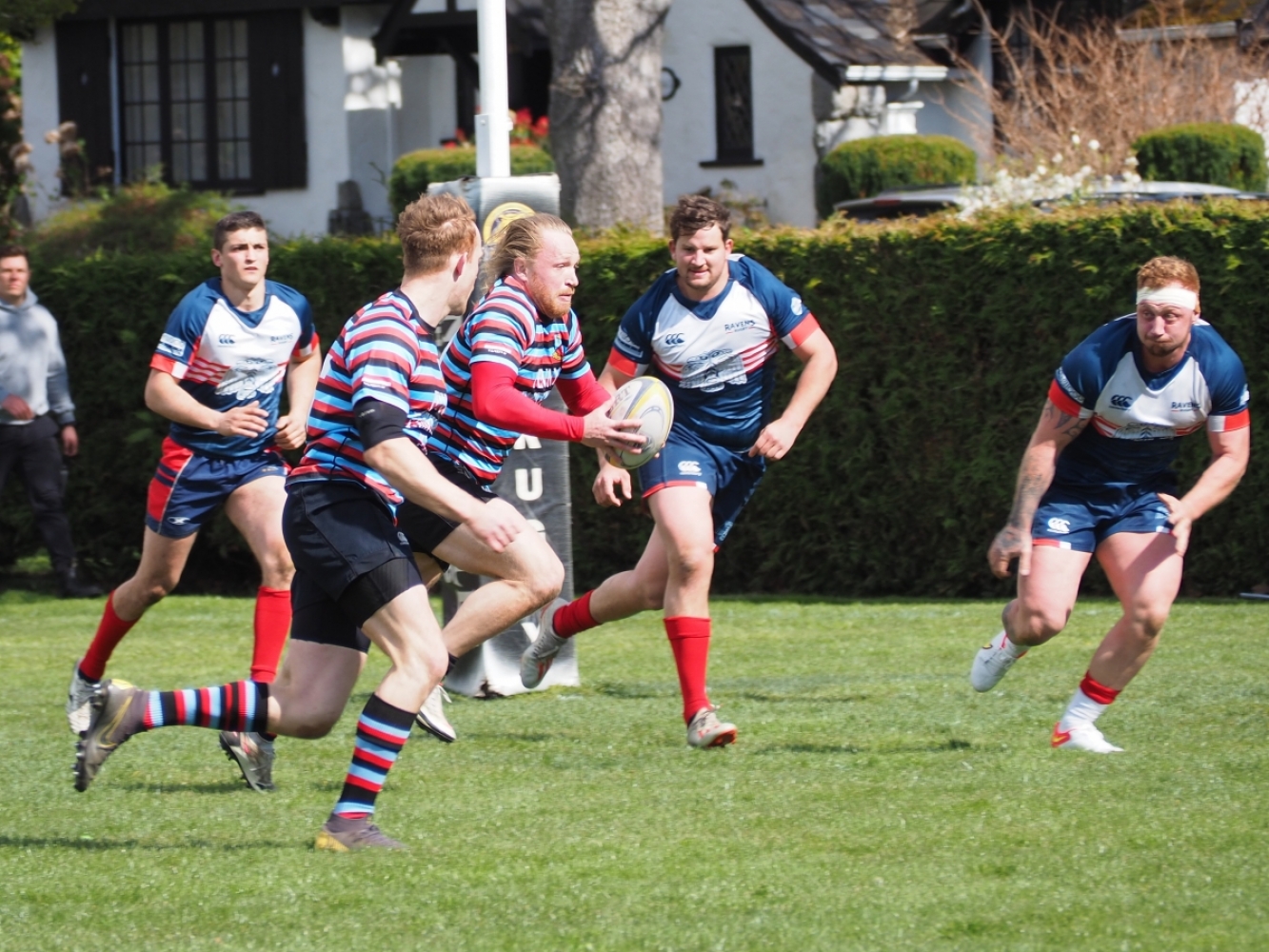 Saturday last saw the Premier Men leave a damp, miserable Victoria for a grey, chilly, and eventual brilliant, sunny, in more ways than won, Jericho Park. The affair did not commence favourably for the Visitors with Ravens having twelve points on the board within ten minutes from tries by Helgason and McLelland with a clever, 'out-the-back' ball to Hume. Next, it was 'Menace' McLelland again with a change of direction and grubber to gain ground. It took fifteen minutes before CW gained any meaningful possession. Thence followed a series of penalties, CW's favour, and eventually earning a splintered scrum from a good shunt, as both packs sought ascendancy. The ball went quickly through two sets of hands down the blind side, for Gus Porter to finish in the corner, 12 – 5, around twenty-five minutes.
Raven's alertness and electricity, be it quick tap penalties or slick ball transfer, posed serious questions. Referee Smortchevsky was forced to issue copious penalties to both sides as they sought supremacy via all means, solid scrummaging and stout defense from CW or dynamic attack from Ravens. A McLelland 'insert' and dummy had all hands on deck again. The half drew nigh and the few Faithful on hand had spirits buoyed when some 'go forward', 'front-foot' ball was produced, in what was becoming a tighter contest. However, it quickly went seriously awry when Machiavelli McLelland struck, slipping out of a tackle, drawing the defense, and giving a deft offload to Huse who finished matters and a 19 – 5 lead. The task appeared to most to be almost insurmountable.
There appeared to be a quiet confidence in the CW huddle and the teams changed ends, CW now having the ever so slight, downhill advantage. CW established early field position, retained it with lineout ball, only to knock on. From the defensive scrum, another massive shunt, tight head win, and Sandison pick-up, saw the score close to 19 – 12. Old Boy's #9 Ball, took an alert tap and this was followed by hard yards from Powell and Ikeda, changing momentum again. Pressure was relieved with a penalty that did not find touch and Ravens caused havoc and despite resistance, McLelland, often denied space on this day, put in a nifty grubber for an outside man to touch down, 24 – 12. Now the task was Herculean, and play became tense with the Visitors showing considerable resolve on defense. The time had come for the supporting cast to step up. Clarke, Pyke and Fuailefau would not disappoint. A raking touch-finder from a penalty by Bowd resulted in an 8m lineout. This was duly won and the drive technically executed, and Pyke eventually burst off the back, 24 – 19.
The Ravens did find themselves back within scoring range, however two "easy" penalties were turned down in favour of a 'tap' and retention. The wall bent but did not break, arguably, the Turning Point. CW then executed some 15 – 18 recycles, something not witnessed by this follower, this season, with time ticking down. No score, but another scrum and despite Ravens substitutions the pressure was visible. Yet, another 8/9 retentions, putting intense pressure on the defense. There had been several stoppages and play was well beyond forty minutes. Pyke was almost in again however, the knock-on looked like a scrum with the head and ball booted to touch, game over and another tough loss. Somehow, Braddock and Kratz mustered super-human energy. The shunt and reaching rake by Clarke saw the ball pop out and quickly transmitted to Adibe, via a wide "miss" pass from Bowd. Mikey was held but Fuli was on his shoulder for the "pop" and a tied score. It was left to Bowd, who in my books was the day's MVP, to bang over the convert from wide out. Jubilation! We win!
It is hard to find sufficient superlatives for this epic comeback. Firstly, Dave Smortchevsky and his crew deserve mention. There needed to be plenty of whistles as two groups of hard forwards sought to gain the edge. The were very few decisions that any sideline ref could seriously question. Thank you. Well done. Both teams gave their all and it seems almost unfair to name names. I will simply conclude with the McLelland/Bowd pre-game prognostications. Comparison does not really do justice, as these two men are electrifying for their respective teams. They played a massive part in nearly all the day's scoring. The visible respect they showed for each other, post-game, makes us all proud of that which is best about the game. On this day, CW's defense denied Aaron of field position and generally, stopped him early. Grady at #10 was the architect of almost all of CW's strategy. His kicking game was darn near perfect and the final conversion under intense pressure will be long remembered. The other mention must be made of the CW pack. Three tight heads to one, lineout play that had very few errors and generally, a gutty and very energetic defense over a quality opponent, topped with superb handling. Despite all the eighty-five minutes that preceded, the memories of that final, tight-head turnover will remain for a very long time.
Well done David O'Donoghue, Pat Ball and their men for their contribution and contest in this semi-final game. Our boys know the feeling of such a close loss. CW's Liam Chisholm will lead his men into a B.C. Final for the first time in eleven years for our club. This will occur on Saturday, May 7th at Surrey Athletic Park. The BC Championships will see CW play UBC for both, Men's and Women's titles, a definite attestation to the work of everyone involved with CW Rugby.
POSTSCRIPT: Great to see CW Gold Sponsor, Adam Pegg, from La Quercia Restaurant in attendance, along with players' parents and friends.
ONLY FOUR MORE DAYS
REGISTER HERE TO SEE BIDS ON MAJOR AUCTION ITEMS


CANADA WOMEN SEVENS

Today, CW offers our congratulations to the Women's Sevens on their fifth place finish on the Weekend. Wins over Spain, Mexico, Fiji and USA are very creditable as they seek to return to their former glory.
---