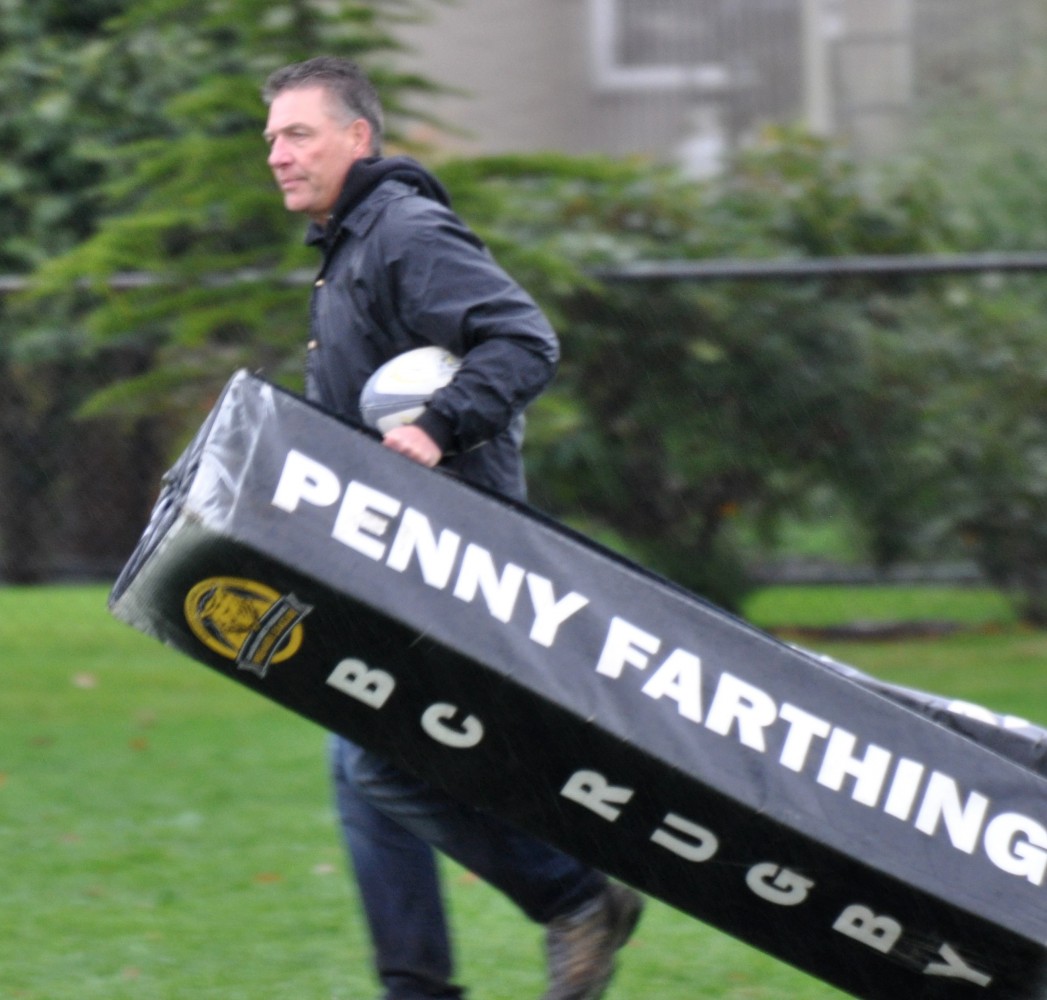 Unsung Hero - Off the Field
During the past two to three seasons, Bill Hutchinson has quietly slipped under the radar around CW. Bill, in his later work years, has been seen more frequently on the sidelines. He was observed giving senior men's team Manager, Craig Thornber a hand on game days. Before we knew it, Craig stepped down and Hutch was totally self-motivated to take over. For two seasons now he has increasingly proven his worth to the lads and to our club. Hutch, like his predecessors, Craig, Kevin Poole, Klash and Johno is an 'old school' guy; a stickler for detail. His organisation of last year's first 'roadie' for CW to Seattle, a first trip in many a moon, proved he is the real deal. As our header photo shows, it is an accurate honor to name Hutch as our latest Unsung Hero off the Field.
The Ruggernut and Hutch go back a ways, so we will try to tease out some background of this "fair dinkum" rugby man.
CW: Hutch, just how long have you been involved with rugby? What teams have you played for?
BH:I started rugby running touch while my dad refereed in Germany and then the U.S. and Ontario. I started my career playing at Oak Bay High. I went on to UVic then to Castaways, I played a couple of seasons for the Red Lions in Vancouver and then back to Castaways. I ended my career at the Ebb Tide for twelve more seasons.
CW: What positions did you play? What was your favorite and why?
BH: I started in the front row and played back row and scrumhalf at UVic and Castaways. Loved them all including a stint with Alan Rees in the second row one third div game!
CW: When you played, club touring was a reality. What tours did you participate in?
BH: I toured quite a bit, several trips to the States with UVic as well as France Italy and Yugoslavia in the seventies. Later with Castaways the famous 1988 tour to England, Ireland and Scotland. There were also a couple of tours to Japan with the Ebbtide and a stint in Chile, I also toured to Germany while on the board of the Pacific Pride, there were quite a few "mini-tours" too but they join together in my memory! My last big tour was to Bermuda with the Canadian Classics.
CW: With such a checkered career, you must recall countless highlights. Can you share a couple with our readers?
BH: A few highlights include our UVic games against Grenoble and Treviso and incoming tours including the Harlequins and Ballymena. A few memories include the Ox singing "Maria", Spicer getting his nickname, and the antics of the likes of Bateau, Flipper, Duke, Trash, Buffalo and puzzling half time orations from Dr. Doom. (Ed. Now, there's a dandy to hit Spice with on next sighting!)
CW: What was your professional career? How long have you been retired and just how do you occupy your time?
BH: I spent thirty years in the financial services field and at present I'm semi-retired and playing bad golf.
CW: What was the key factor for you to take on the Manager's role? Apart from "#911, Hutch", what are a few of the oddest tasks you have undertaken so far?
BH: I wanted to get to know the players and understand our current club better and I thought taking some of Brent's load and doing the grunt work would achieve that. It's fun to be in the mix, I admire the guys that get to play and their passion to the club. After being around rugby so long I thought I might have seen it all but I think the oddest tasks remain state secrets, sometimes things just have to get done!
CW: This season, our Premier team has shown promising improvements in many areas. Have you noticed any changes amongst the boys this season?
BH: The commitment level and the passion this year are a reflection of Scott's influence as well as a great mix of young talent with a great future and veterans that are the heart and soul of the club, I guess it's just good chemistry! It's a big step up in expectations that is the biggest change this season.
CW: Hutch, a highlight for The Ruggernut was meeting your dad – also a keen rugby man, yonks ago in your University days. Bill Sr. gave service to the VIRRS for 3-4 seasons in the late 70's. Did he ever officiate any match that you played?
BH: 'The Colonel' did a fair amount of refereeing when I played and I do remember a controversial try I scored under a pile of tacklers, my Dad was prone on the ground trying to see the touchdown, he finally awarded the try. I then crawled out from underneath and said; "thanks Dad!" That didn't go over well with the opposition. The very next ruck I paid the price for being a smart ass, ahh ... the good old days!
CW: Bill, it's been great to have known you over these many years, as a player, a mate and now we ply our collective shoulders to the CW cause. Thanks for your time and volunteer service.
BH: It's my privilege to do what I can for the club and help make the playing days of the guys as full of as many great memories as we carry with us.
Hutch pays 'old school' attention to detail. 'onya, Bill!
---