.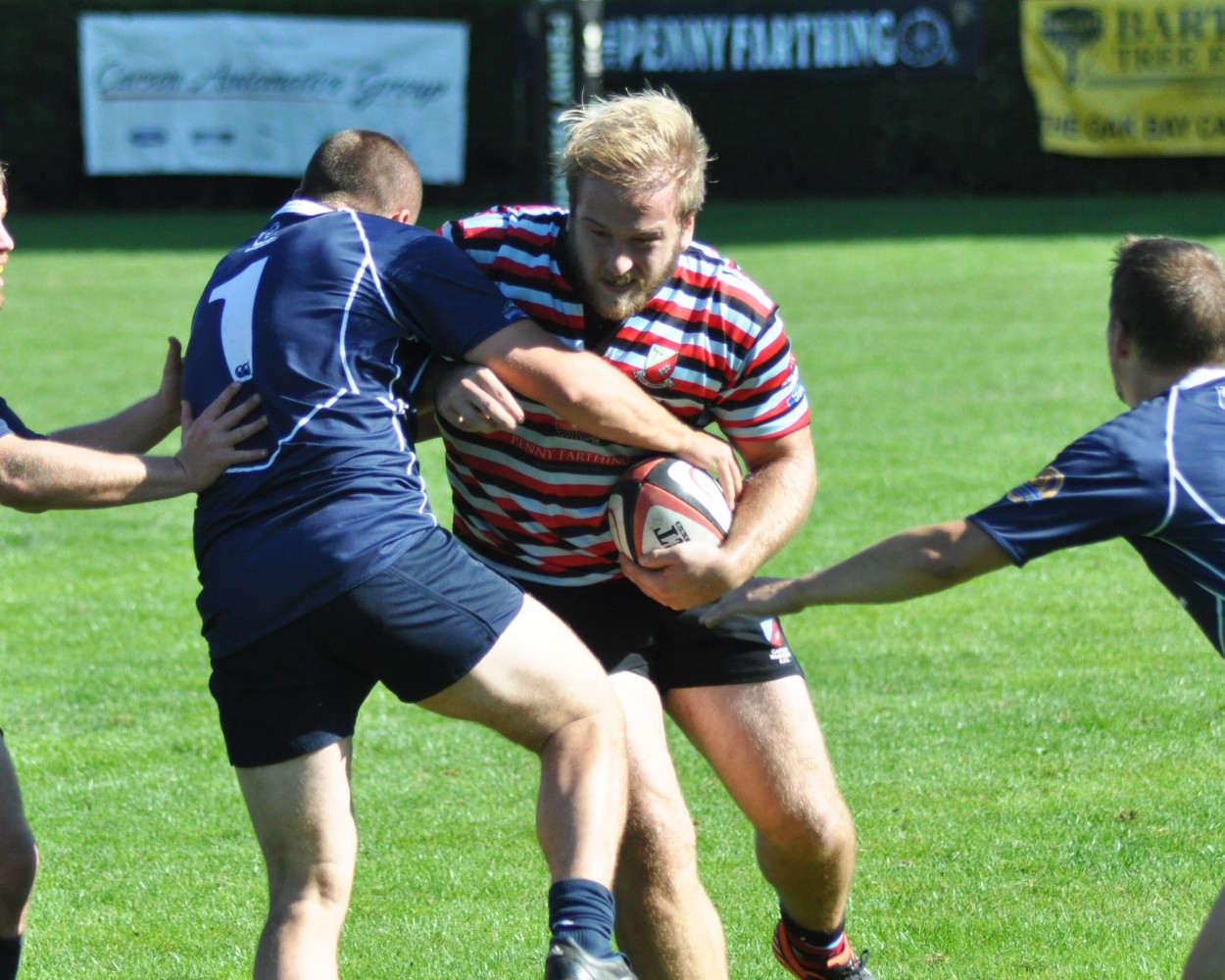 Unsung Hero - On the Field
Clayton 'Burger' Thornber has been a tricolour since his days as an age grade player, passing through the levels, playing with a B.C.H.S. Champs team at Shawnigan, on to UVic and full circle, with some CRC competition thrown in, back to CW. During this time he moved from a useful winger, overcoming a lapse in form and finishing as a T-A-G (Try A Game) hooker, arguably, the most consistent in the B.C. Premier League and certainly the highest try scorer in his position. Having watched Clayton during this saga, it is with great interest that we address a few questions to this quiet and serious man.
CW: Clayton, how did it come about and who was responsible for your handle, 'Burger'?
Clay: When I first started playing men's level rugby I was still 17 or 18 I think, I had really long blonde hair and one night at the men's training session I think it was Doug Hepp; he said, "look at that hair, he looks like a young Shalk Burger" and ever since then it stuck.

CW: When did you start playing rugby and what teams have you played for?
Clay: I started playing in grade 8 at SMUS, but I started playing seriously when I was in Grade 9 and 10 at Oak Bay High. In grade 10 was when I started playing for CW's age grade program where I've been ever since except for UVIC one year. Aside from club, I've played for BC all through the age grades, Canada U-17, BC Bear's senior men, Prairie Wolfpack senior men. I also played a year of club Under 20's in Brisbane, Australia after high school, and I played club rugby in Ontario for a season and more recently Calgary last summer. (Ed. We had forgotten about Clay's stint with the Nat's U17 team.)

CW: What inspired your change from the wing to the Front Row Fraternity?
Clay: It's funny because I never would have made the switch. I was kind of an average winger at a men's level and one preseason training, Coach Hyde-Lay came up to me on the field before we started and said " How big and strong do you feel right now?" Then he asked if I would be interested in playing at prop, which I said, "No" but he convinced me and I agreed to try it out. Five years later here we are.

CW: You have packed down with, and against, some pretty quality guys in the FRF. Who are your favourite team mates and why? Who has been your toughest/most respected opponent?
Clay: I have had the opportunity to work with some of the best front rows we have in the country and I love always learning from them, but I have to credit Doug Hepp again with being one of the biggest influences on my front row career, he basically taught me from scratch how to scrummage. I also would put out there on the same level, Jake Ilnicki who for a young guy (younger than me), is so talented beyond his years and has also really taught me a lot. As for toughest opponent, I would have to say Dan James from Cowichan, he played some high-level Rugby. He was so tough everything I tried, he had the answer and would beat me to it.
CW: The Ruggernut, amongst many, feels that it is nigh on time you get a shot at a level above CRC. What has been the pinnacle of your achievements to date? What are your goals?
Clay: I really appreciate everyone backing me, and the support that I'm shown day in and day out. Not to mention the faith people have in me from my Coaches to my teammates, and CW old boys who come to watch the games. Playing Canada U-17 was pretty hard to beat, there's nothing quite like donning your countries colours and singing the anthem before the game. I hope to do that again at the senior men's level someday. Lots of work to put in before that happens though.

CW: We have seen your skills as a #2 improve – from winning scrums to throwing the ball in, highlighted by your strong and pacey running and quality off loads. Just how do you manage to work and improve on all of these skills?
Clay: I really just try and be a sponge, when guys like Ray Barkwill are out at training I try and watch him see what he does see how I can do what I'm doing better. Ray is also good about watching you and mentioning little things "keep your hands high" "point your fingers" just little cues in your mind to make your throw better, and I can't say how much I appreciate that. Scrummaging to me is something that you only get better at by doing it against people better than you, so tying into our conversation before, it's all about playing and playing harder teams. Sometimes you get beat but you learn what to do the next scrum to beat the tactic your opposite used to beat you last time. As far as running with the ball goes, I've always liked running, I was a wing and a center and even a back row for a time. Running has always been a fun part of the game for me as I imagine it is for everyone, we all like to have the ball in hand. Running with the ball is all about confidence for me. I know where my strengths with the ball lie, I know how my speed compares to other players. So with that I try my best to pick my opportunities and use those best I can. With all these things though I could always be doing more off the field to be furthering my skills, fitness, and training. That's my biggest goal, to do more off the field work, rugby is a 12 month a year sport and there is certainly no time to rest.

'Burger', thanks for your time. You have been an Unsung Hero during this past season of challenge. We hope you achieve your goals, as we believe you are very deserving of a chance and CW has been the beneficiary of your play.
---