.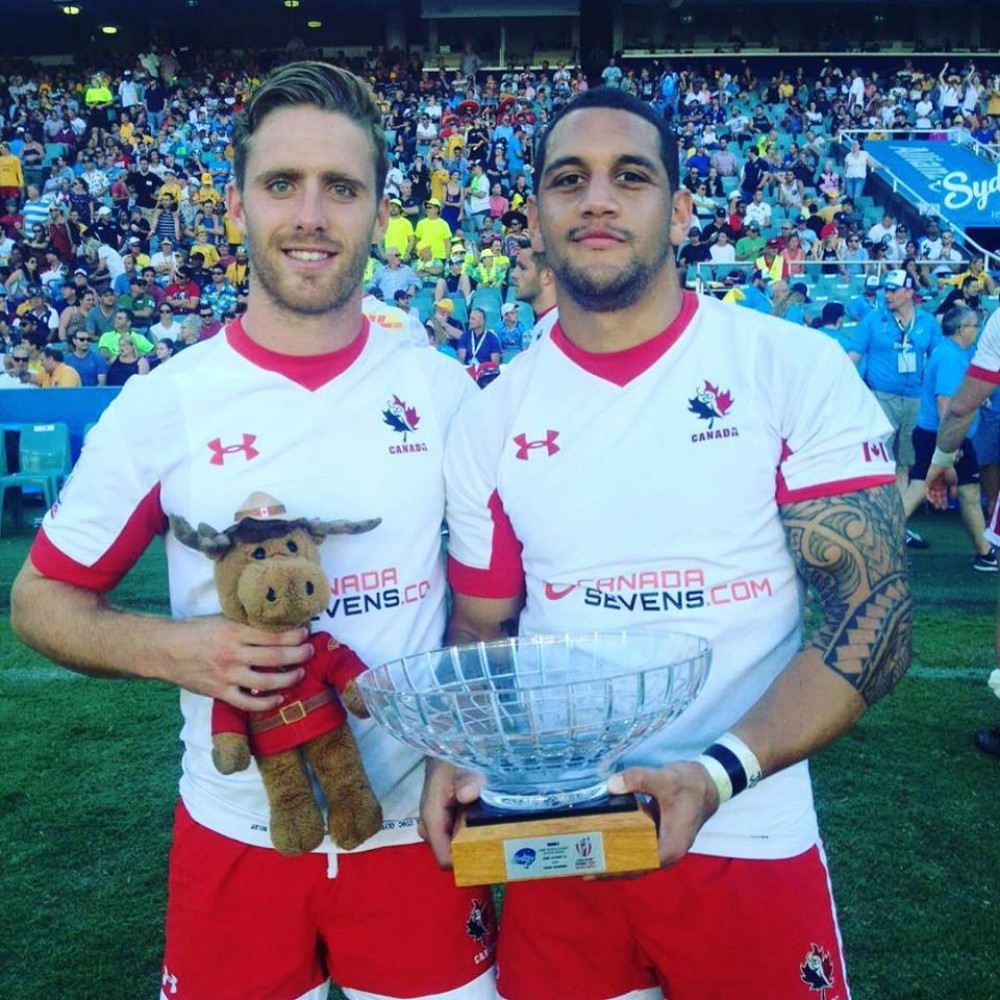 CW's Mike Fuli and Luke McClosky, all smiles after a stellar Sunday in Sydney! Fun Facts! On the same day there was much ado about eight on the pitch in the N.Z./Australia Final. As the screen shot shows, eight on the pitch as the Kiwis managed to tie it up in "dead time" and go on to win 27 – 24 in overtime. Machiavellian stuff, boo, hiss!
VEGAS 7's, March 4 – 6th. Canada has drawn into a pool with RSA, U.S. and Wales.
ARC's ROUND #1. Canada head the table after their bonus point win over Uruguay. Other results from the round saw U.S. Captain Clever celebrate his return to the fray with a try in the U.S. 35 – 35 tie with Argentina. The match in Houston drew over 10,000 fans! (kinda puts 1200 at Westhills in a different light!). Chile was eked by Brazil, 22 – 25 in the third encounter. Again, congrats to the Canada Crew.
TOAST TO CIARAN. Ciaran was awarded M-0-M in The Exiles' win over Worcester on the weekend. This result leaps The Irish out of the basement. Ciaran scored a cracker of a tally, picking up a defensive grubber, chipping over the defence, gathering and scooting in untouched to offer some breathing room in the first half. This is a skill we have seen him execute many times with NSMT's Sevens. Ciaran has now started in six games and played the full eighty in them all – good value for his contract. 'onya, Ciaran.
NSWT SEVENS. Rugby Canada is seeking volunteers as team liaison officers for the Women's Sevens Series to be held at Westhills in April. Last year this event was voted as the best tournament in the series in a large part, due to the community support and involvement. CW's Shane Muldrew ( Boy's U14 Coach) and Dave Crossley (Director of Women's Rugby) are leading the volunteers and are seeking liaison personnel for Australia, Japan, Russia, Brazil, Ireland, France and England. The work would entail the week of April 10th – 18th and the commitment would be from 7:00 a.m. until 8:00 p.m. each day the team is in Canada. If you have language expertise, that would be an advantage (not sure about England!). You would receive complimentary, three meals per day. If you are interested/able please contact;
Speaking of Women's rugby, check out the handling of the CW Prems vs Caps last Saturday for a textbook tally. (The rest of the match ain't too bad either!)
www.cwrugby.com is celebrating the start of its fourth year with our hosts, Squareflo.com Our "new" site has almost all of the glitches worked out and we appreciate our viewers/readers as our analytics point to the fact that we play a valued role in the B.C. rugby community. Please like us and share on Facebook.
---