Wednesday's, "Ruck & Maul".
---
---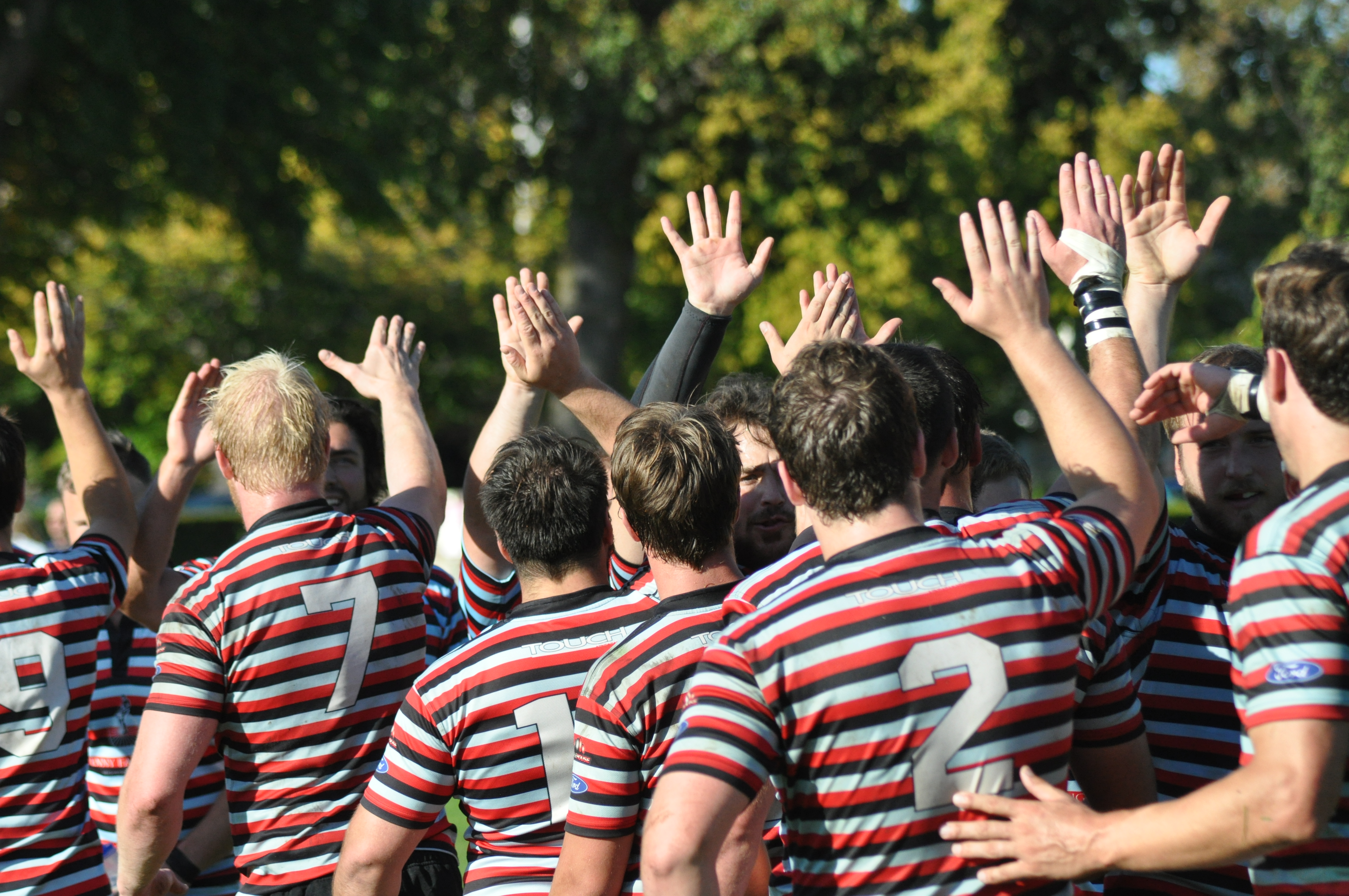 Barnard Cup. CW has qualified for the finals of this year's Barnard Cup, to be played on November 29th against UVic. Three clubs, UVic, JBAA and CW were tied with 2 – 1 records. UVic had 12 points and JBAA and CW ten each. CW won the honors as a result of last Saturday's win. Good one, boys!
GeraldMac Gavin Coaching Award. CW's, Ken Goodland, along with Shane Thompson, has been selected as the recipient of this Annual Award from the B.C.R.U. The recipients get to spend a short period of time, developing playing or coaching skills in N.Z. Ken served as Assistant Coach for the B.C. Bears this summer. Ken and Shane will spend a nine day 'cycle' with the Wellington Lions of the ITM League, watching a match and intensively shadowing the Lions and their staff as they debrief and prepare for their next encounter. Time will also be spent with Wellington's Super Rugby Academy program. Ken is very excited about this prospect and the fact that he will have much to share with CW coaches. 'onya, Kenny!
Four Time Mac Tier Cup Winners. CW congratulates the Ontario Blues, including Tricolors Barkwill, Woolridge, McKenzie and led by perennial, CW favorite, Derek Daypuck on their 45 – 5 victory over The Rock last weekend, successfully defending their title as CRC Champs. The Blues "complacent" in the opening spell, poured on a six tally outburst in the second frame for the W. The complete Blues management and coaching staff deserve kudos as well, for being able to pull this feat off, year after year. Well done, all!
Also, From N.Z. Hubie's Manawatu Turbos sit atop the ITM Championship with only two matches remaining in the regular season. Go, 'Moose', go! ……..and from Oz, Jake Ilnicki has one start with NSW Country in the ARNC competition. Country sits in third place behind Sydney and Brisbane. ………finally, D.J.Sears suffered a broken leg at North Otago – toughie, Djustice.
U 18. Congrats to the lads, winning the last of a club Trifecta on the weekend with their opening season's victory over Velox by a score of 57 - 0. The team is a real melting pot of talents representing five local high schools. The coaches and management have worked hard over the past few weeks to build some cohesion into this group. The sheer size and power of the Velox group posed a significant challenge to CW, but the boys stood up to be counted in all aspects of the contest and were duly rewarded with the victory. The scoreline flattered CW, in that the first twenty minutes were a virtual stalemate. It took considerable effort and sustained pressure before CW were able to breach a staunch Velox defence. Coaches Robinson, Hall and Robinson were delighted with the effort put in by the boys. "Every player got a chance to contribute on the field, but it was the off-field attitude and support of our reserves which really make results like this possible." quoted Coach Hall. Ed. - Cam Graham, Gavin Kratz and Brayden Tate, co - MoM. The boys travel to the mainland next Sunday to take on Burnaby Lake.
Of Interest. CW's Paul Shephard, program, poster and brochures designer, also weekly liner of the pitch, unbeknown to most, is an artist of some renown. Shep has two showings that you may be interested in; an exhibit at Langham Court Theatre, Oct., 2 - 18 and Artist In Residence @ Blue Crab Grill, Coast Hotel. It is NOT practise of this site to give free advertising but as Shep contributes so much of his free time to CW it is only fair. 'onya, Picasso!
---