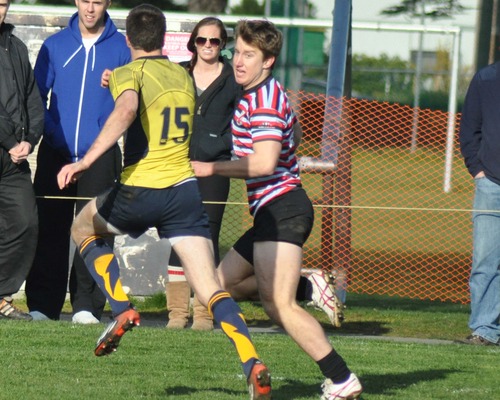 Lucas Hammond - An Opportnity! Lucas Hammond has hung his Eastern Canada hat on CW's peg for some three seasons however for the past two seasons this young man has moved from Windsor Park to U.Vic to Kiwiland, appearing on one or two occasions with the Sevens Krew, he has now been called upon to play a huge role, in seemingly being THE ONE to fill Philly's boots at the upcoming Commonwealth Games. Lucas is a quiet, unassuming young man and we bring you this recent background info. "Hammond will be one of 265 athletes and close to 100 coaches and support staff representing Canada this July, which is their largest for a non-home Games. And after his beneficial recent spell rubbing shoulders with the seven-time Super Rugby champions, the 20-year-old Toronto player is clearly still buzzing.

"It was awesome," he said as the team prepares for the Sevens, which will be held at Ibrox Stadium. "We got a chance to train with the Crusaders in their environment and to see how they go about their business day to day was really helpful."

"On a regular day we would usually go in and get our training started earlier than the Crusaders and there was ITM Cup coaches and also Reuben Thorne (former All Black captain) coaching us. After that we would watch the Crusaders practice for an hour or two before doing game analysis and finishing off in the gym."

Playing alongside and also watching the likes of former IRB World Player of the Year Dan Carter train clearly had a positive effect on Hammond too, with the half-back explaining how studying some of rugby's greats of the game helped him.

"It definitely urges you to step up to the next level of your training and I think I have learned some good habits just from watching guys like Dan Carter and Richie McCaw. whose training reflects how they play," the youngster continued.

"It is a huge opportunity for me and I am very excited to be selected so I am going to try and enjoy every moment of it and take advantage of this chance. (Switching back to Sevens) was a little hard yesterday position wise but I'm catching up quickly now. I feel pretty good and definitely in better shape." (Credit - Rugby Canada)

A quick call out to the B.C. Mens' U19 team, off to defend their title at the Nationals. Junior rugby is seemingly, now so healthy that titles are up for grabs at all age levels. Pictured is UVic's and CW grad, Morgan Tate who will be the #9 for the team. Best of luck to all players. Go, B.C.
New Skipper At The Helm. CW's Club Presidency has passed the helm to Don Swainson. Don is a Wanderer from way back...pre-amalgamation days but he transferred abodes to Ontario for many years and was very actively involved in Junior Rugby coaching and organizing up to the Provincial level. He has been back with us for three seasons and has taken over from Spice who seemed destined for life to be The Prez. We are very grateful for Don's volunteering when at the same time he is starting a new business (we must plug VITAL PHARMACY ). He will receive strong support from our active Board. We are sure Don will have some goals for CW during his stint at the tiller, so we'll follow this up with an interview ..... if we can catch him! One of the directions you will hear much more about will be more effective communication. We have a vast cadre of "old boys", many of whom are not aware of the semi-professional state their old rugby club has transitioned to and we thank Matt Gordon (Board), former Prez, Chris Noel and Mark ("Dinger") Bell for their time applied to this mammoth task. Stay tuned or take time to answer one brief upcoming e-mail!
No Room For Sleepyheads!It's still early summer but BCRU Head Honcho, Jim Dixon has posted the CDI schedule for the coming season already! What a refreshing change to be able to plan ahead, rather than "last minute" arrangements. CW plays four games of Barnard Cup action on the Island in September, then it's straight into THE BIGS! At Home to UBC, up to U.Vic and Home to Caps. After one month back at it, we can suspect the students will be organized and Spence's new protege at UBC, Curry Hitchborn, keen to roll out the new kids on the block. CW, a notoriously slow starter, must change that culture this season. We know we cannot rely on RC players, as there are even more stringent restrictions as to elligibility, (passed by the clubs at the recent BCRU AGM). It is a travesty to see National team players watching games from the sidelines when they should be playing....we believe Rugby Canada also subscribes to this but unable to override the power of the vote, arguably, correctly so. Clubs such as Rowers, Burnaby and this year, Seattle, will no doubt be full of running in the early days as that is when valuable points are earned. This is the bell ringing for The Tricolors, summer touch and the gym, hit the pitch full of running in September! Go, CW!

Tidbits. Jonny Morris started on the wing and Gord Kehoe at #8 for B.C. in Buenos Aires yesterday but we have no scoreline as yet.
This weekend at Nanaimo's, May Bennett Rugby Park, sees B.C. youngsters at the Boys' U14 and Girls' U17 age groups playing for the B.C. Summer Games titles. Action begins Friday, 10:00 a.m. at 6700 Dover Road, Nanaimo. Believe some CW kids in the action, we'll try to get details.
---