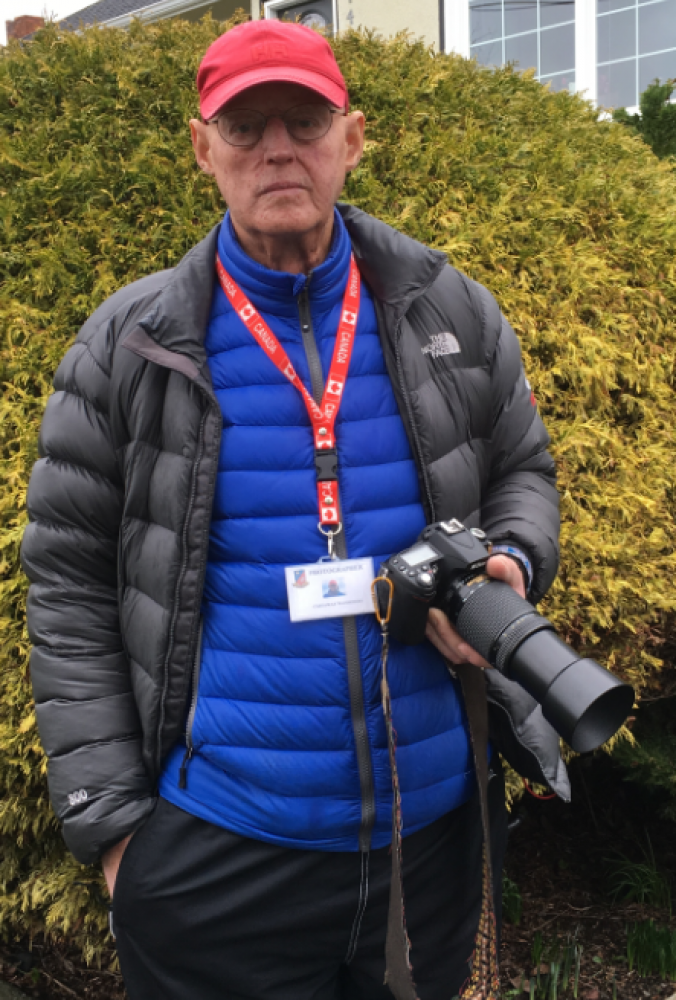 It is with sadness that we bring our readers the news of the recent loss of our ultimate cheer-leader, Ron Willems. Ron passed away quietly in the presence of his wife, Bert and son, Alan, last weekend. Ron has been connected 'indirectly' with the club for some 25 years and 'directly' for some 20 years. His initial connection was as a result of his son, Alan being coached by Larry Chung and Tom Stobart and Alan playing age grade rugby with Castaways. Ron's professional ties with Dennis Carson soon had him coopted to be more intensely involved after the time of the amalgamation as OBC, ultimately CWRFC.
Ron as a young man had a bent for sports, specifically baseball, although he recalled he thought he played "one game" of rugby. He watched Alan play rugby, often photographing the action. When Alan "graduated" to CW Men's rugby, Ron was regularly seen on the sidelines. With the advent of our club website, Ron had an outlet for his hobby and skills, eventually becoming an expert via his lens, of the game's nuances and its performers. He fulfilled requests from players and often their parents in compiling photographic collages, painstakingly but willingly, free of charge, of their on field performances. In summary, over the past 15 years he has been the club's archivist.
Ron has been so giving of his time, financial support and skill in the interest of CW rugby. For many years he served as Club Treasurer and then mentor to his successors in this capacity. Those in the know, will long remember his meticulousness in compiling Gaming Grant Applications, earning the club untold thousands. Thank you, Ron. To Club Presidents he has been a sage on the side, offering experience and cautioned advice, transferring his skills from his professional life to amateur sports. Ron's generosity of his time and skills, specifically completing some wonderful stained glass windows for our fund-raisers, will be long remembered as well. In a recent visit with the Ruggernut, he joked that these will now become collector's items.
Ron did it his way – be it organisation skills, attention to detail and excellence, stewardship, pride of work, patience, communication, generosity of time, all extending to the pathway of his own passing – a strong handshake and interest in all matters to the end. He was proud of his career and achievements, he was an excellent hobbyist carpenter and handy man and passed those skills on to Alan. He loved his geraniums and garden, with the Willem's house being the trimmest and most pristine on the block. With accolades, we could continue but this is merely an insight.
Finally, we will remember Ron, for even when he was far from chipper, he patrolled the sidelines, in all climes, armed with camera, seeking the best shot. We loved the fact that he mostly shot from the "enemy sideline" at Windsor to get the best light on the shot, often copping "heaps" from visiting fans! This was a sense of amusement for him. He did have a mate over there, in score-keeper, Hugh Creighton, recording on a scoreboard that Ron had constructed! Ron's contribution simply cannot be replaced, a contribution that was unknown to most due to the self-effacing nature of the man. Ron, we will miss you tremendously. May you rest in peace and enjoy the "game they play in Heaven".
A Celebration of Life for Ron will be held this Saturday August 19, 2017 at;
Sequoia Centre at McCall Gardens, 4665 Falaise Drive, Victoria, B.C., 2:00pm – 5:00pm.
In lieu of flowers, donations may be made to The Victoria Hospice in Ron's honour.
A fitting tribute. Ron's final posting to our website.
---