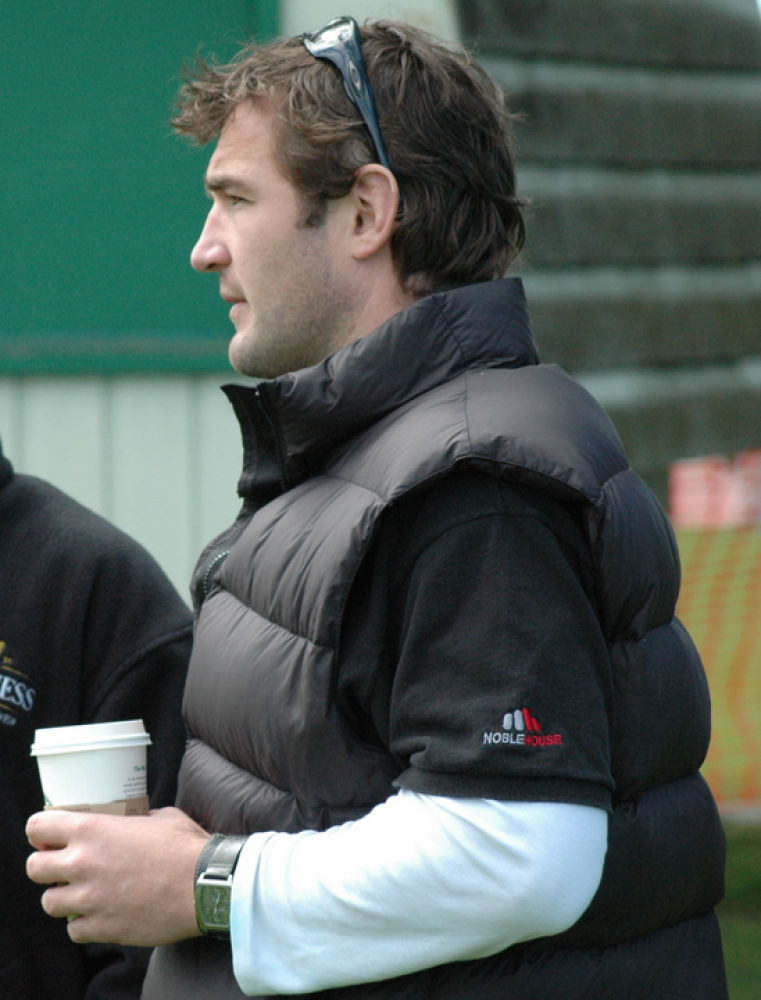 Not too long ago we made an appeal for funds for Gerald Steenkamp, a former CW player and coach, to seek the maximum medical assistance for his dire health condition. Gerald ended up pursuing alternative medicine for his battle, something he was extremely grateful for however, as is most often the case, Gerald did lose his battle with his disease and today we report briefly on his life, specifically those years in Canada.
Gerald Steenkamp was born in Augrabies in the Northern Cape region of South Africa where his father ran a large grape farm. After spending his formative years in the Northern Cape he moved to Stellenbosch where he attended Paul Roos Gymnasium - a famed rugby institution named after former Springbok captain Paul Roos and a school which has produced more Springboks than any other in the nation. In his senior year at Paul Roos Gymnasium Gerald had the honor of being named the captain of the 1st XV. He was a barnstorming back-rower; strong in defense and punishing with ball in hand - people were starting to notice.
On the strength of his performance at Paul Roos - both academically and athletically - Gerald was accepted to study physiotherapy at another famed rugby institution; Stellenbosch University. Gerald quickly established himself as a regular on the Stellenbosch 1st XV - the Maties - and during his second year had the opportunity to run out with his brother as they formed two thirds of the Maties back-row. In 1999 after four years of playing for the 1st XV at Danie Craven stadium, his senior year as the captain, Gerald packed his bags for Canada - time for a change.
Gerald's first home in Canada was Grand Prairie, not an easy transition from the climate of the Western Cape! After spending a couple of years in Grand Prairie working as a physiotherapist and playing rugby for the Centaurs, he moved on to Calgary. After a few more years working in Calgary and playing for the Calgary Canucks and Mavericks (2003 RCSL Champions - Gerald scored 3 tries in the championship game and was named MVP!) he moved out west to pursue both professional and rugby development. Apart from a few short stints in Kelowna and Whistler, Victoria was Gerald's home for the next seven years. He played for CW Premier XV in 2003-2004 and then took over player coach duties for the 2004-2005 season. During this time Gerald began working with former CW Head Coach Chris May at Lifemark physio where their relationships with oft injured rugby players benefited them greatly! Gerald played several more seasons with CW but was forced to retire in 2008 due to concussion issues. He remained in Canada for a few more years before moving back home to Cape Town in 2010.
We were fortunate to know Gerald during his brief time in Canada. He was an incredibly kind and thoughtful man, a tremendous rugby player and coach, an outstanding physiotherapist and a wonderful friend. He leaves behind his wife Tina and their beautiful little girl - three year old Olivia. He will be missed greatly and will never be forgotten by his Canadian friends and family.
FOOTNOTE: There will be a celebration for Gerald at the Bard & Banker Pub on Jan 15th from 1:00-3:00 p.m. Location will be the Magee room on the upstairs floor of the pub as a venue. It would be open to all members of the "CW Family", friends and former team mates and colleagues. It will be an informal affair where we can share memories and celebrate his life. During the event we will be collecting donations which will be used for both a memorial plaque at Windsor field as well as a travel fund for Gerald's wife Tina and daughter Olivia. The travel fund is being developed in an effort to bring Tina and Olivia to Canada so that they can visit the many places and meet the many people that Gerald made such an impression on during his time here.
---