Two Tries Short of a Perfect Afternoon!
---
---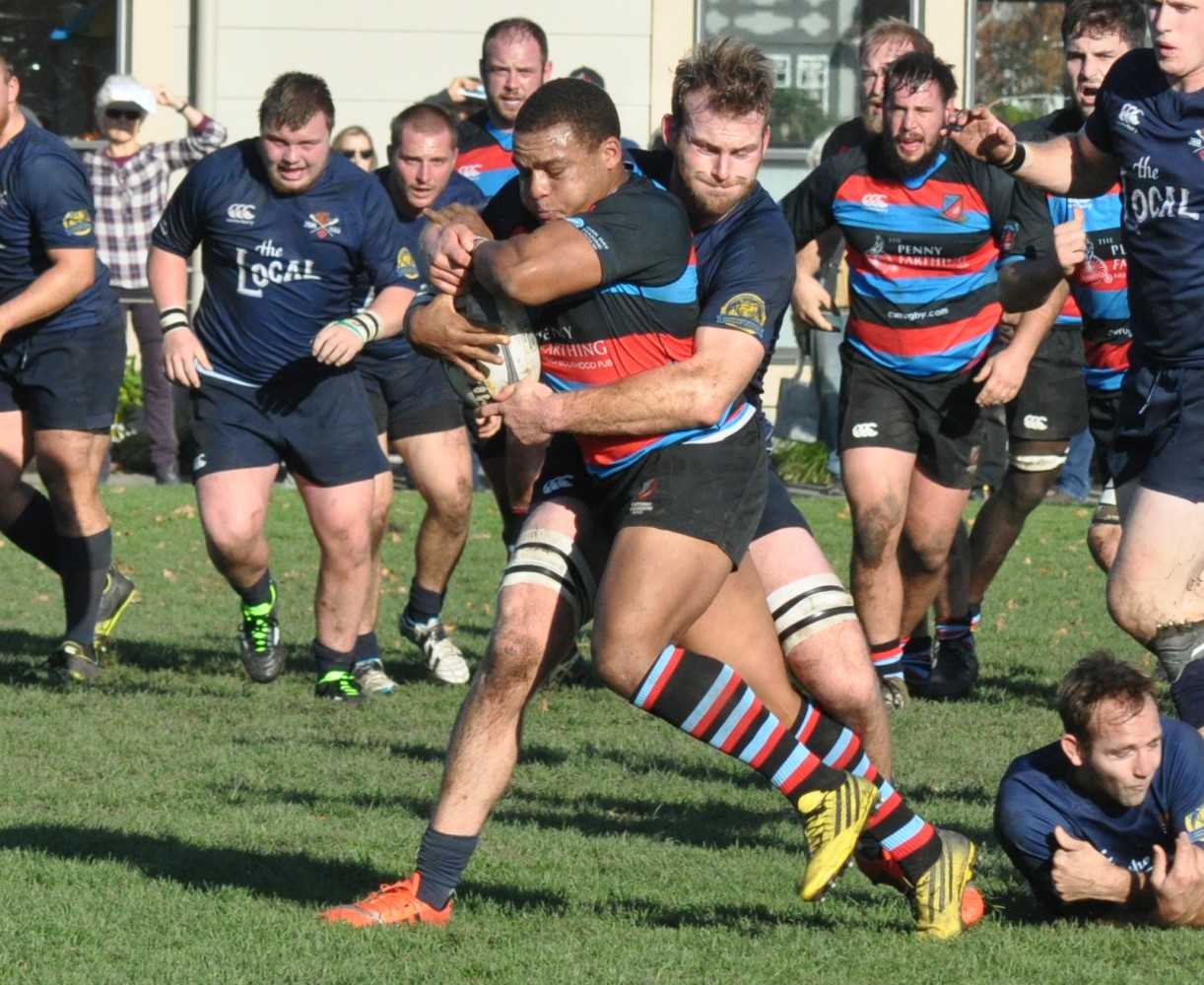 A day which dawned grey and dismal, started out well enough for the Castaway Wanderers on Saturday at Windsor. The men's Thurds took to the field for their second match of the season against a JBAA team which featured mostly youngsters, no doubt many grads from last year's U18's. Credit to James Bay for really working on youth development of late. This fan missed the game but heard there were tallies aplenty and the contest enjoyed by all at least that was the word from The Chaplain. Well done, good to see these two clubs providing opportunities for more players and with The Saxons at UVic and Vancouver I. Uni at Nanaimo, Cowichan always good for a 3rds group, along with Nanaimo and Port, there just maybe some rejuvenation at this level.
La Premiere Etoile
Next up was the B.C. Women's Premier match between Burnaby and CW. This one turned out to be a track meet and somewhat akin to NFL's Atlanta and Green Bay match, "last team to score wins!" Fortunately for the Hosts, they opened and closed the affair which was interspersed with a lengthy second half stoppage whilst an ambulance was called after concerns about a neck injury. We are happy to report today – all's well, possible cartilage damage only. .

Play was only two minutes old when from the first scrum, CW was shunted backwards at the rate of knots, somehow Laura Sargent cleared the ball to Galbraith who put up a raking diagonal and Zussman was the recipient out wide and crossed for the day's first tally. Burnaby responded with what was, at least twenty phases, grinding their way towards the line and finally a ruck was cleared wide and the line crossed, 7 – 7. CW came right back and extended the ball for Waters to show clean heels, 12 – 7. Back came the pack, playing to their strength, a pack which totally outsized, outmanoeuvered and out powered the hosts, 12 – 12, with the game only fifteen minutes old! Burnaby came again, with big units revelling on the day and conditions however, as has been seen before the hearts almost matched up and a ball was dislodged, came to Galbraith who weaved for thirty meters and fed Zussman to finish, 19 – 12. Burnaby got the ball in hand in CW's half and whenever this seemed to happen, a try was on. The ball was recycled and bulled over for the tie at 19 – 19. The sequence appeared to be broken when Burnaby was away again and #10, Harvey chipped what should have been "cleverly" but not with Zussman around. She raced to catch it on the fly, beat two defenders and fifty meters later was under the sticks for her hat trick, 26 – 19. With time ticking away, it appeared a lead may be retained at the interval however a tight head scrum win saw the machine retain and grind away for the deserving tying score, 26 - 26. The details could not be penned fast enough!

CW opened the half, finally trying to exploit matters wide rather than running back inside to the defense but the defense still held with determined tackling that is, until the ball found Zussman's hands! Retention was maintained for a couple of phases and BINGO – there she went again – what wheels, 55 meters and try #4. 33 – 26. Eight minutes and Burnaby earned a penalty from their pressure which they turned to points, 33 – 31. Burnaby's scrum domination was taking some toll but despite the decimation, there was no real scoreboard indication of the superiority. Burnaby did retain field position, threatening for the next ten minutes or so but the tacklers hurled themselves and the larger Burnaby players showed some tiring and frustration and finally received a yellow card for not "rolling away", yet despite this, CW could not shake clear either. It had turned into a titanic struggle. When the injury occurred there was nine minutes remaining. A CW penalty failed to find touch and they found themselves severely under the cosh and eventually good ball movement with a wet ball found sure hands and the line was impregnated, Burnaby, 36 - 33, a lead which should not have been surrendered. This writer happened to "look away" only to return eyes to Zussman having the ball in her hands, ears pinned and it all finished with a 45 meter scamper and her own convert for the 40 – 36 victory. What a match! What a player! On this day, almost single-handedly, doing the deed.

Firstly, thanks to John De Goede - a masterful game. The teams have two obviously different strengths and styles. I felt that Burnaby, arguably, should have been the victors but thinking about it, even if you could shut down Zussman, CW has a heart and talent base of others who would never say die. This Women's Premiership rugby is the real deal and it was good today to see a large support base on the sidelines. No one could be disappointed with such an exhibition. Many, many players from both teams put their hands up but for me, the outstanding players from Burnaby were; off the bench #17, Fedewa; #10 Harvey; #8 Grudzinski; #5 VanGulik; and the whole FRF! This is a team that will be well in the running for the title. For CW: la troisieme – Zussman; la deuxieme – Zussman; la Premiere – Zussman!
The Ones kicked off about twenty minutes behind time but the sun was shining and all was well with the world. It was a good start to the contest with four good sets for JB and a thrust or two from Sydenham. About half way through, his counterpart, Dave Morgan also off to a good start, passed crisply to Moar (who was to be impressive, once again, on this day), on to Pearson who unselfishly made sure by putting Kelly over the line. Soon after it was Moar again with a "don't argue" fend and amazing forty-five meter streak, 12 – 0. JBAA threatened, notably, Martinez, however character defense repelled. The Hosts incurred 2/3 penalties and an eventual "yellow". Despite this, the sets stiffened and the defense "played for each other", enabling The Tricolour to go to the break twelve up. Unfortunately, it was to be a game of two halves and this was "all she wrote" for the Home team.
The second stanza was only five minutes old when JBAA's Martinez (again), offloaded to Strocel, 12 – 7. CW came back with good red zone pressure, about eight recycles on the line but a turnover, penalty and indecision saw JBAA with the assistance of yet another penalty, deservedly score #2, 12 – 14! Around the three quarter mark, experienced center, Nathan Tough took a tough pass, shimmy and score, 12 – 21. This was to be the end of the scoring. No points earned for CW, a team that had been mustering faith. The game was entertaining enough and for CW, there is still plenty to play for, going forward. On this day, James Bay was the better team. M-o-M for this pundit; JBAA – head and shoulders #8 – Ryan Shupe and for CW, Dave Morgan. Thanks to the match officials.


Thence, the main game. The sun was streaming and fans were enjoying a cold one and "layering down" on the balcony. Even Casey Walt had to bring out the 'sunnies' – a glorious fall arvo at Oak Bay. The k.o. went at 3:00, only fifteen behind schedule. The first set, score t.h. – CW…Styles grubbered and Hutton missed retention by mere inches. A further set ensued and a second tight head as play stayed at the right end! Thus endeth my early notes as the play became very enrapturing. There were to be many details for the next thirty plus minutes as play ebbed and fro-ed, first the one and then the other gaining field position, penalties ensued, near calls, clearings and general testing with nothing asked or given from either side. Discipline was generally good from both squads and penalties were only given from technical interpretations, oftimes confusing to any viewer not thoroughly conversant with the law book, including this one!! It was 38 minutes on my clock when White boomed a perfect diagonal to Andrew De Goede. The ball was well taken but the defense held. JB, being alert to the ploy, had numbers and Jim De Goede dived over for first blood, 5 – 0 at the interval for The Visitors.

JB had a good start to the second stanza with Captain, Harriman making two good probes and the pressure almost resulted in a score when a clearing kick was blocked. Off the hook, willing CW runners worked their way back downfield but the defense was a match, notably, homework had been done on the potential of Dalsin. The pressure paid off when CW won another tight head scrum and an eventual penalty reward occurred, only for an easy three to go awry. Good ground was gained from the restart by Burger only for handling errors from pressure to nullify. Both teams failed their cause with penalties as the physicality level was ramped up with plenty of niggle after the whistles. Finally a yellow card went to JB for a breakdown sin. CW was forced to attack laterally and handling errors eventually saw the ball in White's hands and a threatening forty meter break chalked up, causing "all hands on deck" to prevent a sustained series of retentions. White tried another diagonal for nought. James Bay seemed to have most of the ball during this period of short-handedness however the home team managed to get back on attack, Fraser putting pressure on a loose ball and some serious questions were asked by The Tricolour but the Blue Wall held for a long time until quick transfer saw Styles over, to even the score around 25 minutes in.

Players pushed the offside envelope in their efforts to regain possession and when Adams chipped ahead and failed to regain when the ball was "marked", he blatantly followed through with a legal but unnecessary tackle. This resulted in an "all-in" melee, the eventual outcome being a penalty reversal for "third man in" one might judge and the TSN Turning Point. From the penalty and lineout, a "back peel" resulted in Barker coming back blindside and his clever pass put Freckleton through the gap and a 12 – 5 lead for the visitors. CW did have chances to come back with Sponarski, Thornber, Wooldridge and Polson all being noticeable through numerous phases but when JB picked off an errant pass, the outcome was almost predictable. They retained possession for 22, well taken phases winding down the clock before a counter ruck was finally successful. With ball in hand, CW was awarded a scrum, negating any "advantage", the second such call in this one, a match generally, well officiated in what was a tinderbox. The call was questioned by the captain but "scrum down" it was, despite a committed JB shunt, somehow CW cleared and patrons held their breath, only for wide ball to be eventually coughed up, the recipient of the put in made sure of its success and the ball booted to touch for the exclamation mark and wordy second half report!

James Bay might have had, arguably, the marginal edge on the day, with CW getting much closer than the last outing, maybe three times lucky next up. It was a lot of hard work by thirty plus home team lads on the afternoon in what might have seemed a travesty for a mere point out of a possible ten on the table, never-the-less well done, if it is any consolation. Motivation for the future from this demonstration of that fine line between winning and losing that can exist in this wonderful game of rugby. It would be too hard to differentiate between the warriors from both clubs that participated in this one. Commitment was there in spades and intimidation is part of a titanic tussle that is never for the faint of heart when these two teams meet. It could be the makings of a tight Barnard Cup somewhere down the line but there is a lot of water to flow under the bridge before that is a reality. Thanks to the weather, officials and Hugh Creighton for scoring four matches on the day but most importantly, the players for yet another an enthralling chapter!


---