Trifecta at the House of Windsor
---
---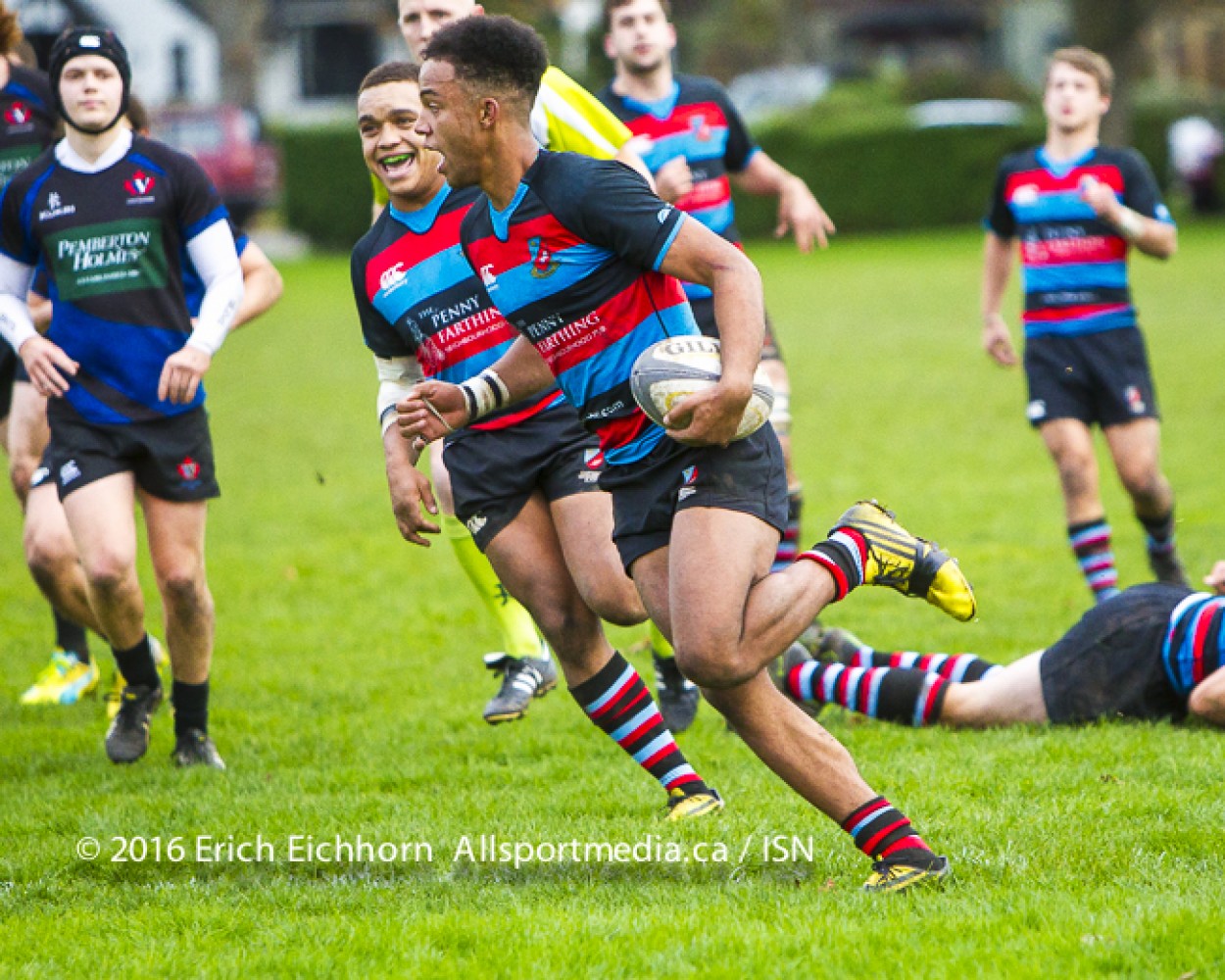 Anton on his way to a hat trick!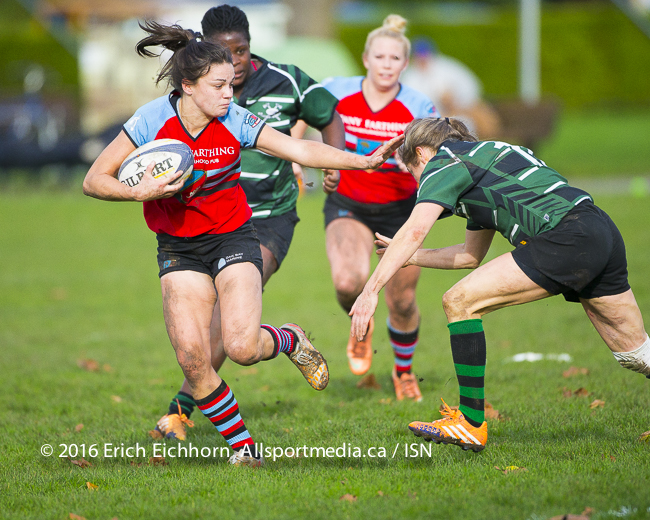 Katie McNally goes hard!
We preface this week's game reports with a shout out to Erich Eichhorn from Allsports Media. Erich has kindly provided us with a couple of game pix as our main man, Ron Willems, is successfully recuperating from surgery and will be away from the sidelines for a while. Thank you, Erich and we recommend you click

HERE.

to take a look at Erich's work in all sports.


The opener, Cowichan Vs CW Women's Prems match promised to be another "corker" and it did not disappoint. Note taking and video watching seem to be somewhat disjointed this week, so we'll just give a few snippets of the highlights. CW opened early, 5 – 0. Cowichan replied, 5 – 5 …. 12 – 5 Cowichan, tied 12 – 12, 19 – 12 CW, 19 – 17! CW then opened some breathing room when the score line read, 26 – 17 for the hosts and 33 – 17 at the half. This sequence gives the reader an idea of the fast and furious action. Both teams played to their strengths, particularly for The Visitors, with #'s 8, 2, 12 and 13 proving difficult to stop. As we have become accustomed to, the defense was stellar, with Senft, Nielson, Trafford and McNally also causing their issues with ball in hand.

The second stanza opened with a CW try and at 38 – 17, it appeared a formality however the effort expended had taken some toll and although a marginal positional advantage was maintained by the hosts, Cowichan began to show recognition of matters slipping away and pressure was exerted from #'s 6, 12 and 13 and the score read, 38 – 24 for a long time but patience was rewarded in the dying stages when #13 got away from grasping arms to scoot fifty meters on two occasions to bring it to 38 – 34 and a pair of bonus points for Cowichan and a sigh of relief from The Tricolours. With no team list from Cowichan, we have to simply offer players' position numbers (we think). The W-o-M for this watcher was unquestionably the hard-running center, #13 with a hat-trick of tallies with other efforts being noted in dispatch.

For CW, tries were scored by Beck (2), Adams, Senft, Gorst and Trafford with Neilson adding four converts. There were many who stood up on the day and I have to give W-o-M to the returning, Gabby Senft who seemed to be everywhere – died with the ball on a couple of breaks but a real threat. Gabby was supported well by Jamie Beck who was into everything and Lizzie Adams. The backs possibly ran out of puff, having to successfully execute the number of tackles necessary to keep the green wave at bay but I must mention McNally and Galbraith in the centers who just never tired. Shout out to John de Goede – nice job. The win seems to have leapt CW over Burnaby on the points table with Cowichan now in sight, (although this stat appears a little "fuzzy" on BCRU website). Apologies for any errors in this match report!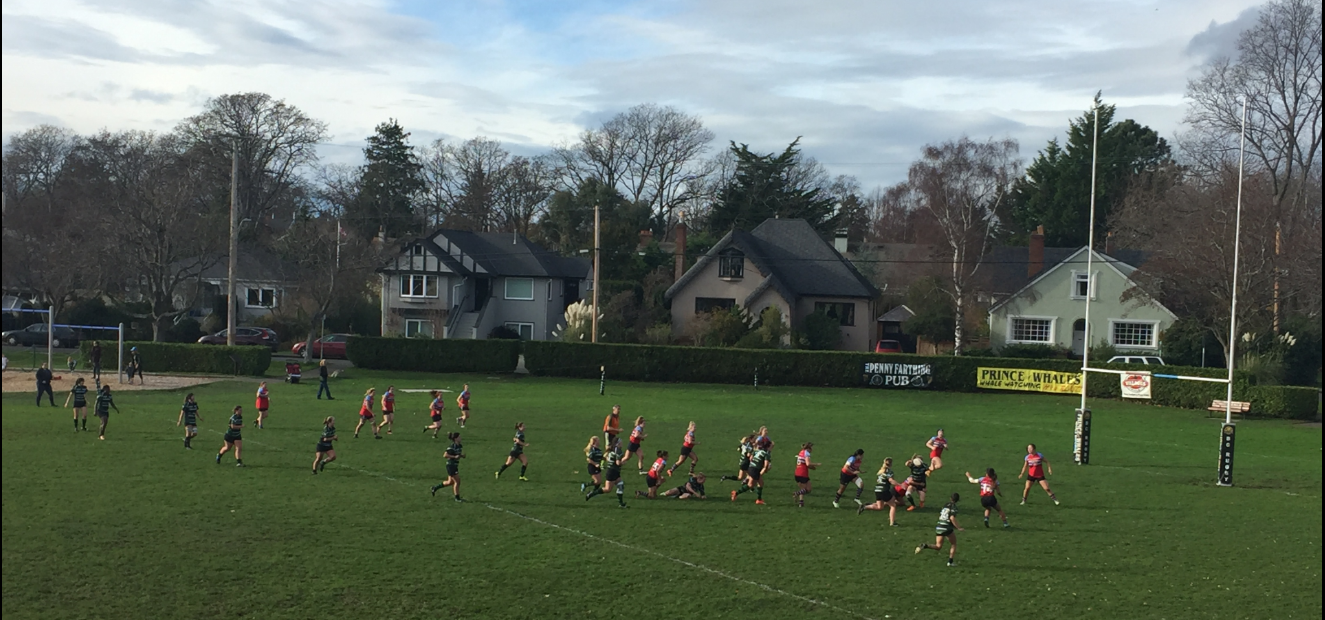 One up two to go and time for a libation and great burger from West Coast Lunch Box whilst keeping eyes on the pitch. The Chaplain's T(h)urds had a fine outing against a very competitive, Comox. Something like 29 – 12 was bandied around but one had the sense of "who's keeping score" in the true spirit of rugby. Both sides seemed to enjoy the exercise very much and good to see the likes of Pete Robb, Doug Mosher, Lee Wakely, Noah Molia amongst the cast of thousands trying to get on for a trot. So a thanks to the M-i-M and to Comox for coming down, hopefully as much fun can be had if reciprocation occurs – not sure if there is any kind of a 'league' for these boys.

Finally, to The Bigs (male version) and Westshore was back at Windsor after their need to cancel a fortnight ago. It was CW's Moah who made the first break of notice in the match and Westshore responded with a chip from Llewellyn who played very well on this day and Sanderson retrieved the bounce to threaten, only to keep for a few phases and then knock on. Ngongo almost returned the threat, as CW moved the ball well with Turner visible and the Schellie-Scholtzie connection looking far more efficient early. With CW attacking, the ball went to "D.D." lurking wide and he brushed a tackle for first blood, 7 – 0. Dobravsky went on to be perfect with this converts on the day – 'onya, Dusty. Then it was Fraser with a lengthy weave and Hutton with a couple of good gainers from inserts at #15. At the mid-point, from a lineout, Ngongo filled from his blind side, the pass bounced off Fraser, fortuitously into the hands of Scholtz for his ten meter scoot, a lucky but earned tally, 14 – 0. Late in the half a threatening solo burst came again from Llewellyn, to no avail. As CW worked play back up field, Polson caused a knock on from a counter-ruck. From the set, Fraser fed Scholtz off a "man-around" and he slipped it to Ngongo, 21 – 0, with the backs looking pretty slick.

From a CW tight-head early in the second stanza, Ngongo was almost in and a couple of pick and drives later, quick ball went to Scholtz, now in the centers and he provided one of his silky glides for his brace, 28 – 0. Llewellyn tried single-handedly to bring his boys back but what followed was a period of very positive and showy rugby from the hosts, notably, Scholtzie, Sponarski, Fraser on a reverse and it all ended when Schellie fed Scholtzie wide, inside to Anton for his brace, 35 – 0. With some CW subs, some real oomph off the bench from WRFC's Tu'a Va'a and sloppy play by the Tricolours, Westshore came on strong. It was Gagnier, Va'a and Williams was held up. Quick ruck ball came to Llewellyn who saw the gap for the simplest, yet very well-deserved score, 35 – 7. When #10 yet made another showy scoot, unfortunately it looked like he tweaked a hammy, a sad ending for a very good day. CW's structure remained "sloppy", incurring penalties and failing to bear down to clear the zone. Westshore got a sniff of this and used a series of drives and their persistence finally paid off when Va'a was driven over the line, 35 – 12. From the deep kick off, Westshore got themselves in strife when they failed to clear and the ball came wide to Scholtz on the counter, he opened a gap and Ngongo ran a great line to slice whatever vestige of defense remained for his hat-trick and 42 – 12 final score. With CW re-focussed and some frustration evident, the affair unfortunately, finished with some "hand bags", all under control by Andy Foster, nice job and a thank you to the day's officials.

In summary, Westshore are not a roll-over opposition and they will cause headaches down the road with their youngsters. Their squad featured Jason Allen, who CW knows well and he gave an honest afternoon's work in the FRF, a sizeable pair of locks, not afraid to get into it – Gagnier and Harland (I), a loosie, Walker who was very lively. Good service from Roer, Llewellyn, M-o-M for mine and two very useful centres, listed as International, Holland and Sanderson, with Kane Wyatt at fullback, depth might be lacking, (believe their Ones were at Herd Rd?)

This was the performance that was required from CW – making a statement with a six-try effort. Most of it was control although the tackles had to be made as questions were asked. The set scrum had a good workout with Turner, Dobravsky and Stewart showing well. As for the backs, must give Mike Scholtz M-o-M and the rest were pretty hot as well. It was a good shake-down for James Bay next week at MacDonald, with the winner getting Home Field venue for the Barnard Cup.
ELSEWHERES
Disappointing loss by Canada's NSMT in Bucharest, tough to beat Romania there as they showed some benefits of their domestic professional league. Felt Canada was poorly done by the man-in-the-middle. I must give my M-o-M to Raymondo Barkwill, what an example of hard work. Philly Mack provided an exciting cameo. The boys will try to bag a win against Samoa next weekend.

Back at Windsor on Sunday for VIRU U16 Final. Despite two in-season victories, CW did not have the goods on the day, succumbing to Cowichan RFC, 24 - 42. CW led at the interval but the second half was one way traffic. Believe the CRFC Center scored a fin! Congratulations Cowichan, as you carry Island hope against the Ravens for the BC Title.
---