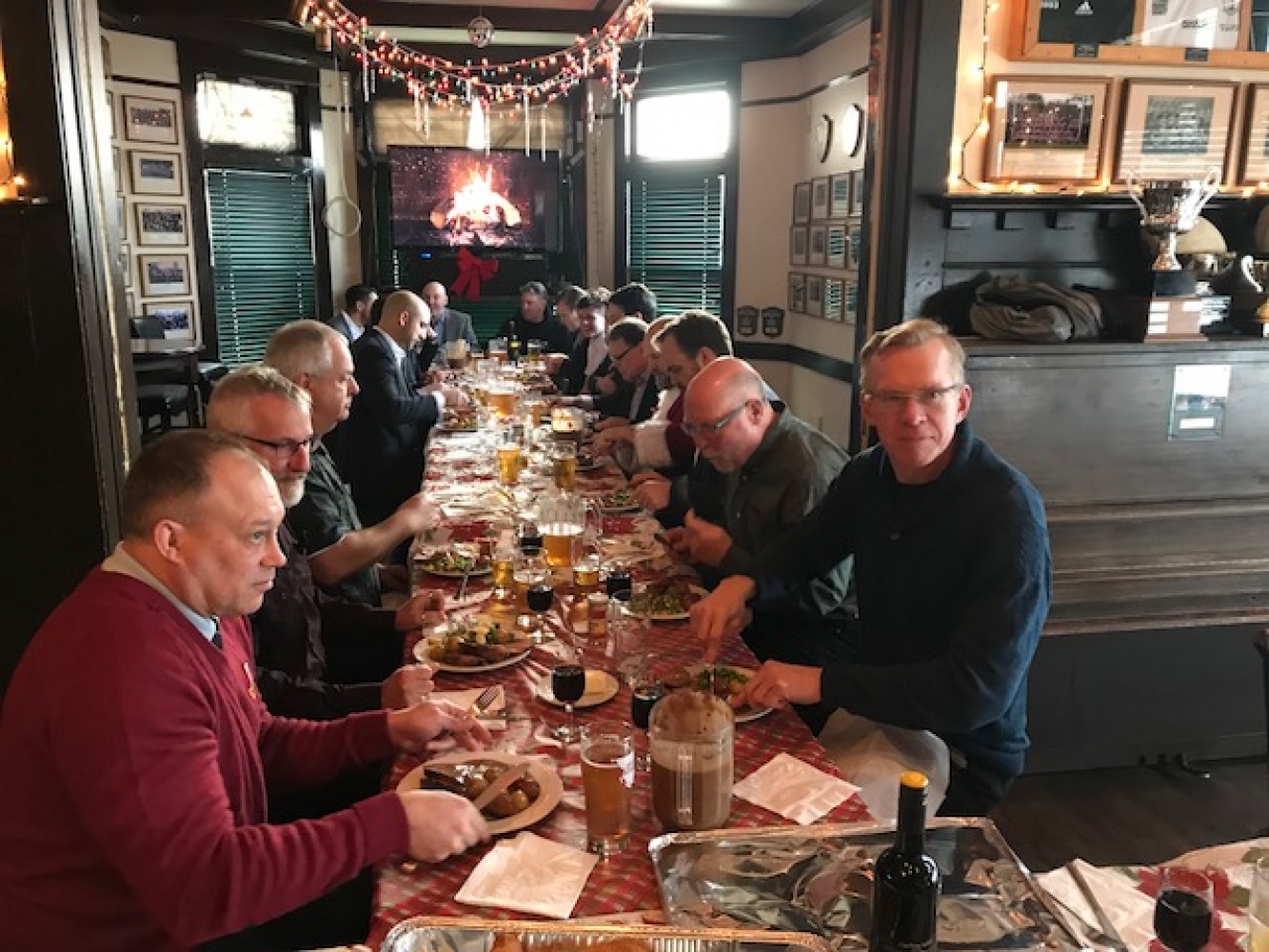 Xmas Lunch at the Temple December 2018
Guido the leader…..Jonesy and Knaggsie rounded out the triumvirate, hosting a feast at the Temple for all to enjoy. Many came….many enjoyed…..many laughed…..most were hounded by old embarrassing stories that were well embellished. ( e.g. Jonesy's four tries and how each miraculously they took form via a brilliant individual effort from himself when all would….bla, bla, bla, bla ……) "B.K." did a great job spreading the word and collecting the "love'' at the door. Young and old were in attendance including welcome representatives from the Bays; Cowichan Piggies and Westshore. A great Christmas gathering with all honouring the long tradition of standing, introducing yourself to the attendees and noting something you are particularly thankful for during this time of celebration.
Surprises at the door of the Temple were the trim and fit, Chris "Fuzz'' Horsley. Speaking of trim and fit; Scotty, "The Bus'' Franklin was in attendance; Duncan "Tin Man'' Richards was enjoying his first lunch and trying to articulately explain why he is called the "Tin Man''; the "Queen" was back and royally toasted; Balucci traveled the furthest from Nairobi; Gillie Greg and Howard Dixon may have been the most "experienced'' rugby men in attendance and between them have probably forgotten more rugby experiences than the rookies in attendance can collectively remember.
What more can I say? This annual event was a blast. Never underestimate the tonic of a few new and long-time friends getting together to talk rugby and toast the future with a few bevies. Merry Christmas to all – The Sage.
---