The Ones Finish With a Flourish!
---
---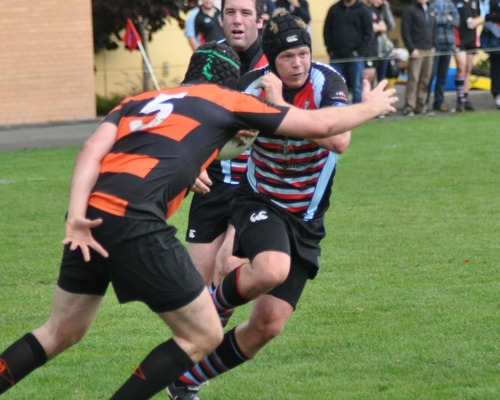 This match was a mere eight minutes old when Captain Chips put his stamp on proceedings, with a #8 pickup blind, feeding Conway for the score. Oliver made a good gainer and resultant penalty saw a quick tap and fast hands to Wolfie for a 10 – 0 lead. The forwards started to assert pressure and next it was Daumer with a Jack convert, 17 – 0. Jack was next to cross when he "filled" from #15, accepting a nice miss pass from Henderson and converted for a 24 – 0 lead at the interval.
The second stanza saw Lomas withstand CW pressure and actually, they came back with lots of heart but it was to be too much by too many and when Jack made a good touch-finder and there was a series of recycles, it was Haight who burst over with a twenty meter gallop, 29 – 0. As time wound down, it was Oliver off with another good burst and the off load to Mitchell who bumped off a defender for the try, 34-0. With mere ticks on the clock, Jack took another quick tap and fed Crawford for a well-deserved tally. Lomas did get the last say with a good team try in the corner and a mammoth sideline convert, final score 39 – 7.
With a score line like this, it can be imagined that there were plenty of good performances and hard for this fan to give a M-o-M, although I suspect I lean towards the Captain, Jacob Lamb who just runs himself off his feet, witness his five "crawl forwards" after the tackle and his retention….another sixty meters and you'd be in the Guinness record book, Chippsy! Looking over the final games of this season, for the earlier ones were "blow offs", the Aussie duo of Oliver and Rocher (at #10 today) have been gold, Jordan Henderson has been a very solid contributor and today Jack gave his best effort of the season. Grdic (injured today), Middleton and Hepp have all done well and newcomer, Conway gives solid service. So, it was a good ending, jumping to sixth place, a long way behind the top four but salvaged plenty of pride and giving Capilanos and Burnaby, who will be in the mix for the title, good competition in the later part of the season. Good job, boys…out with the golf clubs and let's get going EARLY next year!
---