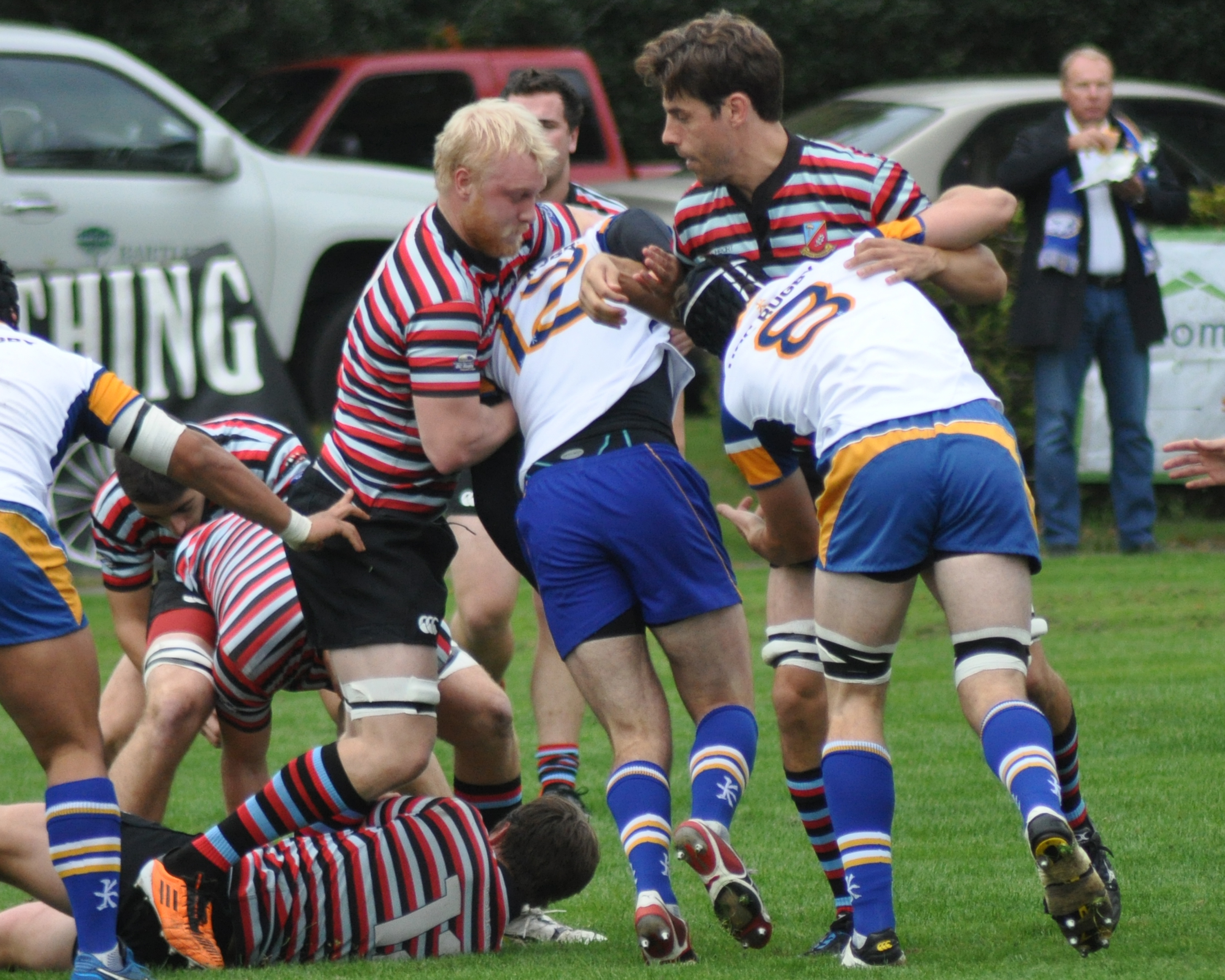 It didn't take long on Saturday for UBC to make their mark at Windsor. Last year's CW U18 captain, James Carson was the first to cross the line in the curtain-raiser. It then seemed like an open door policy had been adopted by the hosts as an endless parade of eight tallies proceeded, leaving the final score line at UBC 58 – CW 0! Once again, this was evidence of the depth of B.C.'s two University programs. Very few, if any, clubs will likely be able to provide significant opposition at the First Div. level for the Birds and Vikes.
This pundit quoted pre-game; "….that strong university rugby makes for strong B.C. rugby." Well the jury might be out for a while but it is good to see UBC back at the Premier level. This strength and depth was on show in Premier action on Saturday, with CW losing to UBC, 26 – 17 and James Bay losing to Uvic, 27 – 19.
Having the benefit of watching the match video, it is fair to say that there was not much to impress from a CW viewpoint. The sides tied at the half, 7 – 7. UBC scored their bonus point win with three second half tries, final try count being 4 – 3, a close stat but the game was not really that close. CW failed to assert any physicality in the contest, classic example being, despite a more solid front row, the pack was often shunted backwards at the rate of knots, proving ball in perfect time for Rocher to be swamped by the defence! Players were not sharp on any loose balls, passes went astray as backs did not line well and gaps often appeared allowing a big and speedy opposition far too much leeway. This was all very contra to that which was witnessed the previous outing. In this viewer's opinion, the points were there for the taking but the execution did not give the team a chance.
Pick of the pack – Steve Grdic – not the biggest forward but plenty of enterprise and rewarded with a try. Oliver tried to break out, as did Horton whilst poor Mosher may not have even touched the ball. This must have been a tough one for the coaches to watch and there is no immediate help as the boys plan to take a week off for Thanksgiving.The intensity we saw Vs. JBAA will need to be rekindled or else the next CDI match Vs UVic could be much of the same. At least, post-game at The Temple was good fun and great to introduce the students to our "spiritual home".
(Ed. Apologies for the brain eruction....the boys will no doubt be happy they are not slated for Lakerville on Saturday!!)
---