Points Aplenty at The Park
---
---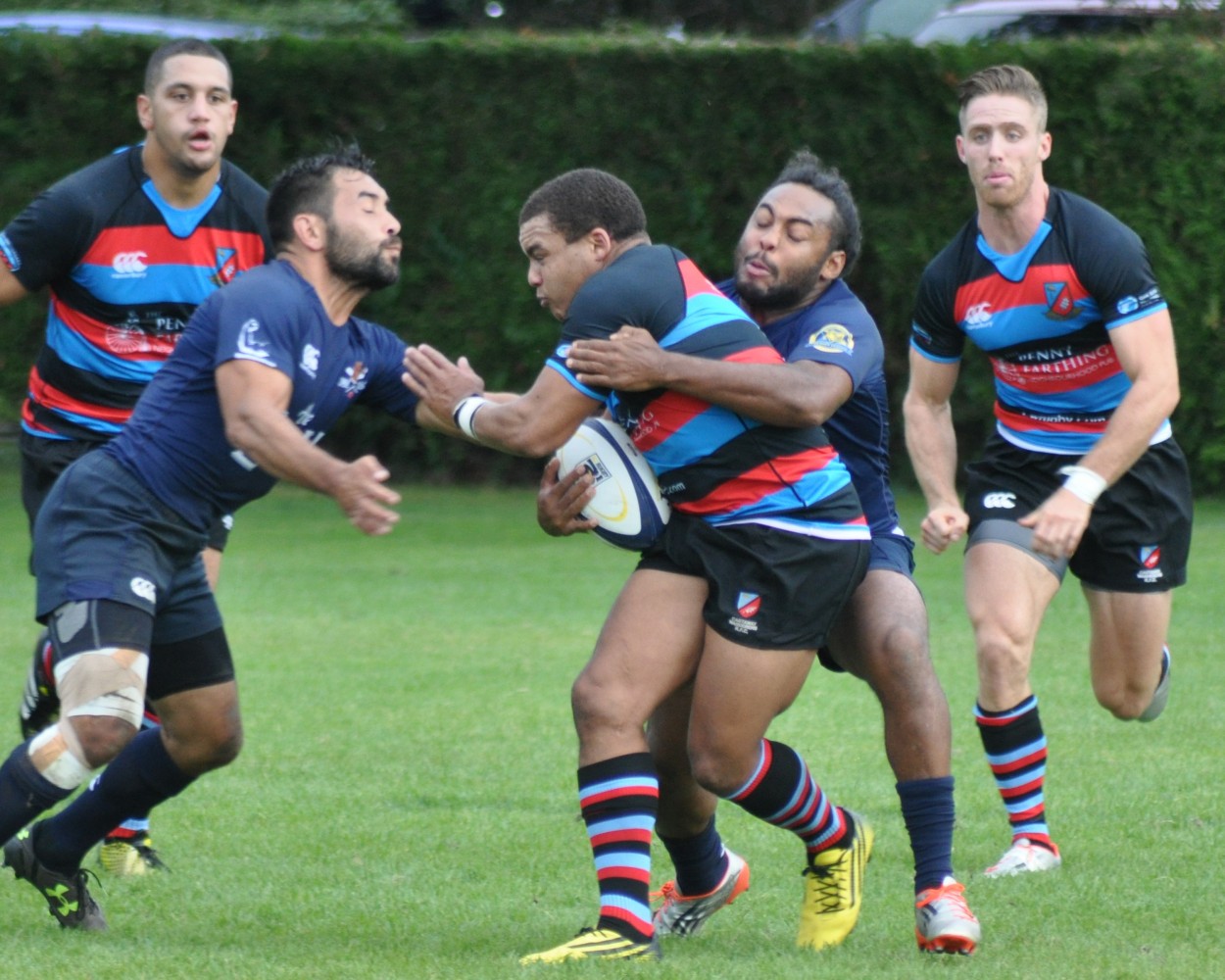 It was a great day for rugby. The players, officials, fans all contributed to fulfill the pre-game hype. It was a classic. Top class Canadian players pitting their skills against each other and being clad in club colours added to the competition in a 'big game' atmosphere.
James Bay worked hard to put CW under territorial pressure with good defence in the opening minutes and this paid off when Harriman took an alert tap penalty, Mack went wide to freeze the defence and fed Parfrey on a good line and a 7 – 0 lead, a mere five minutes in. CW continued to show the effects of the pressure in their own half with turnovers and penalties and it was twelve minutes before CW's first foray into JBAA territory. At this stage, CW did manage good pressure of their own on the line, with Thornber and Dala being held up, Moor and Polson also probed but it was Mack to be the star when he alertly took a quick tap and play was back at mid-way after further carries from De Goede, Keith and Johnson and The Tricolour found themselves defending their line again. CW tried to clear but an error led to a JB scrum. A series of retentions, directed by Mack and mostly carried by Harriman, who always seems to play well Vs CW, finally saw Braid make a nice half-break and feed Wilson-Ross. Following the ruck, Braid found the ball at his feet and he picked up for the simplest of tries, 14 – 0. A noticeable feature at this stage was JB's unchallenged lineout possession.
Under the cosh again, CW failed to clear for touch and Adams fielded, chipped in return and a high bounce found Braid's hands. It was ball to Mack who went wide, fed White on the 'fill' and with the defence split, he returned inside to Wilson-Ross and a 21 – 0 lead after 32 minutes. CW did get back into Bear territory, only to see Mack fed off the back of a lineout maul. The 7's combo of Mack-Moonlight, saw Moonlight soldier on and when the ruck occurred he managed to get the ball back and cross, 28 – 0, Visitors. JBAA had their tails up, aided by deft and raking kicks from Braid, they generally had good field position. Ngongo made a swerving run for the Home team, late in the going and hopes for sole, CW points were dashed with a missed penalty in injury time. It had been pretty much an error-free forty minutes, along with many touches turning to gold for James Bay. The question asked by many at the interval was, by how many?
If one had not seen this contest, the score line might suggest that the pedal was eased. To this pundit, this was not the case. Only five minutes in, Kay found touch from a penalty and Braddock was held up but following the scrum and a couple of recycles, Braddock did dot down, 28 – 7. Ten minutes in, perhaps the only debatable call for "not releasing" saw the lead stretched to 31 – 7. Braid was stopped by Kay and Moor made a healthy break however it was mid-half when the TSN Turning Point occurred when Mack took an alert tap, ducked and wove through a napping defence, for a great thirty meter solo effort, 38 – 7. This movie has been seen by CW before. Blue eyes only would suggest the rest was luck however, all of a sudden, Tricolour passes clicked, effort was raised considerably and tries resulted.
First it was Fraser with a quick tap, feed to McCloskey and Mike Fuli finished for 38 – 14 with about thirteen minutes remaining. Next it was a lengthy touch-finder by Kay from a penalty, a good lineout drive led by Hohert, McCloskey darted open side and from the ruck fed back blind side, backed up and fed Morris for 38 – 21. From the k.o. and pursuant lineout, with the help of a fortuitous bounce, CW almost went goal to goal, led by a nice break from Fraser but JB defended from a final knock on. A penalty occurred and Kay found touch. From the lineout, Dala grovelled for ball, drove through and his off-load saw 'TAG' Thornber break a couple of tackles for a final score, 38 – 26. A deserved bonus point for Ceedub.
In conclusion, one must thank the match officials, admirably led by the M-i-t-M, Chris Assmus. Both sets of FRF went the full eighty with CW providing some reinforcement from Sponarski, good experience for this man. I liked Captain Wooldridge's game although I thought JB's Keith was arguably, the marginal pick of the seven in this outing. All four locks worked very hard, I liked Polson but have to give my nod to Harriman. The loosies, including CW's newly-minted, J.Mo kept the show going. It was great to see Dala and Moonlight battling, probably, a saw-off. CW's #8, Dobrofsky, a former Vike, short of a trot today, is going to be a massive addition to the club. Although McCloskey was pretty much faultless in a very different position for him in his first appearance this season, the mercurial Mack was the better of the two 9's and MoM for my money. Parfrey may have had a marginal edge on Kay today but it was good competition with the former probably having a little more time. It was a "Braid Day" today with Connor scoring 50% of his team's points and this alone might have earned him "pick of the centers". It was not a showcase day for the back three but each contributed when they had the opportunity with CW's Styles perhaps the most noticeable. It would be marvellous to see more of the same every week and certainly more beneficial to players and the National program than riding the pine in some far away land. Thanks again to both teams and on this occasion, congratulations to James Bay. This game report is in some detail for those readers who read from afar. Thanks for your patronage to our site and club members – support our sponsors!
And the opening two contests?? A solid opening from CW's Premier Women over Cowichan, also from The Ones, with a one point loss to a very good Nanaimo side, which will be reported in Monday's Musings. Excellent game photos from club photographer, Ron Willems, can be viewed HERE.
---