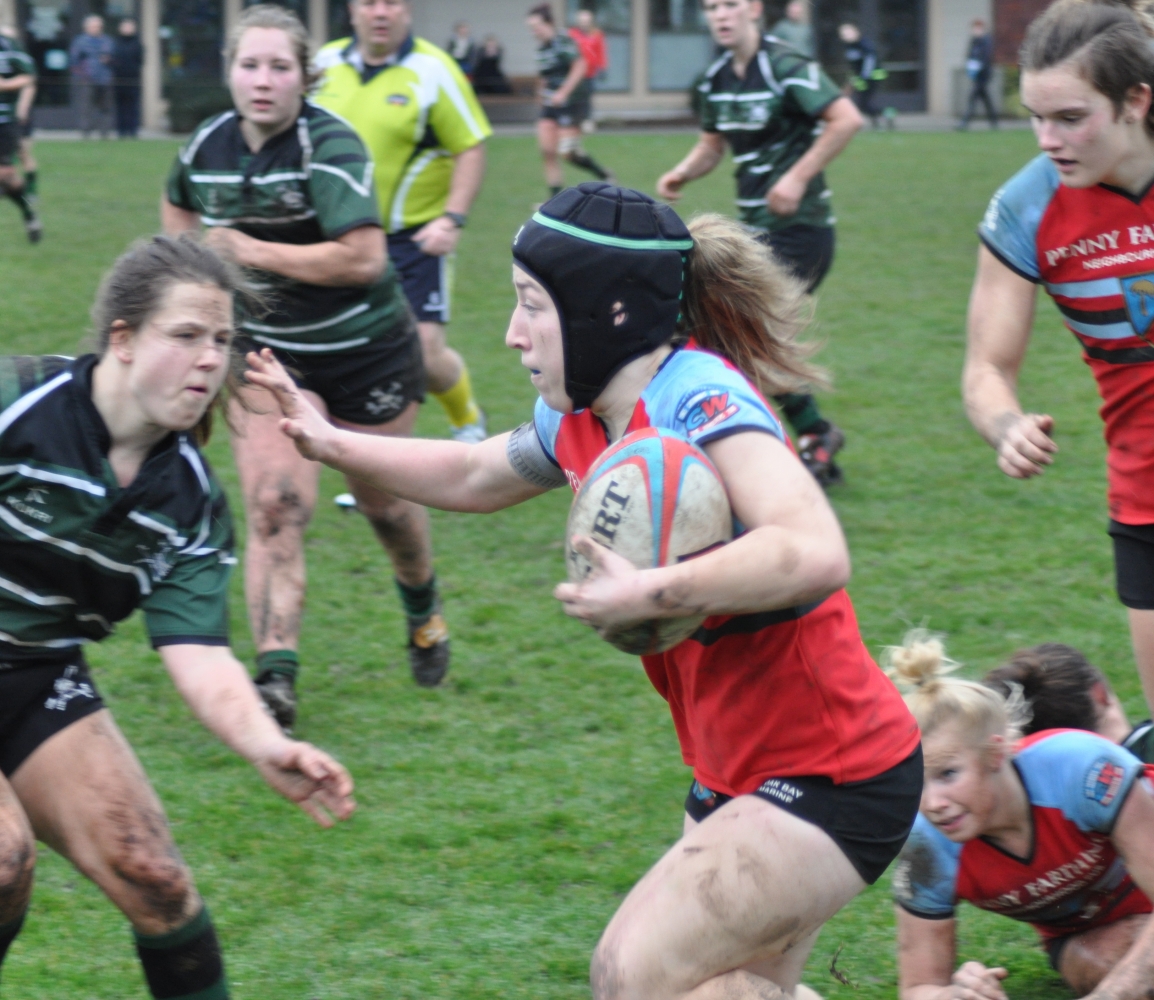 UNSUNG HERO(OINE) ON/OFF the FIELD
It has been some time since we have run this club interest item. Today we feature Lauren Sargent.
CW: Lauren, you could hardly be described as being of average size. Just what is it that attracts you to this game of rugby where you play against women of a greater stature?
LS: Something about the positivity and fun that was created in the rugby culture got my attention. Of course the bigger girls are intimidating but I have always been told that I'm already, "low to the ground", so; 1. I should be able to tackle them! And 2. I can't fall very far if they knock me over! Despite my size, I come with strength and give my best efforts to get them down!

CW: Just when and where did you start playing rugby?
LS: I started in High School at Georges P. Vanier in Comox when I was in Grade 9.

CW: Do you have any siblings who play the game?
LS: I do not, however my younger sister Megan, has recently signed up in her Grade 8 year at G.P. Vanier and will kick off in January.

CW: What are your most memorable rugby memories in your young career?
LS: One of my greatest memories was joining the Dog River Howlers in 2013 when they toured Colombia. Meeting up in Colombia with a bunch of players I had never met before was great and now many of us have stayed in touch or have been re-connected. Another memory is my first year as a player with Castaway Wanderers. This year was actually the first year of the Women's team. We had a hard fought season against multiple strong teams with our biggest rivalry being against Westshore. That year we lost every league game to them however when we met them in the final we pulled through with the big win. Epic! It was one of the best feelings and I can hardly wait to re-live it some time in my future.

CW: Over your four seasons with CW we have seen you move up the ladder from the spare board to the starting scrum half slot. In this position we have noted your considerable skill development. What do you do in your training beyond that with the team to enhance your play?
LS: In my four seasons, I have gone from the bench to starting scrum half. I have had the opportunity to play in multiple positions and continue to improve my knowledge on the pitch. I am also finding that coaching the U19 Girls program with the club has helped me learn much more about the game and improve my skills. During my warm-up for training I always do a number of passes on both sides and I like to have a consistent work rate which helps me work towards my rugby goals.

CW: How are you employed? School?
LS: I am employed at Victoria Gymnastics and The Fernwood Inn where I work five days a week at the gym and one evening at the pub, both great environments to work in.

CW: What are your future aspirations in life off the field?
LS: I am still trying to figure out what I would like to do in my future. I am thinking it will have something to do with children, possibly at pre-school? I do know it will include coaching rugby as well.

CW: Finally, what are your immediate and long-term rugby goals?
LS: My immediate goal is to get selected to play for BC next year, in both 7's and 15's. I would have to say my long term goal is to continue playing with the Castaway Wanderers until a much needed retirement!

Lauren also gives MUCH to the club off the field. She sits on the CW Executive, coaches the Girls U19 team, volunteers with home game 50/50's and helps organize social events. She goes quietly about her tasks always with a cheeky grin.
ALL THE BEST WITH YYUR RUGBY AND YOUR FUTURE, LAUREN. THANKS FOR YOUR TIME AND ALL YOU DO WITH/FOR CW. (You can watch Lauren in action when CW battles Comox for top spot, this coming Saturday at Windsor, 11:00 a.m.)
SHOUT OUT TO CANADA NSMT XV's -Very solid win over Kenya for openers at the Qualifiers. Next up, a German team that upset favorites, Hong Kong, 26 - 9. Thanks to TSN for showing. Vs Germany this coming Saturday.
---