Monday's Musings (aka Rugby Web Surfing)
---
---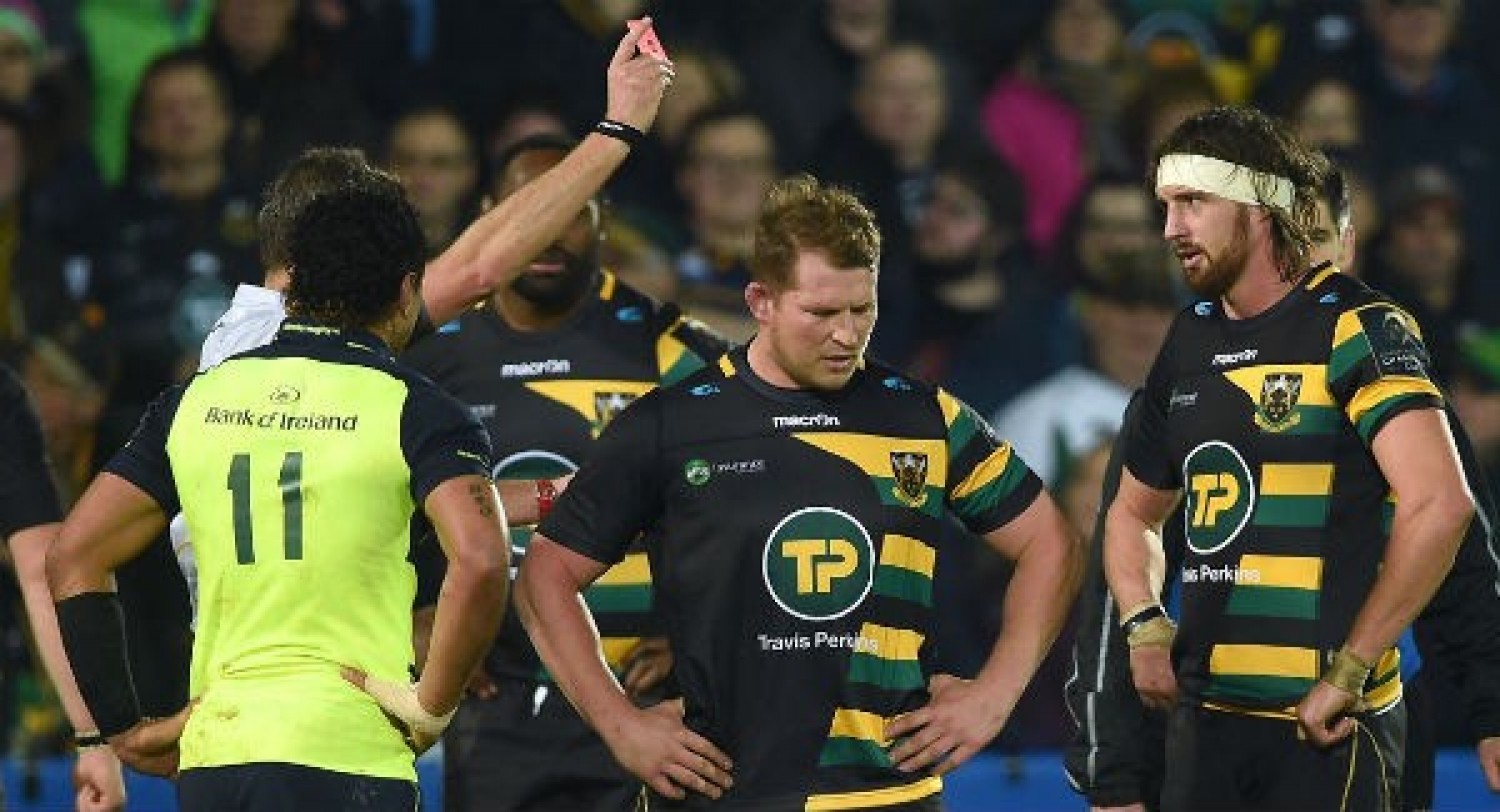 When will he ever learn??
England's captain, Dylan Hartley, sent from the field once again last week.
The disdain on Eddie Jone's (face in the crowd), kinda said it all! Hartley had only been on the pitch for six minutes when he swung a 'haymaker' which made some contact, arguably innocuous, depending on one's pov but it has earned him six weeks, getting back on the pitch a week before the Six Nations k.o. The question is all about the public image of a struggling code. The 40 capped captain has now incurred some seven match bans for a total of 59 weeks of suspension! His crimes include swearing at the ref, eye-gouging, biting, stamping, spitting and punching, behaviours hardly associated with captaincy. It feels disgraceful to write about. However, to all those mini parents, as you can attest, such behaviour (singularly), is rarely if ever, witnessed. For England to continue to accept this man as their captain is hypocrisy and makes them the brunt of questions from the rest of the rugby-playing world. Some of the attributes our game teaches are self-control, patience and leadership – all overtly lacking in Hartley. The days ahead for England will be most interesting.
News from RC Website.
Former internationally capped player Dr. Noel Browne has been named to the Order of Newfoundland and Labrador. Browne played two tests for Canada making his debut in 1973 against Wales XV and also facing Tonga in 1974. Browne was a founding member of the Newfoundland Rugby Union in 1974 and formed the famed Swilers Rugby Club and acts as President.
"I think I'm being honoured more for my contribution to rugby than I am to medicine or anything like that," Browne told The Telegram. "And … rugby is a team sport and I think I'm kind of getting credit for what a lot of other people did. So this is kind of a team award, as far as I'm concerned. But I am very proud of it anyway."
"Dr. Noel Browne is a pioneer of rugby on the East Coast," said Rugby Canada Chairman Tim Powers. "He has made a huge difference in the lives of so many. It is wonderful to see him winning Newfoundland and Labrador's highest honour. Congratulations Noel!"
He is a member of the Newfoundland and Labrador Sports Hall of Fame which recognized his personal achievements including being capped for Canada, being captain of a Newfoundland team that won a national senior silver medal in 1974 and serving as coach of a Newfoundland junior team that won a national silver medal in 1987.
Browne is a regular contributor to Rugby Canada's National Player Support Program. Browne played a lead role in the development of the Swilers Rugby Complex and the Newfoundland and Labrador Sports Complex, comprising two international-sized fields, a modern clubhouse recognized as one of the best in Canada, a High Performance room and a national quality gym. His efforts were a major factor in the club raising millions of dollars from the community and using these funds to leverage financial support from the City of St John's, the Government of Newfoundland and Labrador and the Government of Canada.
"Noel is without question a character, someone I'm proud to call a friend," said Al Charron. "He is a generous man and I am so glad to see him get recognized for all the good he has done not only on the Newfoundland and Canadian rugby fronts but in life in general. I'm happy for Noel, his family and many friends for him to have this honour bestowed on him."
Noel is the brother of CW's Tom Browne. Tom is no slouch when it comes to rugby contributions either. He co-coached CW's Threepeat Premier teams with Dave Docherty, quietly counselled many players from the sidelines for a couple of seasons and then, when his young granddaughter showed an interest and skill with the oval ball, he came back to work with the U8's. That was some six years ago. Tom hearkens coming to The Park on Sunday mornings akin to attending chapel. Tom was a wonderful player in his day, displaying much Irish guile in making those around him better players. He is a true friend of many. So we add our heartiest congrats to Noel on his honours and our thanks to Tom – what a pair of brothers!
CDI Premier Season Draw Posted
The CDI League is scoffed by some critics across the country as not being at a standard of significance. This pundit would counter that undisputedly, the better games would match the pedigree at a similar level, anywhere in the rugby playing world.
Enough of that, to the meat and potatoes. CW opens with three on the road – Jan. 28th @ Magnuson Park, Seattle; Feb. 18th @ Vancouver Rowing Club; Feb. 25th @ JBAA. The seven weeks from Jan. 14th to the end of February, the boys will play three games. There will be plenty of rugby for fans, the gaps primarily being the result of Canada's NSMT playing three internationals – Feb. 4th Vs Argentina (Westhills); Feb. 11th Vs Chile (Westhills) and Feb. 18th Vs USA (Burnaby). We urge fans to get out to support Canada on these dates. Ticket packages can be purchased
HERE
. Despite whatever the foibles of the draw might be, there is a definite buzz around Ceedub – bring on the New Year!
Christmas Arias on the Ave
. In support of CW brother, Sipili Molia's work with the Salvation Army, the club once again stepped up to 'ring the bells'. Supporting those in need is a joyous thing. Merry Christmas to all and may there be peace on our planet.
---