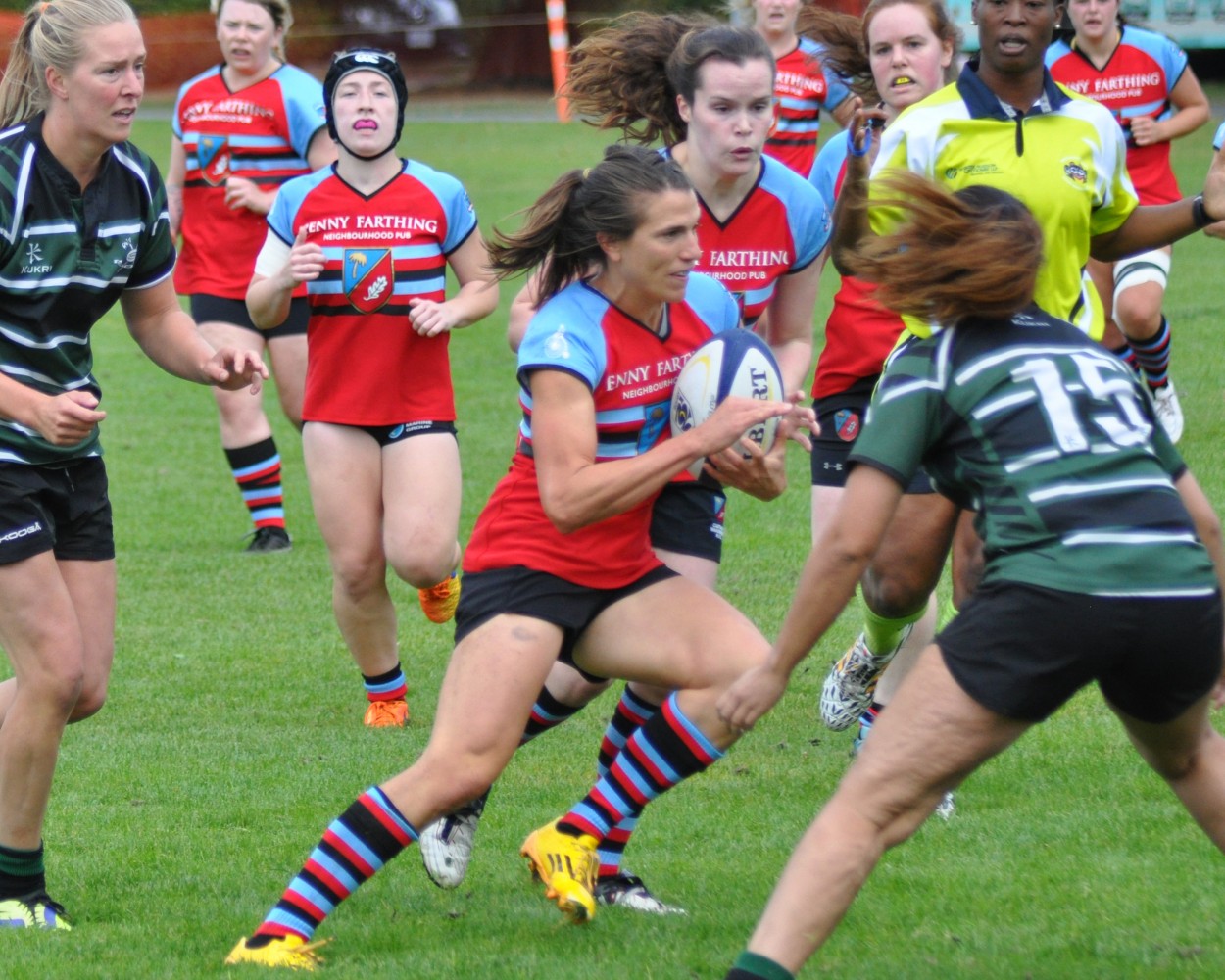 Saturday's "Curtain-Raisers"
"A beautiful day at the park", as a renowned CW wag was overheard. The day opened with an alert intercept from CW's Laura Sargent to start what was to become a scoring parade in the women's premier game. Cowichan quickly responded with a bullocking run from #17 (apologies). CW added a penalty, 8 – 5. Next it was Cowichan's, Laura Russell at #8 after a good charge, 12 – 8, Visitors. Despite the ferocity of the Cowichan attack, CW was fearless, courageously dropping runners and playing the game at pace with ball in hand. After another example of this defence, the ball was turned over and found its way into Gorst's hands for a sixty meter scamper and 15 – 12 lead going into the interval.
After the re-start, Hansen made a nice break and fed Zussman, 22 – 12, CW. After a good series of retention and numerous pick and drives, Kelly Russell and Smith figuring prominently, Cowichan crossed again, 22 – 19. The Visitors then went ahead after arguably, the try of the match, a bull-dozing run from Beukeboom, on to Russell and thence #17, not to be denied again, she crossed with defenders hanging on, 24 – 22, an easy convert being missed. Then came what might be described as a turning point. Cowichan retained possession for a lengthy period but really advanced nowhere as pesky defenders threw themselves at bigger attackers who seemed to lose some zip. It was to be Zussman again as she ran another great line, filling from #15 and feeding Gorst who showed clean heels over forty meters and re-gained the lead, 29 – 22. Game reports note; "old school stuff, the girls are making the ball do the work" but despite this, Cowichan seemed to top the tanks and came back when Peterson scored after a good run from #18 (apologies), 29 – 29. This was to be "all she wrote", as Zussman scored from an apparent knock on after a break from Waters and finally, Hansen was rewarded for all of her hard work with a tally under the sticks for a final, 44 – 29 score line. Cowichan finished full of running however penalties prevented any scoring. Thanks to both teams and officials for a most entertaining match.
This was a great opener for the defending Champs, a very strong test and again, it appears as it will be a long season with plenty needed in the tackling tank as CW gives up size in the pack. For the Visitors, Kelly Russell was WoM in my books, #17, Peterson, Saari, Beukeboom and Cote at #9, all were big contributors. For The Tricolour, tough to make a pick re MVP. Anderson, Campbell, Shepherd, Adams and Hansen were tireless and courageous in the pack. The backs were led by immaculate service from Sargent, control by Galbraith at #10 and it was easily seen why she is being selected for higher honours. Gorst, Waters, McNally and Zussman are all special, not to omit Dupuis, for her contribution was also notable.
Following this match, The Ones were on the pitch. From a CW pov, night and day in my books, Nanaimo winning a squeaker, 25 – 24 but it should never have been that close. CW allowed countless penalties, Brad Marshall finishing with twenty points, 18 from penalties! The Hornets led at the half, 19 – 5 with much of the territorial and possession advantage. 9 – 0 after ten minutes and frustration ruled for all, except the Hornets. At the mid-point of the half, Marshall filled on the blind side and fed winger, Raywalui for the Visitor's first (and only), try. With Hornet's #10, Bradley controlling the show, things looked glum.
The next ten minutes produced a series of errors from both teams, balls lost in tackles, failure to release, touch not found etc., finally the ref issued a yellow card to CW and Nanaimo cashed in yet again, with the boot, 19 - 0. CW put themselves under pressure at least three times with failures to find touch yet, despite all of this, the Home time scored next, with about five to go, after an errant Nanaimo pass found its way into Moar's hands, he made yards and fed Stoochnoff for the tally, 5 – 19 and so the misery ended.
The second half opened with sloppy Nanaimo passing again getting them into strife, with CW capitalising, 12 – 19. About fifteen minutes in Moar intercepted a poor Hornet's pass and scampered some forty meters for the tying points, 19 – 19. Perhaps the action deserves more detail however when yet another CW penalty cost them points, the writer searched out a libation! CW had plenty of late chances only for their handling to let them down and this, along with the fact that their scrummage was shunted backwards at the rate of knots made things very difficult for those few runners who did make headway. After a final penalty, 25 – 19, it looked done and dusted but not to be. Horton claimed a high bounce some thirty meters from his own line and went the distance with swerve and pace, perhaps predictably, the final attempt (not difficult) to win the game went astray.
Deserved winners, Nanaimo, with a replacement #8, Reclama and Skagfeld, Bradley, Tuila and Marshall all showing well. Nanaimo have some big units and I suspect played nowhere near their potential today. They should be near the top of the Div One ladder by season's end. There were some positives for the Home side, Schellie worked very hard and captain, Hickman, when he moved from #10 continued his efforts. Baird was good value in the FRF and Montgomery were the pick of the pack in my notes. MoM for Ceedub was Moar in the centers his enterprise was commendable, along with his skills. The outcome was a good one despite the mistakes. Handling, set scrummaging and kicking all need considerable attention however, the makings of a more productive campaign are present and if the motivation and effort are forthcoming, this group will enjoy playing together and achieve their share of wins.
FOOTNOTE: Shout out to Saturday's ball boys. Good job!
---