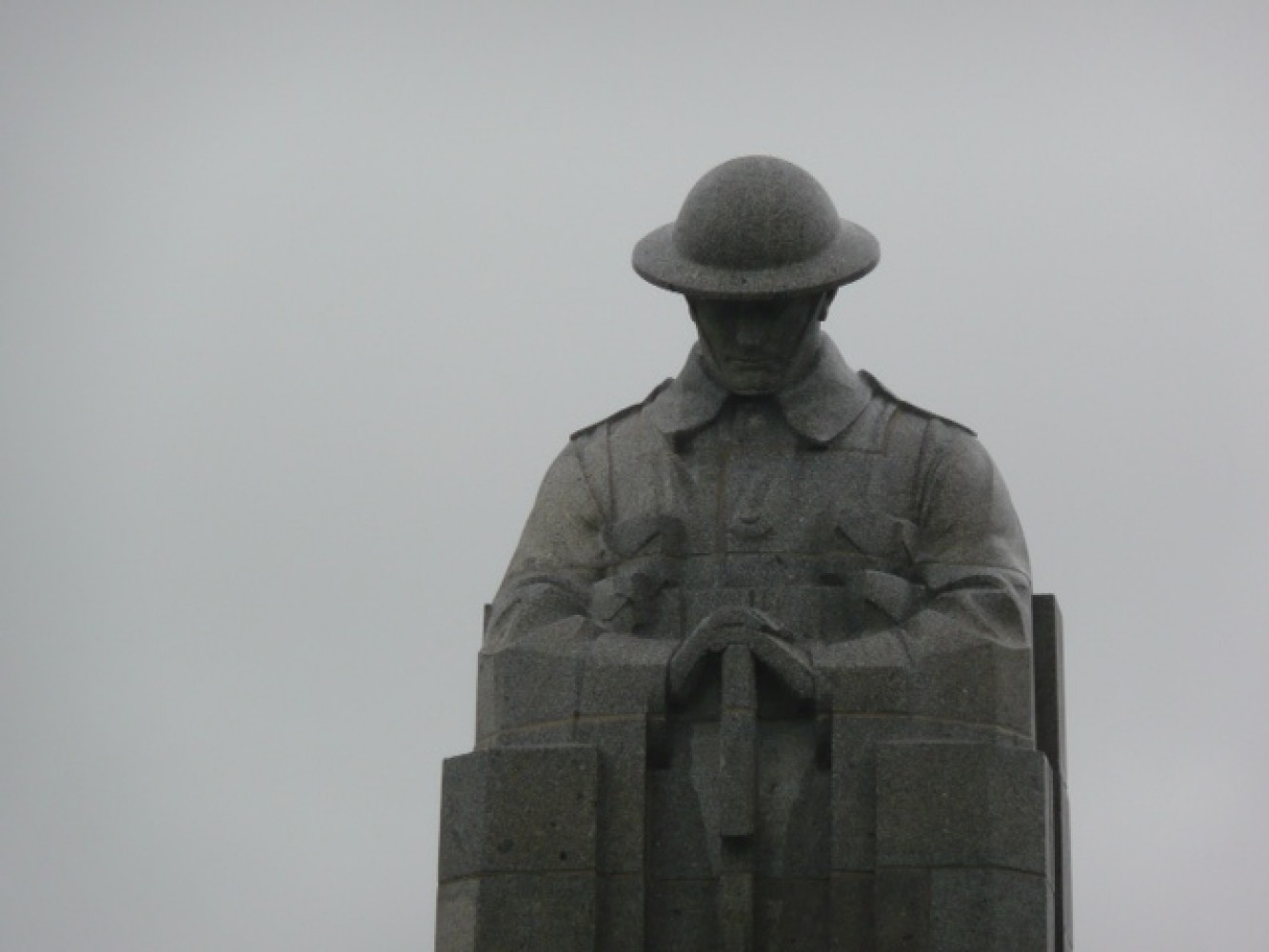 The Brooding Soldier reminds us of those Canadians who gave their lives at the Battle of Ypres, succumbing to the first gas attacks.
In these times of uncertainty, let us take some time tomorrow, Remembrance Day, to do just that.
Ypres, 1915 - The Brooding Soldier
THIS COLUMN MARKS THE BATTLEFIELD WHERE 18,000 CANADIANS ON THE BRITISH LEFT WITHSTOOD THE FIRST GERMAN GAS ATTACKS THE 22ND-24TH OF APRIL 1915. 2,000 FELL AND HERE LIE BURIED.
Tomorrow night at UVic, a battle of a very different sort will take place under the lights. The Vikes proved last week in their tie with JBAA that they cannot be scoffed off, not by any means. Their forwards more than held a bigger and arguably, more storied pack and the backs, led by a lone try from Tate and outstanding performance from Hammonmd who is having himself a sterling season, led the way. Should CW be able to fashion a win, their place in the Barnard Cup would be assured however, a loss would make things rather tenuous.
We have not seen the Vikes combo but CW will be bringing a pack which has been kept together for a second match, the previous one being their besting of the Vikes at the last meeting. Not much to say apart from, should this group do their job and some extra, it should set the platform for a W. The CW backs are an experimental combo, something that JBAA and CW have been forced to do out of necessity. The calibre of the players is high pedigree but the combo is an unknown. Schellie, deservedly gets the nod for his first Premier start and he will feed Mike Scholtz, not normally a #10, however with an array of sevens skills, sufficient enow that should get him through. Moar has earned a starting spot and it is good to see that the competition to play Prems is being rewarded, based on performance. Anton is healthy again and Morris will start on the other wing. Johnny was perhaps a little 'tame' vs the Bays, as not much action came his way. He must seek to place his stamp in this one and newcomer Hutton returns to the custodian spot, where he looks a little more comfortable to this pundit, as seen so far. The bench looks strong , although they must work to compliment those on the pitch if and when they get the nod. Pearson, Adams, Stewart, Gerhardt and Morgan have all been rewarded. Hope to see a good showing from Tricolour fans.
Saturday, The Ones and T(h)urds travel to Cowichan. Best of luck to all. This will be a very important outcome for CW, with a win being pretty much imperative. We all know to never count Cowichan out - especially at Piggysville!
Weekend selections;
Prems vs UVic
1. John Braddock 2. Clayton Thornber 3. Doug Wooldridge © 4. Cam Polson 5. Connor Turner 6. Nate Thomas 7. Riley Ilnicki 8. Dustin Dobravsky
9. Brandon Schellenberger 10. Mike Scholtz 11. Jon Morris 12. Doug Fraser 13. John Moar 14. Anton Ngongo 15. Nick Hutton
16. Doug Pearson 17. Jack Sponarski 18. Dre Adams 19. Kyle Hohert 20. Nathan Stewart 21. Brandon Gerhardt 22. Keenan Horton 23. Dave Morgan
Div 1 vs Cowichan
1. Dre Adams 2. Doug Pearson (c) 3. Grant Baird 4. Jordon Montgomery 5. Jeff Crone 6. Darren Parcells 7. Cole Wiley 8. Kyle Hohert
9. John Kirk 10. Brandon Gerhardt 11. Riley Turchet 12. Oliver Winser 13. Matt Kelly 14. Alex Economou 15. Dave Morgan
16. Doug Hepp 17. Peter Anderson 18. Sam Stephenson 19. Neil Fowler 20. Trent Taber 21. Eldon Sproule 22. E Bachman
---