Former Vikes Skippers Relied on to Carry the Day
---
---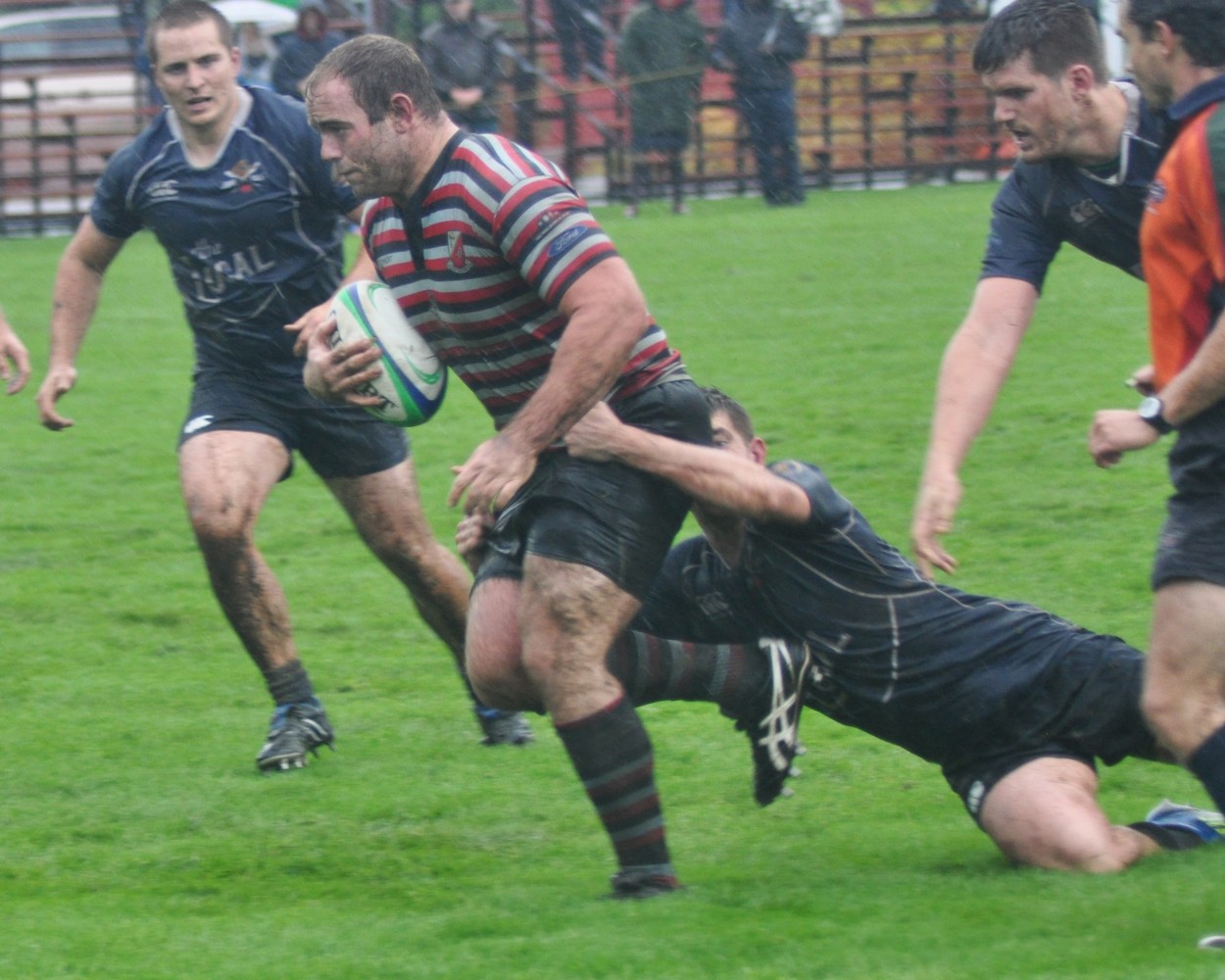 Captain Wooldridge drives for the line!
With seven players who have suited up for The Tricolours this season, missing on duty with NSMT's XV's or VII's, CW will rely heavily on the contribution of two former Vikes captains, Dustin Dobravsky ( #8 ) and Remi Ancil as they travel cross-town to MacDonald Park to take on James Bay on Saturday. The competition for starting slots appears to be the best it has been for some seasons with CW. Changes such as Thomas taking the lock spot over Evans and Hohert is one example and it extends to The Ones where Fletcher Evans and Jordan Henderson have kept John Moar on the bench.
The Premier squad looks solid despite the loss of the seven players. Dalsin obviously proved his worth to the coaching staff after his outing last week and he takes over from McCloskey. He is a good athlete and talented player whose antics will closely match Mack but whether he can keep Phil, with his super-alertness, under wraps remains to be seen. Keaton Styles played #10 at UVic and he has been coming on with each outing this season. Kay will be missed but one has a sense that Styles will use this as an opportunity. With Fuli off to work also, Remi Ancil slots into a more familiar role in the centers and between he and Scholtzie, they will have the task of getting Braid under control. James Bay will miss JWR, off, trying his hand back on the gridiron with the Prairie Roughriders. Dave Morgan gets his first start with the Prems this season and won't disappoint. Finally, the first of a number of "unknowns" for this day, gets a start at fullback, Nick Hutton.
The Ones will be tougher opposition for a solid James Bay program and this could prove to be a good test as to how far they might go this season. After a "could-have-been" against Nanaimo, a tie with the Norsemen and a win over Westshore, the boys will be buoyed for a good effort and could well upset the favourite in this one.
TEAMS:
Premiers – Braddock, Thornber, Wooldridge, Polson, Thomas, Ilnicki, Morris, Dobravsky, Dalsin, Styles, Scholtz, Ancil, Horton, Morgan and Hutton.
Ones – Adams, Pearson, Baird, Montgomery, Turner, Wiley, Horan, Carroll, Schellenberger, Winser, Henderson, Evans, Stoochnoff, Kelly and Gerhardt.
CW PREMIER WOMEN are slated to play Cowichan at Windsor, 11:30 a.m. however this is looking more and more not so, by the minute!
FROM THE SIDELINES
Sevens News; NZ-er, Sir Gordon Tietjens who was briefly courted by the CRU for the men's program has been given the reigns of the Samoan Men's Sevens program.
Pencil in now; C.I.A.U. Women's Sevens, National Championships begin at UVic on Thursday, November 3rd. with the first round game being held under lights at Centennial at 7:00 p.m.
Old School; The rumour mill has it that it was primarily, the All Black leadership group that was responsible for last week's censure of Aaron Smith – let's introduce these guys to Donald Trump! What a revelation – being responsible for your own behaviour!!
Some positives; Comments re. NSMT's play in the tight against the U.S. In the set pieces and around the park, the Canadian pack matched their counterparts until the dismissal via a 'yellow' to Raymondo, then things became unravelled, hopefully this base can be built on for the upcoming match against another difficult opponent, Samoa.


---