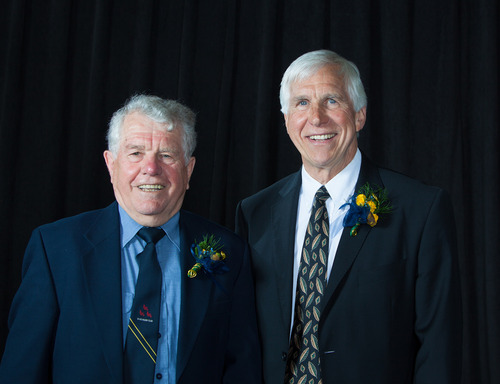 CW congratulates Dave Docherty and Bruce Howe who were recently recognised by U.Vic by being inducted into the Unviversity's Hall Of Fame. Apart from the long list of achievements and service to UVic and Canadian rugby as players, coaches, psychologists, exercise therapists etc., etc., the two men also have an important history with CW.
"Bruce and Dave have been amazing contributors to Canadian Rugby over the years, as well as to Uvic. I studied under both Bruce and Dave and they are incredibly well regarded both in rugby and their respective academic fields," said Rugby Canada's Operations and Performance General Manager Mike Chu. "This is a significant award for two well-deserving stalwarts of Rugby, and everyone here at Rugby Canada congratulates them on this achievement," Chu said.
The pair met in Oregon where Howe coached the rugby team Docherty played on. After they both completed their PhDs, they made their way to British Columbia to become Professors at Uvic's School of Exercise Science, Physical and Health Education. While teaching and coaching at Uvic, they both became heavily involved with Rugby Canada's National Team programs.

Howe coached the Senior Men's team from 1983-87 along with sharing his expertise in sports psychology; he went on to lead the BC provincial team to two national championships.

A former team Canada player himself, Docherty also coached Canada's under 19, 20 and 23 men's programs and spent time assistant coaching the senior men's national team from 1995-99 and the senior women's team from 2002-04. He also was a huge contributor to the National team's strength and conditioning programs.
Gareth Rees had the opportunity to play for both of these award winners, at Uvic and with Docherty for Canada Juniors and at the 1999 Rugby World Cup (RWC).

"David has been incredibly committed to the Canadian rugby cause for a long time. I saw him play for the national team, I played for our junior national team when we beat Wales and he was our inspirational coach providing one of the best team talks I ever heard," said Senior Men's manager Gareth Rees.

"He was also coach at the very highest levels of world rugby for Canada and our campaign in 1999 (and also 2003). In my role with the current national team I realize Dave was ahead of his time in understanding many aspects of the modern game and Canadian Rugby is now in a far better place as a result of his service," said Rees.

Howe and Docherty led the Vikes men's rugby program together from 1978-91. Under their leadership the Vikes won three Barnard Cup victories in 1984, 1985 and 1987.

Both leaders continue to contribute to the rugby community including Howe returning to help lead the Vikes women's rugby team in 2011-12, while Docherty helped the Vikes men until 2013. Well known as active fundraisers and leaders still today, the celebration of the contributions of both Docherty and Howe were both long overdue.
Dave and Bruce played for the former Oak Bay Wanderers during the early 70's, with Bruce serving as club coach. As the men became more immersed in University rugby, their club commitment lessened. It was with good fortune that at the time of amalgamation, Dave was available to coach OBC/CW and his teaming with Tom Browne and the perfect storm of some talented players led to CW's trio of Rounsefell Cups; 2000, 2001, 2002. We thank these men for their important roles in club history.
---