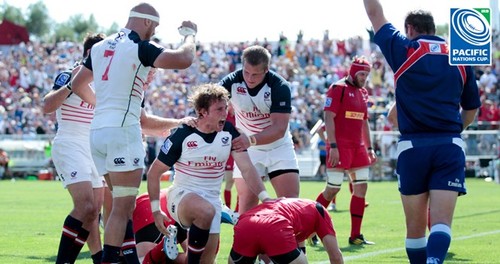 MoM, Jones, feeds DTH.....
Predicted here was the fact that the Eagles could be expected to show greater cohesiveness – prediction correct. It was a match that was entertaining enough but errors aplenty abounded. The Eagles could have been taken but if this was Canada's best effort and there is no mystical talent to be beamed in, things are perplexing. To boot, injury to Mack and apparently Hearn, will be difficult for the upcoming Commonwealth Games Sevens. 8,000 people showed up on a hot California day, to try to will their side to stopping the Canucks achieving their eighth win on the trot, going back to 2009, in the series which had its first game in 1977. In so doing, they kept Canada to being outscored in the second half of their last three matches to the tune of 51 – 16. Not to go into this statistic, for Westshore will have the midnight oil burning.
Most readers of this site will have watched the game on the television, so like last week, this pundit will add a few personal perspectives. U.S.A. continues to impress with their size, add to that the experience being acquired by a large number of players with overseas playing opportunities and they are a formidable opponent. It was a strange match with "runs" of 28 unanswered points for Canada and 20 for the U.S. On paper, Canada could easily have tied the game but credit to them for trying desperately to conjure something that would have won the match after no side.
Arguably, there were a number of turning points but after going ahead 35 – 18 and U.S. on the front foot, all hands needed to be mustered and Sinclair unfortunately, was binned for an infraction at the breakdown…whether or not a warning to the team had been previously issued is probably irrelevant. Ten points were scored during his absence and the tide turned noticeably. Far be it that the loss be placed on Jebb's back, as tackles were missed and balls coughed up, not to mention a rather difficult day with set pieces but this juncture was costly.
In the first half some very good tries were scored; Jones, Scully, Wyles (a beauty) and Hearn's alertness, all added to the enjoyment for the fans. South African ref, Stu Barry did a good job (overall), although Mack's card was mystifying and disruptive for the Canucks.
Jones, backing himself two minutes after the interval, for his brace was a cracker but it was all downhill from there – Canada being pressured at the set scrum and shunted off by a number of counter-rucks, losing critical possession. At 35 – 31 for the visitors, there may still have been a glimmer when Nate committed a cardinal error with a chip – the idea was in slow motion and the skill executed poorly (no doubt as a result of a long layoff), resulting in a huge ground gain and eventual converted tally. The final three minutes of playing time and three minutes of stoppage time was "all Canada" – refusing two pots at goal, instead opting for the winning points. They were eventually repelled enough times that possession turned over and the light went out.
For me, although they made errors, they were fewer than in the recent past and the U.S. played with continuity and attempted flare. It was their big forwards, led by Clever (I give MoM), Manoa (#4), Barrett (#8) and a brace from Scully (five tries in his last two games), Wyles 6/7 and eighteen points, Petri (#9) and a big unit, Palamo (265#) in the centers that get the most credit for the victory.
For Canada, Jones was deservedly MoM. Others to show were Moonlight (although I thought the U.S. "loosies" had the better of the encounter), Hearn, who has become a good International and DTH tried to make things happen. The loss of Mack really made a difference (although McRorie did his job) but Mack is a "difference-maker". The lineout play of Canada's was mostly satisfactory but the U.S. Eight won the forward battle overall. The U.S. go forward to play the All Blacks in November. I shudder somewhat after viewing The Machine that took England apart this weekend. Canada takes a spell. The final score was close and the match could have been won by the visitors but it might have been a travesty as the hosts were the better team on the day.
---