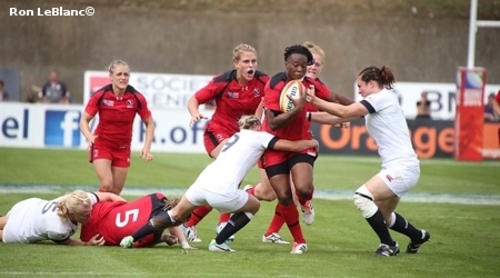 If you were not a fan of the women's game before this morning's Canada Vs England, 13 – 13 tie, you most certainly would have changed your tune by game's end. It was a classic battle between two fairly equal teams, with play ebbing and flowing from end to end. On the day, Canada was unlucky not to finish with the W as they had the better of the play. Others might argue that the tie was fitting. No matter what, the Women have earned a spot in the final four in a World Championship with the most bizarre rules to determine semi-finalists.
The contest was sixteen minutes old when the first try was scored, coming after Canada made a massive shunt on an England scrum, pushing the pack backwards at the rate of knots and no doubt, having a huge surprise factor and creating doubt and concern. Canada followed the tight-head win with two good lineouts and tight pick and drives, ending with Paquin being driven over the line and a 5 – 3 lead. There was only to be one more score, just on the nick of half time when England converted another penalty for a 6 – 5 lead.
Having watched all three of the ladies' games, I must say, I have been astounded at the improvement, and they were pretty good to start with and the commitment today was mammoth, against an all-round more sizeable and experienced opposition. The energy level and work rate were the difference between the teams, despite the odd unforced error. There was a team commitment to the plot and they almost pulled it off. Led by Captain, Kelly Russell at #8, they made a lot of things go right in this first half. For England, the only edge they had in the first stanza was with the kicking game.
The second spell was mere minutes old when Canada forced solid pressure and Russell, true to the theme took a tap penalty and after some recycles, Mack found a hole and dove over for a 10 – 6 Canadian lead. England responded to the challenge and fifteen minutes in, scored a good team try. The game settled into total intrigue and this pundit was on the edge of the seat! Chances went a–begging for both teams until, with about ten minutes left, Canada turned the screws and really put England under the cosh with sustained attack and two tap penalties, hammering at the line. England was down but not out and managed to repel the attacks and when the third penalty was earned (could have been a card), Russell opted to give the ball to Harvey who converted a kick that was not difficult but the pressure was immense. Time was nearing the end when England forced play into Canada's territory and earned a penalty. The ref indicated there was time for a lineout, despite no time on the clock and England quickly conferred. They won the lineout then banged the ball dead. This was a shrewd decision as it put the nail in the Silver Ferns' coffin, keeping them outside of the Playoff action!
How does one summarise such gallant play? Canada's fitness, strength in the tackle, team play and generally, very good work at the break down, all deserve mention. As for players, perhaps we should keep mention to Kelly Russell and then the team however, having seen these gals in action for three games, I would be remiss not to give some personal plaudits. Loved Leith's work in the sets – she gave her all and Samson at lock, has a fitting name. The loosies were all solid gold. Bernier was much improved at #9 with snappy service today, giving room for runners and making decisions with attack that sustained pressure. Marchuk and Burke in the center pairing were tough tacklers and hard runners. Of course, Harvey was a threat whenever she got her hands on the ball and this rather small framed lady is a terror in defence. For my dough today, outside of Russell, I give co – MoM to the pint-sized, Alarie, at full back. She was simply everywhere. Feisty, feisty Canada….loved it, loved it, loved it. To ALL – players, coaches, family and friends, you did your country proud today. A tip of the Ruggernut's cap to all, including a very good refereeing exhibition. A great show case for the game.
So, it is a Final Four with Ireland playing England and the hosts, France Vs Canada (a situation where second language will be found useful!), taking place on Wednesday. Disappointment no doubt abounds with N.Z., Aussie and U.S.A. As for our ladies from sixth place, last RWC to a minimum fourth with self-belief of winning it all is not too shabby. I too have been made a believer and barring injury to any key player, this group could just do what they believe they can do. We're on your side, you good things!
---